Fellow:Nikhita Guduru
Jump to navigation
Jump to search
Nikhita is currently pursuing her third year in Bachelors of Technology at Velagapudi Ramkrishna Siddhartha College. She is an ardent lover of books, food, sleep, family and friends and cherishes new and lively experiences. Owing to her father's profession as a military man she travelled extensively in her childhood and picked up love for both travel and new people. Throughout her schooling she strived to make herself multifaceted and tried hand at almost everything from piano to dance and pottery. Although some were a complete disaster some worked out pretty well and now she writes soulful poems in her free time.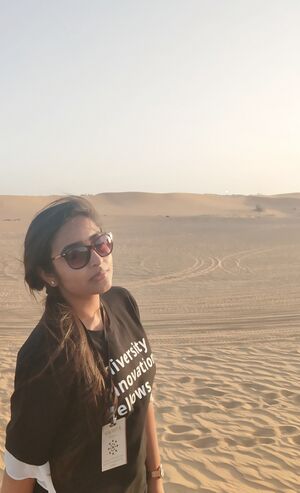 She loves engaging in debates about super random topics because she believes that seeing life through different perspectives helps one realise its true beauty. She has a gang of amazing school friends who stick through and has ambitious plans for her career. She wants to place herself in a job which challenges her everyday, pushes her to explore new avenues and set new expectations for herself. Although she isn't very particular about the domain she wants to work in she definitely knows that it has to be creative and not scientific at all.
            She has this big dream of someday writing a book which will be a collection of all the amazing experiences she has had with new people that she meets everyday. She strongly believes in adding energy and laughter to her surrounding because nothing memorable or minutely great was every achieved brooding. She cherishes working under pressure with a lot of hustle and rush and that is one reason why she considered event planner ng as a career option when she was young. Although she has a very long bucket list, the elixir to her life is a mix of hope, curiosity and excitement. If she can wake up everyday hoping for memories, curious about new experiences and excitement for work that will be her perfect life.  
Landscape Canvas link:
https://docs.google.com/spreadsheets/d/1AmDPZ8hCijxnXg-4JtWJUbnExSRv59i6YaHRLFsrbgc/edit?usp=sharing
Strategic Priorities link:
http://universityinnovation.org/wiki/V_R_Siddhartha_Engineering_College_Student_Priorities#FALL_2018_COHORTv
---
---