Fellow:Navya Sri
Jump to navigation
Jump to search

Ch.S.Navya sri 
Launched as University Innovation Fellow in cohort : 2018 Spring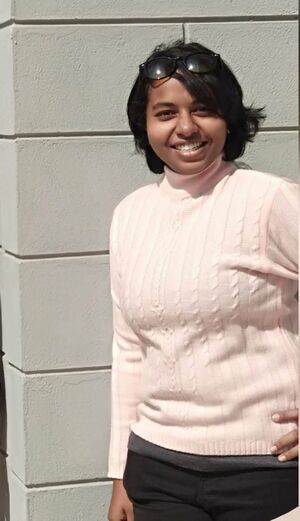 School : KAKINADA INSTITUTE OF ENGINEERING AND TECHNOLOGY, (2019 Graduate)Email: navyachelluboyina@gmail.comContact no: (91) 9441515333
Her accomplishments : women of appreciation award:2018 ( peer training with d.Thinking workshops in women college) , Toastmaster semi-finalist:2016 , Adopting a pet Dog from her bucket list.
Navya is fun loving woman hence her way of doing things are funny and UIF gave her non-negotiable argument to stay just like the way she is.
Her strong point :No matter what,i believe in me.
She began to shine only after she started college ,where she bagged many medals and kept on accomplishing.She has become fellow in 2018 spring and attended silicon valley meetup along with her team in March-2018,San Fransisco.
She along with Rajnandini Waradi (2018 UIFellow) started a design thinking lab in her college to help students with their projects and also for first year and second year students in idea generation for their individual projects using d.Thinking prototyping models.They both took in student guides,who are not part of UIF community and enabled them to take in-charge of the d.Thinking lab to pass down to upcoming students of the college.Navya along with many other fellows from other colleges conducted design thinking workshops on prototyping and idea generation methods using fun activities across 4 colleges in her final year.Her college has been great support in evolving education system by including leadership activities where Faculty champion(2018)- Rama Krishna yedida( current principal) played pivoting role in convincing the authorities and has been key person in changing the whole system. Navya takes every opportunity out of UIF community and serves her community people to innovate and disrupt the present education system .
She has special interest in reading novels and writing poems on life.Her works are published in story writing website "Launchora". She is currently working on her own thesis on "people and their evolving beliefs" based on law of attraction.
She worked in Amazon for a whole year and quit to follow her passion to serve as a research fellow for Indian research organizations (currently continuing her study in her engineering core subjects aiming for GATE 2023).
Landscape canvas video:
https://www.youtube.com/watch?v=p3BoH8WxyOo&t=57s
Strategic priorities:
http://universityinnovation.org/wiki/Kakinada_Institute_of_Engineering_%26_Technology_Student_Prioritie
Landscape canvas wiki page:
http://universityinnovation.org/wiki/Kakinada_Institute_of_Engineering_%26_Technology

TEAM MEMBERS:
---
---