Fellow:Nathaly Ardiles
Jump to navigation
Jump to search
Nathaly Ardiles is a University Innovation Fellow and an undergraduate studying electrical engineering at The City College of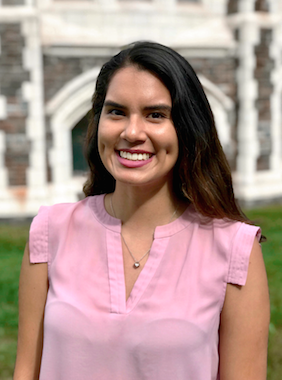 New York (CCNY).
In the summer of 2016, Nathaly interned at Hubbell Incorporated in Shelton, C.T.  Nathaly has interned at Hubbell Incorporated in Shelton, C.T. in the summer of 2016. She participated in the research and technology laboratory with the premise wiring engineering team. During the summer of 2017, Nathaly interned at Thermo King an enterprise of Ingersoll Rand in Minneapolis, M.N.. Here she developed and reviewed the design verification plan for the next generation oil pressure switch as a quality project.
She was President of LAESA-SHPE (Latin American Engineering Student Association- Society of Hispanic Professional Engineers) for the academic school year of 2016-2017. Nathaly focused on the organization's mission to raise STEM awareness for minorities in the our communities. She truly enjoys making an impact in her community and on campus by hosting events such as "Career Summit Day" and First LEGO League. Nathaly got the opportunity to travel to multiple conference and bring the LAESA-SHPE membership such as the SHPE conference in Baltimore MD , Seattle WA  and the SWE conference in Philadelphia PA  
Co-chair of Pre-college engineering day that has been at our college for 23 years. She is charge of coordinating this event for 250 high school students around NYC to have them do an engineering project with electrical cars. The students get to hear a lecture from an impactful STEM speaker, attend workshops, and get lab tours around the engineering school. Please feel free to contact me at ardilesnathaly@gmail.comor add me LinkedIn.
Related Links
City College of New York Student Priorities
2016 Fall Cohort
2017 Fall Cohort
---
---