Fellow:Nagamani Ravula
Jump to navigation
Jump to search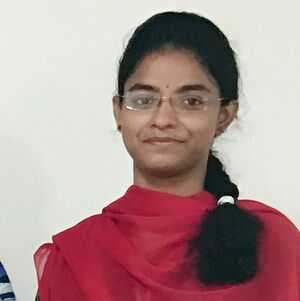 Nagamani Ravula,she is undergraduate from Sagi Rama Krishnam Engineering College(Andhra Pradesh,INDIA) in the stream of electronics and communication.she is presently working as a senior body member ofTHE INSTITUTE OF ELECTRONICS AND TELECOMMUNICATION ENGINEERS,a national level student organisation.she is also a member of I-HUB (innovation society in SRKREC).she worked as a executive body member of IETE ,conducted riveting events in her college campus to promote innovation and technical knowledge among students.she worked hard to reach the unreached and empowering the students through technical knowledge and skill development.
she is passionate about designing circuits and did mini projects on IOT.she organised for workshops in her school along with her team members to enhance innovation among fellows. 
Her aim is to become an enterpreneur to work on her own ideas.
Related Links
Landscape Canvas Link&nbsp: https://docs.google.com/spreadsheets/d/1-dOlC6GBhA_3LdkaQbYvjlIHxsgXkwTuF7teGI_VCxM/edit#gid=0
Campus Overview Link : http://universityinnovation.org/wiki/Sagi_Rama_Krishnam_Raju_Engineering_College
Student Priorities Link: http://universityinnovation.org/wiki/Sagi_Rama_Krishnam_Raju_Engineering_College_Student_Priorities
College Website: http://www.srkrec.ac.in/
College Technology Centre Website: http://www.srkrcampus.net/techcentre/
College Pitch Video: https://www.youtube.com/watch?v=FHA2zzINaf4&feature=youtu.be
Spring 2017 Team: Dinesh, Ajay , Srikanth , Susruth
Fall 2017 Team :  Uday, Phani, Ramya, NagaMani
---
---