Fellow:Muralikrishna
Jump to navigation
Jump to search
MURALIKRISHNA CHIGURUKOTA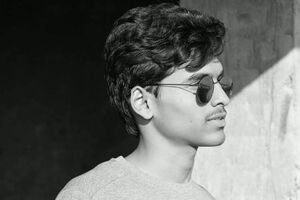 Launched as University Innovation Fellow in cohort : 2018 Spring
Launched as University Innovation Fellow GUIDE in cohort : 2019 Spring
EMAIL :- muralikrishnachigurukota@gmail.com
Contact:- +44 07442776542
+91 8886226527
Murali krishna is a student who is pursuing his Masters Degree in the stream of Engineering Management from BRUNEL UNIVERSITY, LONDON. He completed his B.tech degree in the stream of mechanical Engineering from the college Aditya Institute Of Technology And Management,Tekkali.He completed his schooling and high school in his hometown Srikakulam,with elivated percentage .He hails from srikakulam,Andhra pradesh.
He had choosen the mechanical stream in engineering because he finds his adrenaline rush in his blood,working with engines and solving problems.His legacy is to create a work place   and a platform where people work  for changing the world ,people who think that their ideas can change the world,but not those who work for money.He loves working with new people and things.He constantly strives for excellence and tries to work out on new things.His super powers lies in managing people and work environment.He is highly enthusiastic and  very positive.His motto in life is "MY JOB AS A LEADER IS TO UNDERSTAND EACH PERSON'S STRENGTHS AND PLACE THEM IN POSITION WHERE THEY CAN GROW AND FLOURISH"He opted this University Innovation Fellows Programme so that he can lead with an example and make others inspire.And to make this world a better place to live.

He just started to shine in college, when he won numerous medals and kept on succeeding. He was made a fellow in 2018 spring and visited the Silicon Valley Meetup with his team in March of that year in San Francisco. Following that he was appointed as a guide for 2019 spring for the students of Aditya Engineering College, Kakinaada. He worked in company called ECHO INDIA for a year as a project coordinator and exibited his skillset for the growth of the organisation. He quit the job to pursue his dream of completing higher education in engineering Management.
---
---