Fellow:Moe Ghias
Jump to navigation
Jump to search
Muhammad Ghias is currently a student at Kettering University in Flint, Michigan.  His major is Computer Science and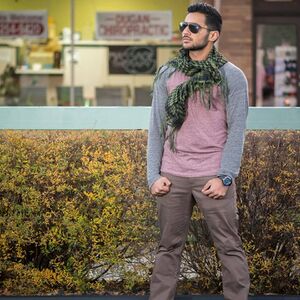 BioInformatics with a pre-med Course of study as well as Innovation & Entrepreneurship.. However, he is really passionate about connecting his course work together from various fields of science and engineering. He is undertaking a concentration in Innovation & Entrepreneurship, which is geared towards engineering.  His three minors are: 1) Chemistry;  2) BioChemistry and 3) Innovation & Entrepreneurship (which is geared towards business).  He believes that being a Computer Scientist  is so valuable because it is arguably the best of engineering degrees and it consists of one of the most useful skills in 21st century - Computer Programming. He believes that to work in any position in a company or as a Medical Doctor, he must be able to sell himself and be innovative in his approaches to the business world to stay competitive in the market. His real goal in life is to land an upper management position at a healthcare company that deals with the software or to create his own medical devices company with a group of intelligent individuals which brings great value to target customers.
Muhammad is currently a Resident Assistant (2013-Present) at Kettering University in on-campus housing, Active member of Kettering Robots Society, Kettering Leaders, VP of Pre-med club and President of GEO.  Additionally, he is a member of the leadership circle for various other groups on campus and is overall very involved at his school.  
Muhammad continues to seek out ways to grow his I&E skill set and seek new opportunities and challenges at his college campus and in the community to which he may apply his skill set.
Related Links
Kettering University Student Priorities
University Innovation Fellows
Spring 2016:
Spring 2015:
Spring 2014: