Fellow:Lucia Rodriguez
Jump to navigation
Jump to search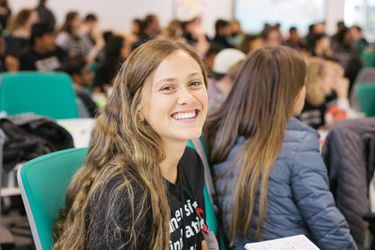 Lucía Rodríguez is a University Innovation Fellow since Spring 2018. Also, she has a double degree from the "Universidad de Montevideo", as she is an Accountant and has a Bachelor in Business and Management. Lucía is originally from Florida, a small town located a hundred kilometers away from Montevideo, Uruguay's capital city, where she lived until 2016 when she moved to Montevideo in order to attend university. There, she was exposed to the University Innovation Fellows program and had the opportunity to attend the 2018 Meetup. Since then her life changed, she feels motivated and empowered to improve the collaborative environment at her campus together with the growing crew of fellows.
In the capital city she moved to her grandfather's flat and since then she has been interested in improving the way elderly people live in certain aspects such as accommodation and social relationships. However, this is something that has just started and she hopes to come up with a project that could improve the life of old people in her country soon.
Lucía is passionate about creating relationships and connecting with people. She participated of the 2019 SVM as a Fab and talked about the importance of building relationships and unboxing the meaning of others, you can watch her ignite talk here.
As a UIF Lucía worked collaboratively with 40 Uruguayan students from different universities to organice LOOP, the Innovation week, in Montevideo, Uruguay in 2018. LOOP was the first UIF meetup to be held in Latin America. Lucía was part of the Agenda Department which was in charge of designing the content of the workshops being held during the event. It was a challenging project but it was really successful as more than 500 people from different ages participated of a five-day event which had as pillars the following topics: innovation, inclusion and impact.
Lucía is currently working as a Management Trainee in the Port Operations of Katoen Natie in Uruguay.
---
---