School:Universidad de Montevideo
Jump to navigation
Jump to search
Overview
The University of Montevideo (UM) started off in 1986 as the Institute of Business Studies of Montevideo (IEEM). Some months later the IEEM started a postgraduate in business law. From there the IEEM continued incorporating new courses mixing law and business, such as seminar in management, business administration, master's degree in business law and much more.
It wasn't until April 29 of 1997 that the IEEM was approved to function as a university and from there it's known as the Universidad de Montevideo. To be legally approved as a national university it was demanded the existence of three areas of knowledge, these were:
Law

Business Science and Economics

Engineering
​
​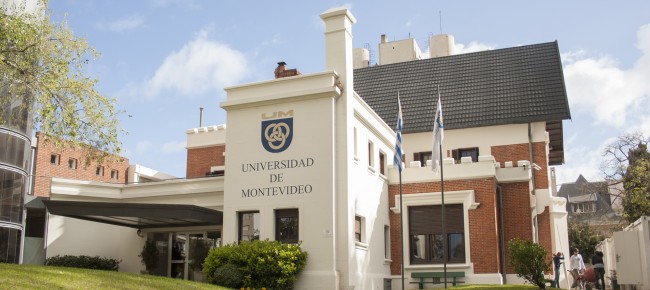 School of Engineering of Universidad de Montevideo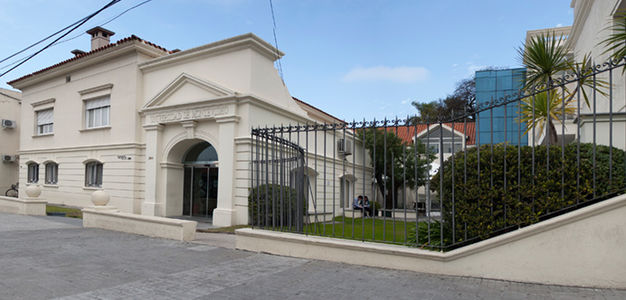 School of Business Science and Economics, and Communication of Universidad de Montevideo
Now the UM has 9 different schools including schools for graduate students:
Law School

Humanities & Education

School of Business Science and Economics

School of Engineering

School of Communication

Humanities and Teaching School

School of Biomedical Sciences (For graduate students)

Business School (IEEM)

Center for tertiary training in services and innovation
Actually the UM offers 20 different majors for undergraduate students and 28 majors for graduate students, through the schools listed above, also it has been ranked the best university in Uruguay by the QS ranking and it is among the 500 best Universities in the world.
Student Entrepreneurship
There is an increasing number of students who choose to become entrepreneurs at Universidad de Montevideo. Most of them start this path before graduating but it is also often that alumni become entrepreneurs after some professional experience or completing an MBA.
One of the biggest successful entrepreneur story started in 2009, when Agustina Sartori and Carolina Bañales, two telematic engineers, decided to innovate in the beauty and cosmetics area. They received funds from ANII, settled their office at the university and with some student interns developed the first prototype of a virtual makeover. The product was sold to a local store and after that Start Up Chile, 500 Startups and Plug and Play supported and invested in their new app: GlamST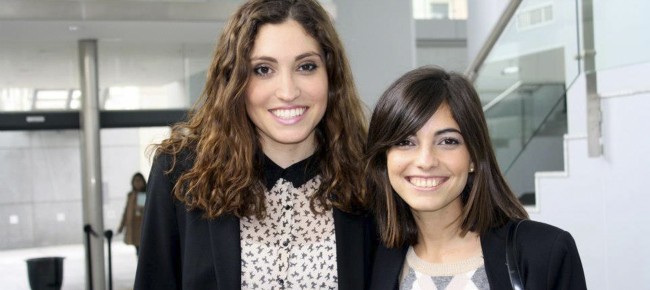 Agustina and Carolina founders of GlamST
Social entrepreneurship is also something that is being fostered at UM. Valentina Quagliotti was one of the first entrepreneurs in Uruguay to combine a business model with a social cause when she found Iuski, a social video production startup. She also was the first Director of SocialLab, a latin american pre incubator for social ventures.
Not everybody succeed at first attempt, that is why Ignacio Menafra started Wanna an e-commerce portal and his fourth venture.
Recently, another startup created by a Jeronimo Acosta, has been growing exponentially. His business is called ChillTravel, and consists of a secure luggage skin that will protect the valuables items carried in the customers bag and will tell him in real-time where his things.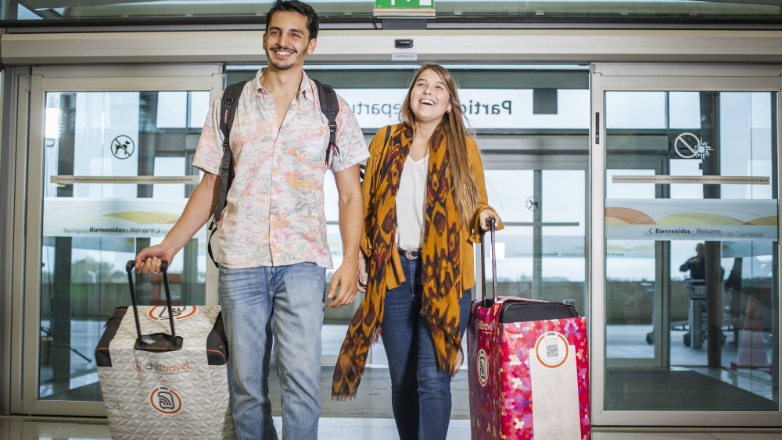 BJØRN is the first Uruguayan watch design brand in the international market. The project suported by Initum was founded by Alejandro González and Jerónimo Acosta, former students of the Business and Economis School of the UM in response to the high prices of the watch industry, especially focusing on the fact that millennials do not have large revenues for this type of luxury.In March 2017, BJØRN launched its first product through Kickstarter, managing to pre-sell almost US $ 20,000 in 22 different countries.
Their products differ from their competition in large part by their price, but what stands out most is that each watch comes with 2 easily interchangeable meshes, so that its users can use the same watch several times and with multiple outfits, thus having several watches in one. In addition, BJØRN is the first watch brand in the local market to offer a lifetime warranty on all its watches and donates 10% of its revenue to local social projects.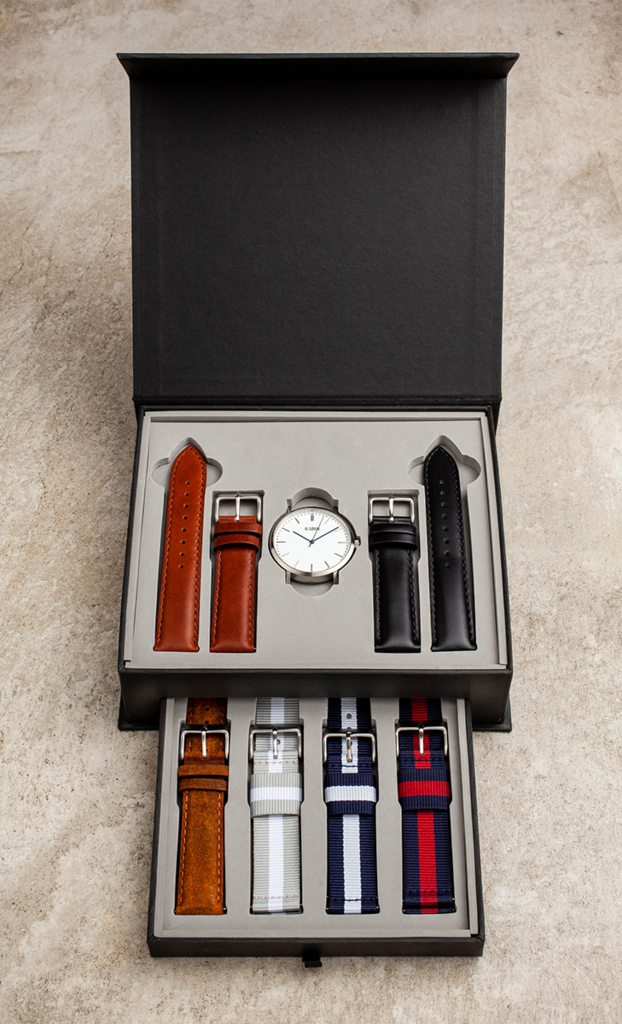 Faculty Innovation and Entrepreneurship
The number of professors and faculty members fostering innovation and entrepreneurship has been growing in the last couple of years. This whole new spirit lead to the creation of Initium. This center has created different courses and workshops stimulating students and professors to develop new skills and attitudes with an innovation and entrepreneurship mindset. It is also a place for connection between students, alumni entrepreneurs, accelerators and other extracurricular entities. For example, this year was created Agents of Change, a group of students interested in innovation and entrepenuership, they meet every week with the help of Romina Dominzain, former Fellow and part of Initium, to learn about Design Thinking, Life Design, communication and multiple skills valued in the area.
There are also other courses that stimulate innovation in their areas, such as Engineering Labs, Investment Projects, Entrepreneurial Initiative or Creativity and Innovation where students are working in a very interesting project for the women's Prison of Montevideo.
Furthermore, the University has tried to increase the number of professors with and entrepreneurship background. As example of this, we have the coordinator of the Business Management degree. Her name is Maria Passadore,  former worker of Endeavour and co-creator with Josefina Maisonnave, Initium Director,  of "Pura". This business is dedicated to the management of boutique hotels of less than 25 rooms. She, has been also working on providing students with useful skills for their future, that is why she has introduced new courses, such as Improvisation Workshops.
In addition, new classrooms have been equipped with moving furniture and prototyping materials in order to create an evironment which promotes innovation.
Last but not least, this year a new departement of Campus Life was created, they manage sports, extra curricular activities, volunteering and every aspect of our lives inside the University. Even though it is very new, it has accomplished many things already such as the creation of new clubs, the Laboral week which consists on a week full of events hosted by companies to better ourselves in the work environment and learn skills for our futures.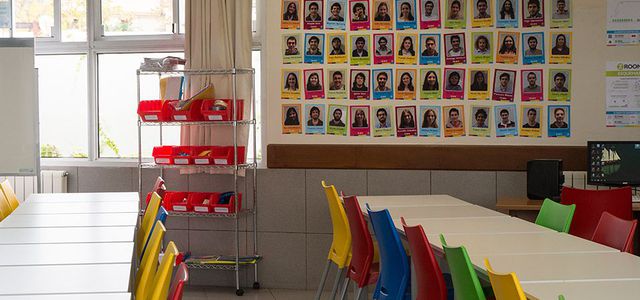 Z-room at the main building
Z-room at Engineer Building
University Technology Transfer Function
The UM doesn't have a technology transfer office, but it has a  policy regarding intellectual property. Everything made in the university belongs to it. However as a student you could ask for the intellectual property of a project before starting it. Then you would have to have a meeting and sign some paperwork.
University - Industry Collaboration
The university has a wide range of partnerships with different industries and businesses. One of the main reasons for that, are the compulsory internships that each student has to make each summeras a requisite in order to obtain their degree. This gives the students a better picture of reality and forces them to evaluate their career and opportunities, at the same time they gain hands on experience and start forming their work network.
Initium has recently develop some entrepreneurship focus internships in different startups. This initiative not only gives the student the opportunity to experience a real work experience but also stimulates innovation and entrepreneurship at the same time.
Some classes come together with local companies to develop or find a solution to a real problem. This semester for example in the Lab V course, telematics and computer engineers used their combined skills to find a solution to Mastra's prepaid card system. Mastra is a local bar, pioneer in craft beer in Uruguay. It began as a startup founded by Ing.Wilfredo Camacho, graduate of the Universidad de Montevideo and Alejandro Cardozo.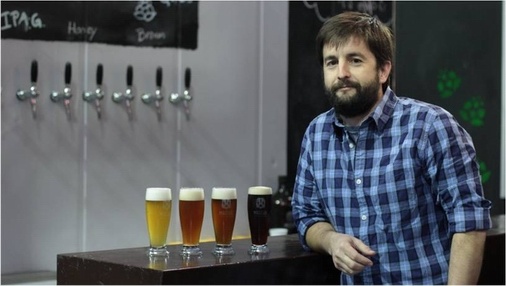 Wilfredo Camacho, Mastra
Another course that aims to give students the tools to find solutions to real problems is I-Lab. This is a 3 months long course where students form groups, and each group is assigned a different business with whom it has to work with in order to find solutions to the problem that each business is currently facing. All students learn to make use of the Design Thinking techniques and work together with students from all majors, both essential aspects regarding innovation.












Josefina Maisonnave- Initium Director
In some faculties there are research offices that offer students internships by helping professors in their investigations. Let's take for example the
CINOI
(Center of Innovation in Industrial Organization). It's main objective is to form a stronger bond between the university and the business world, and it's vision is to be a pioneer Center of Innovation and Applied Research in Industrial Organization in Latin America.
LOOP, Semana de la Innovación.



In august 2018 an important event was held at Universidad de Montevideo.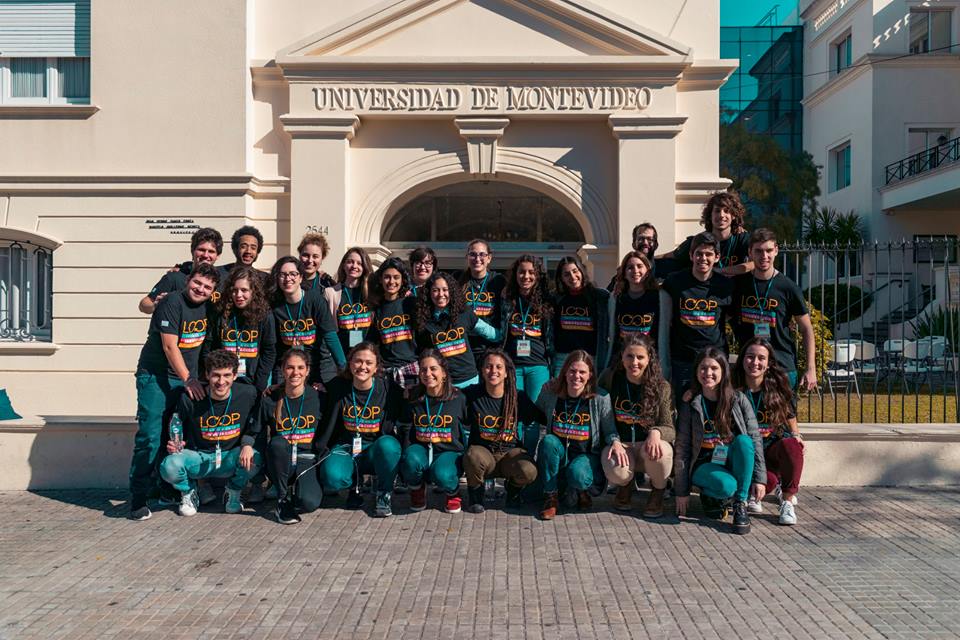 LOOP, Semana de la Innovación was a unique latin american experience that united visionary people, visionary students and visionary organizations worried about inclusion and making an impact in not only the continent, but also the world.
As previously mentioned, LOOP is a community that aims for change, impact and inclusion in Latin America throughout innovation. The event sought to create spaces for inclusion and interdisciplinarity where the exchange of ideas and initiatives could happen and generate movement in our communities.
The event had the support of and was organized by Universidad de Montevideo, Universidad Tecnológica, Universidad Católica del Uruguay, Universidad CLAEH, and Universidad ORT.
The key concepts of the event were:
INNOVATION:

We aim to add value to our communities and our society, to improve what already exists and to think outside the box.

IMPACT:

We

seek

to share the spirit of innovation, our accomplishments and, above all, to generate tangible results in the contexts we move in.

INCLUSION:

Not only we work from a place of multidisciplinarity, but also we intend that our successes reach those who are usually excluded and forgotten.
Among the activities and methodologies offered, int

ernati

onal and uruguayan participants got familiar with Design Thinking in order to empathise with users and identify their problems and challenges. In addition, participants applied Lego Serious Play, another innovative methodology, useful to generate solutions. Prototyping based on Lean Methodologies was also a key aspect that proved to be important during the testing phase with real users.
Regional and Local Economic Development
Latin America has become a breeding ground for new businesses led by young people and it is now the second most enterprising region in the world, according to the World Bank.
"What really differentiates Uruguay from its neighbors is it's incredibly stable economy and political situation, as well as its notable middle class. Uruguay has created an environment welcoming to foreign investment: the legal framework is stable and dependable and in terms of policy, its infrastructure is highly developed and acknowledged to be one of the top countries for software. Uruguay is also well known to be progressive in several fields, such as gay rights and marijuana consumption, which has helped Uruguayan entrepreneurs create products adapted to emerging markets and developed markets" says SeedStars in his last report on Latin American Entrepreneurship.
Uruguay's startup culture is growing incredibly fast this last couple of years. The National Agency of Innovation and Investigation (ANII) has been an amazing partner of this movement.This agency, which was also named before, analizes startups projects and gives economical support considering the potentiality of each business. Many startups created by students from the University of Montevideo have been supported by the ANII receiving foundings as well as advise. Other entities such as incubators, accelerators, co work spaces and Innovation Centers from the different Universities have also played an incredible role and especially because of the synergy they developed.
Related Links
University Innovation Fellows (2017):
University Innovation Fellows (2018):
University Innovation Fellows (2019):
University Innovation Fellows (2020):
---
---