Fellow:Krishna Chaitanya Katta
Jump to navigation
Jump to search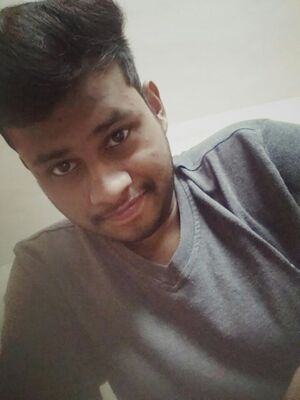 krishna chaitanya is a University Innovation Fellow trainee and pursuing his bachelors degree in the stream of Information Technology from Sagi RamaKrishnam Raju Engineering College,India.he hails from a Andhra Pradesh,but most of his childhood and schooling was spent in Gujarat and later moved to Andhra Pradesh for further studies.There he actually exposed him to different cultures and learnt different languages.He is a very happy individual and very interested in meeting new people,travelling to new places,exploring new technologies.As he being an IT student, he is very much interested in coding.As he is well aware of various education systems followed at various places,he wanted to take an initiative to bring a change in this system.This made him to compete for a position as a fellow in UIF.He always loves to travel places and believes that travelling gives more knowledge than the knowledge from books.
He is a complete foodie and loves to cook different varieties.He loves working in groups and has leadership qualities.he believes that working in groups makes it a great experience and fun.He loves to spend time playing with friends.He always believed in himself and he always wanted to explore his interests.He always believed that this world would be a better place if there is no difference in education systems.He wanted to transform the present day situation by motivating his peers for the change.
His aim is to and follow his dreams and never look back. He motto is "Wake up when it is right time".
---
---