Fellow:Kelly Andrea Castillo
Jump to navigation
Jump to search
Kelly Andrea Castillo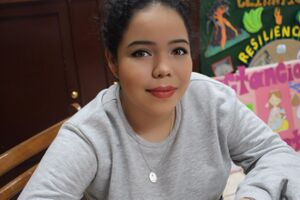 Kelly Castillo is an undergraduate student of Spanish language and literature at the autonomous national university of Nicaragua UNAN Managua and UIF candidate to participate in the spring 2018 meeting.
In matters of innovation, she has actively participated in design thinking workshops as well as has been involved in innovation in her faculty through projects and recreations of workshops and campaigns.she as an innovator and entrepreneur believes faithfully in the meaning of sacrifice, responsibility and dedication, just as everything is possible if one proposes it.
Her main hobbies are reading a good book, the interpretation of texts and having a warm intellectual conversation.
She is currently working on obtaining a degree in education with a specialization in literature. In her camps she is interested in the inclusion of innovation in the learning system and in improving the way in which the message of what is important is to have control of her own language.
Universidad Nacional Autónoma de Nicaragua
Universidad Nacional Autonoma de Nicaragua, Managua Student Priorities
---
---