Fellow:Keion Taylor
Jump to navigation
Jump to search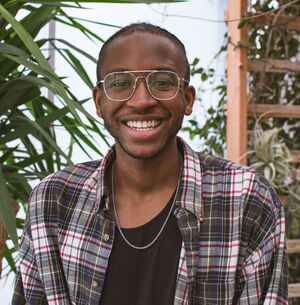 Name

Keion Taylor

School (Cohort)

Indiana University Purdue University - Indianapolis (2022 cohort)

Majoring in

Visual Communication Design

Country

United States of America

Email
Bio
My name is Keion and I am an undergrad studying Visual Communication Design and Computer Science at IUPUI. Along with my academic studies, I also find other ways to learn through other on campus means like through being a Peer Mentor, Social Justice Resident Assistant, and Social Media Coordinator for student organization.
I like to have a healthy balance between work-related things and personal things. So when I'm not actively a student, I love to do things outside like run and hike. I also am a dedicated plant parent and love to cook!
I think my goals for my future align with me wanting to have a healthy balance between work and life. Although I am a dedicated student who loves learning and exploring, my long-term plan for my life is quite flexible and not set in stone at all. I do not mind what exact position I will earn for a job as long as it allows me to continuously learn and stay engaged in my work. I do not have a dream place to live, but I do know I want to travel and explore many different parts of the world. In short, my goal for my future is to stay engaged, inquisitive, active, and happy by whatever means that requires based off of my circumstances.
Achievements
Social media profiles
Instagram: @keiondtaylor
---
---