Fellow:Kadapa Manasa
Jump to navigation
Jump to search
Manasa Kadapa is a Junior student at  " Annamacharya Institute of Technology and Sciences"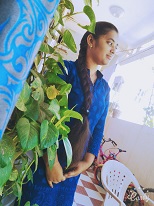 She is currently pursuing her graduation in Computer Science and Engineering. She grew up in  Kadapa district of AndhraPradesh state in INDIA. She is passionate about upgrading her skill sets. She is innovative and participated in many competitions as a team and  bagged many prizes. She spearheaded the discussions with her team and acquired critical and decision making skills that made her versatile and made impactful relationship with the team. She participated active member of Institute of Engineers, India. She is a University Innovation Fellow for the spring batch, 2017. From this University Innovation Fellows program she thinks that she can develop enterpreneurship skills and new skills at global level.
Other interests : She likes to travel with her family .
To reach her Email: kmanasa542@gmail.com
Related links:
For Pitch video click here:https://www.youtube.com/watch?v=7pqKeCK9V5Y
For Campus Overview click here:http://universityinnovation.org/wiki/Annamacharya_Institute_Of_Technology_And_Sciences,_RAJAMPET
For Student Priotities click here:http://universityinnovation.org/wiki/Annamacharya_Institute_Of_Technology_And_Sciences,_RAJAMPET_Student_Priorities
[[Category:Student Contibutors]]
---
---