Fellow:Joseph Shotts
Jump to navigation
Jump to search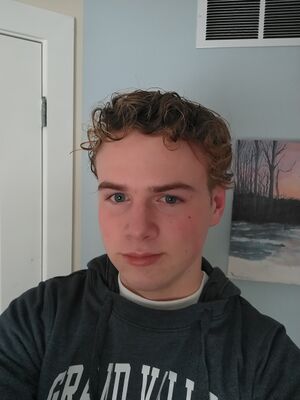 Name

Joseph Shotts

School (Cohort)

Grand Valley State University (2023 cohort)

Majoring in

Computer Engineering

Country

United States of America

Email
Bio
Pronouns: he/him
My name is Joseph Shotts but you can call me Joey. I grew up in a medium sized town near Grand Rapids Michigan. I'm currently studying computer engineering at Grand Valley State University.
I'm really passionate about innovation and technology. Besides UIF, I'm a team leader in a makerspace on campus called the Technology Showcase. This space gives students/faculty/staff free access to 3D printing, laser cutting, VR and other technology. I get to make projects that show off the technology, help students/faculty/staff with their projects, and lead/train/encourage student workers in the space.
I created a website, https://josephshottsisnotyouraveragejoe.com/, to show off my projects and involvment.
I'm a firm believer in Sustainability and climate action. I don't think this just applies to the environment. I think we need to learn how to grow sustainably individually as well as a society.
Achievements
Completed IronMan 70.3 Michigan
Unicycle Rider
Social media profiles
https://JosephShottsisnotyouraveragejoe.com/
https://www.linkedin.com/in/joseph-shotts-b846bb274/
---
---