Fellow:Josellin Largaespada
Jump to navigation
Jump to search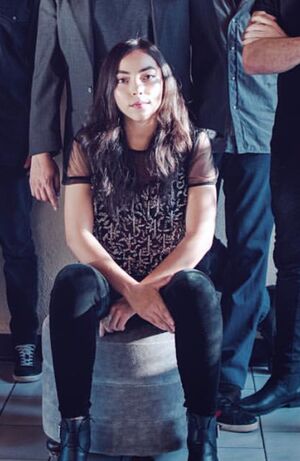 Josellin Largaespada is a candidate of the University Innovation Fellows program and a Physiotherapy student attending the 5th year of the UNAN Managua in Nicaragua. As part of her career, she has helped in different hospitals in the country and in organizations related to the help of people with disabilities and others that require physiotherapeutic care. In addition to being involved in the world of innovation since 2016, where she participated for two consecutive years in innovation workshops taught by the University Grand Valley State where she stood out and participated in a taxi pitch as part of a competition and was chosen to be part of of the Stanford candidates.
It is also part of an innovative project of the faculty where he studies, called Ergovid an ergonomic chair capable of providing comfort, welfare and helping the environment. This project is about to be launched to the market, waiting for sponsors. She also participated in the Latin American Innovation Rally , Where the Project Presented by 'Confitec´ was one of  the winners of As headquarters.
Since she was very young she has been passionate about music, focusing on Marimba, which is the national instrument of Nicaragua. She became part of the cultural project of the Flavio Galo Marimba School and Guitar, where teaching children, youth and adults. She is also part of a music band and interactive audiovisual experience called Momotombo, where she is the player of Marimba. Josellin likes to learn new things about music and in the future she would like to learn to play some stringed instruments.
Universidad Nacional Autonoma de Nicaragua
Universidad Nacional Autonoma de Nicaragua, Managua Student Priorities
---
---