Fellow:Josefina Gómez
Jump to navigation
Jump to search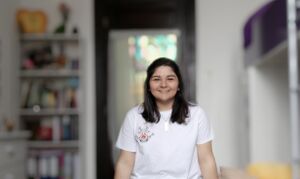 Josefina Gómez is a UIF candidate and a Law student at Universidad de Montevideo (UM). She allways liked to help ans comunicate with people,    that´s why che pursues a career as a litigator. Josefina attended to the German achool where she learnt to speak German and English fluently. In 2016, she lived for three months in a southern village in Germany where she met a wonderful family who hosted her and thaught her abput German culture, thet´s why she feels a strong connectiom with this country and in the future she would liek to expand her legal studies there.
in her spare time, Josefina likes to be around her family and friends. Ata  avery young age she learnt to play the piano and the guitar, as well as singling, someting that she loves to do all the time. Therefore, Josefina participated in several musical works, choirs and nowadays she has a band with her best friend. She thinks that music heals everyone and withoutit everything would be sad and boring.
Always looking to change her surroundings, she took oart in her highschool´s parliment. Now in University, she takes part in volunteering among other activities. At UM, she was introduced to the Changemaker club, where she found a fantastic group of people who share hes passion for makeing the world (or at least the University) a better place. There she met previous University Innovation Fellows who inspired her to follow their lead.
---
---