Fellow:Joel Martin Sacris
Jump to navigation
Jump to search
       Joel Martin Sacris is a current University Innovation Fellows Candidate and an undergraduate at Saint Louis University (SLU) studying Biomedical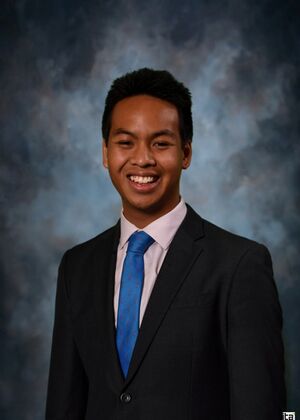 Engineering. Joel's motto is: "Sucking at something is the first step to be good at it!" He believes that failure is what fuels innovation, and that one can only truly fail by ceasing to try.
       Outside of academics, Joel is involved in sports and dance. He currently manages SLU's D1 Women's Basketball team and is a member of SLU's premier hip-hop team, XQuizit. Joel also works as a patient care assistant for a client with Duchenne Muscular Dystrophy and is one of the co-founders and acting treasurer of SLU's social dancing club, the Socialites.
       Joel believes that diversifying one's life experiences is the key to producing answers to the world's most complex problems, as these problems often require a combination of multiple points of view. Joel hopes to someday develop cheaper medical devices that could help mitigate the cost of current health care expenses, especially focusing on care in impoverished communities, such as those in the Philippines, from where Joel's parents hail.
       Joel is a part of one of SLU's first class of University Innovation Fellows and is expected to graduate in Spring 2020.
---
---