Fellow:Jessica Aldrich
Jump to navigation
Jump to search
Serving as UIF Since: Spring 2018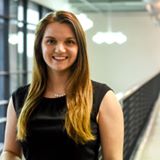 School:University of Florida
What does she do now: PhD in Biomedical Engineering at UF, Success Manager at Startup Grind
What that means: A full time student who also works on community management and community development for founders and entrepreneurs world wide.
Contact her about: Design thinking workshops, communications workshops, facilitating design competitions, high school programming, pop-up events, guest lectures and public speaking, community development, relational leadership, Startup Grind, graduate school, and trying to do too many things at once.
E-Mail: jxaldrich@gmail.com
Phone: 785-250-3916

      Jessica Aldrich is a University Innovation Fellow at the University of Florida. She completed her BS/MS in biomedical engineering at Wichita State University in 2018/2019 (respectively). During her undergraduate career, Jessica studied Biomedical Engineering with minors in Math and General Business. She spent her freshman year as a student athlete playing volleyball at Avila University before transferring to Wichita State. After graduation, Jessica spent the summer working on her thesis and spent a few weeks in Europe taking a course in design from the University of Twente. Since completing her Masters degree, Jessica started interning with Startup Grind and works on the Community and Success teams to connect founders and entrepreneurs around the globe. She moved to Florida and began her PhD in fall 2019. 
    As a UIF on campus Jessica was involved in hosting the Midwest Regional Meetup that was held in February 2018 and again in fall 2019. During that time she also facilitated the Invent for the Planet design competition (2018 and 2019). After completing her UIF training in March, she facilitated numerous design thinking workshops on campus and guest lectured in courses through the Bill and Dorothy Cohen Honors College. Additionally she ran the 32-Second Challenge, a pop-up design thinking experience for students from diverse backgrounds on campus. She attended the Utah Valley Regional Meetup, the European Regional meetup, and the Colorado School of Mines regional meetup as well as presented at the ASEE National Meeting in 2018 and 2019. She launched Startup Grind on her campus in collaboration with the community Startup Grind chapter and the Wichita State University Foundation. Jessica also developed and ran an  empathy-based design thinking program for local high school students to empower them to create positive change in their community. Additionally, Jessica has hosted workshops and guest lectured at events and in classes through University admissions and the Honors College as well as organizing and moderating the ASEE Sectional Conference. Jessica was a FAB at the 2019 Silicon Valley Meetup and a UIGuide for the 2019-2020 and 2020-2021 school years. 
      Outside of UIF, Jessica is involved in a variety of on campus activities. During her time as an undergraduate she was an executive team member of the Biomedical Engineering Society (BMES), a member of Gamma Phi Beta, and was heavily involved with the honors college. She is also passionate about research and spent much of her time at WSU working in research labs and spent one summer doing an NSF REU. Her research experiences include biosensor development, machine learning, nanomedicine, and mechanobiology. Working in research has given her the opportunity to uncover and solve problems related to her work; this has inspired her to translate that methodology to problems and concerns on her campus. In her senior year she was awarded the University Senior Honor and the Cohen Honors College Outstanding Senior. She volunteers regularly with Younglife and is a part of their Leadership Development Program (Developing Future Leaders). Since moving to Florida, Jessica has become president of the BME Graduate Student Council and sits on the Diversity and Inclusion student leadership team in addition to her new research responsibilities.
Related Links
Spring 2019 Ignite: Just a Student
1 Million Women in STEM Initiative
---
---