Fellow:Jahnavi Mavuri
Jump to navigation
Jump to search
Mavuri Sundari Jahnavi, a university innovation fellow of spring 2017, is currently pursuing her 3rd year in Bachelor of Technology at Godavari Institute Of Engineering and Technology, Rajamahendravaram,Andhra Pradesh, India.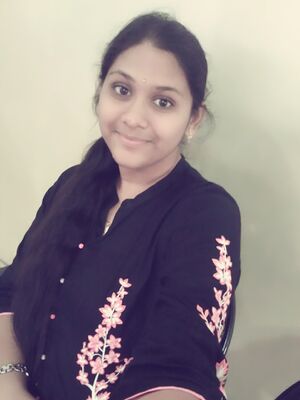 She is  the one who is optimistic in nature and is good at communication skills and likes to interact with others.She is quite supportive and always encourages her peers in exploring their inner talents.She has very good  leadership qualities and due to this reason she has been representing her class since three years.She is  one of the organizers of various activities and is also a good participant in all the events of the Institute.She loves travelling and is easily adaptable to any kind of environment.She is pretty ambitious, flexible ,methodical & is always eager to learn something new .Her top most priority as of now is to complete her Masters of Business Administration and start up her own firm as she is very much interested in entrepreneurship.She also likes  to help people in need. She wants to establish resources in her campus so that the students can do pursue them which helps to better themselves.
After attending the silicon valley meet up, she has remarkable changes in her . she started realising the essence of design thinking in her course time and after remigrating from USA, she started to edify her peers on the importance of the design thinking.She is an Integral part of her team and always helps in executing the plans with perfection. Through the digitalised way of communication , she is in a process of inculcating many brainstorming activities regarding innovation in her school which she has been constantly learning from the University Innovation Fellows Meetups and Trainings. She is a change ambassador at APSSDC( Andhra Pradesh State Skill Development Corporation ). she strongly believes that " cross the bridge when you come to it " and one of the best lessons she learnt from UIF is " Its OK to Fail " and " There is never an idea called ' Bad Idea' ".
She is currently working for many clubs in her institution which includes all round development in Technical , Skills , Arts and Sports fileds named "INNOGEN", " SPARX" , "letsART" and "KHELO" and plays a key role in its promotion and development by driving students into the clubs
 She believes that UIF program helps her and her fellows in all aspects which helps in gaining skills necessary to compete in the economy of future.
 Written by: Jahnavi Mavuri
Related Links :-
Pitch Video Click Here :- https://youtu.be/HOL8IAwZIbc
Campus Overview Click Here :- http://universityinnovation.org/wiki/Godavari_Institute_of_Engineering_%26_Technology
Student Priorities Click Here :- http://universityinnovation.org/wiki/Godavari_Institute_of_Engineering_%26_Technology_Student_Priorities
Team Members :-
---
---