Fellow:Ilian Iliev
Jump to navigation
Jump to search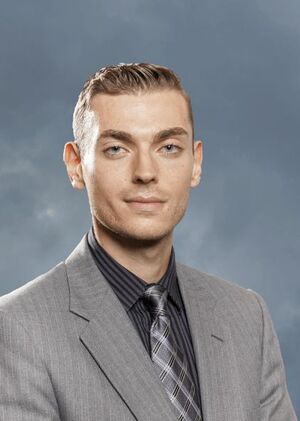 Ilian Iliev attends UW - Milwaukee and is a UIF candidate. He is going for his business degree.
Ilian Iliev is currently a project coordinator for the University of Information Technology & Services department where he supports the coordinating internal resources to help ensure the completion of projects to be delivered on time, within scope, and within budget.

He is also a member of Student Affairs I.T. and is involved in the Strategic Innovation Management team where, through a collaborative relationship with campus partners, he moves forward projects in a variety of fields while ensuring completion by helping execute their intended outcomes to meet individual and organizational goals.
One such partnership was with Islands of Brilliance where he architected a WordPress website for 7 students on the spectrum of autism to provide exposure towards the field of web development by composing the WordPress tutorials to meet the needs of the students.
Ilian is on numerous committees: The Advisory Committee on Educational Technology (ACET) where he is responsible for evaluating, recommending, monitoring, and annually assessing allocation of funds up to $3.5 million collected from student tuition fee which support access to educational technologies on the UWM campus as well as The Information Technology Policy Committee (ITPC) where he has made recommendations to the faculty and campus administration regarding (a) policy on information technology and its use; (b) the coordination of service delivery by all campus information technology units, including monitoring, overlap, conflicts and inefficiencies; and (c) the planning and implementation of decisions pertaining to information technology and related services.
Strategic Initiative - Diversity and Inclusion in Entrepreneurship: Zero Barriers
To increase diversity and inclusion at UWM by having different entrepreneurial presenters from different backgrounds come and present to cater to the needs of the community would be the strategic priority of this event.
It would allow those without a voice to be heard or anyone that may have been marginalized in the past. The faculty, staff, and students here at UWM to include directors, vice-chancellors, presidents, and numerous leaders to provide a network to use their connections to ensure a successful event of diversity and inclusion in entrepreneurship. Branding would be used for awareness and to use the "1 Million Cups" reputation to draw in the general public.
We would cater to the needs of the individuals and provide an open-forum, laid-back environment that is laissez-faire in nature where it is okay to fail and not know all of the answers. Our customer archetype would be those who are in the minority and from varying creeds, backgrounds, ethnicities, socio-economic statuses, and more.
We hope that this event can be done in a quarterly fashion to increase its momentum and keep on going by celebrating diversity and inclusion on different months, like Black History Month, National Hispanic Heritage Month, and National Coming Out Month.
University of Wisconsin Milwaukee
Fellows
Rustin Bergren
Tehereh Hosseini
David Gallegos
---
---