This site will go under maintenance from 25-11-2020 to 30-11-2020. It might not reachable during the maintenance period.
Fellow:Ian Reede
Jump to navigation
Jump to search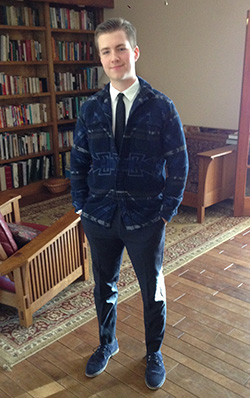 My name is Ian Reede; I am in my third year at Kent State University, studying business with a focus in entrepreneurship. I aspire to build an infrastructure around the needs of students struggling to find their way in the current education climate. I look to accomplish this change with the knowledge I am gaining through work with Hacksu, Kent Hack Enough,BlackStone Launchpad,John S. Brinzo Entrepreneurship Laboratory, as well as my work as a cook in the culinary field. The goal is to build an understanding of how people of many different backgrounds, work, create, and play together. Currently, My goal is to build a business using solely resources and students, available on the Kent campus. The purpose is not only to build a viable product in the Kent state entrepreneurship ecosystem that would benefit the student population, but also to develop a better understanding of how far we have yet to go. 
While I Still have much room to grow, the journey and progress is my favorite part. When I am not busy thinking of ideas to improve the world around me, I enjoy traveling to the coastal regions of the United States, as well as other countries abroad. At home I am an avid experimenter in the kitchen, not but for a few times using a recipe.
Find me on Linkedin, Twitter or email me at Ireede@kent.edu
Related Links
Kent State University Strategic Priorities
University Innovation Fellows:
Spring 2016
Fall 2015:
Spring 2015:
Matthew Allen
Fall 2014: Robin Bonatesta