Fellow:Harichandana
Jump to navigation
Jump to search
Harichandana is an undergraduate student pursuing Electronics and communication engineering at V.R.Siddhartha Engineering College, Vijayawada, Andhra Pradesh, India. She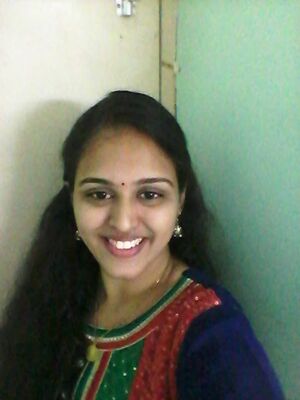 describes about her that she is very enthusiastic and very eager to learn new things and always seeks for an opportunity to apply and implement those futuristic ideas and things in day to day life. Harichandana always tries to learn something different and new even through normal conversation between her friends, peers and her.
She is very fond of music and she loves to spend time with dogs.
Harichandana loves singing and it gives her immense joy and pleasure and through singing she finds her innerself and she enjoys every activity she does through singing .Her hobby as watching movies works as a miracle for her in refreshing herself whenever she is tired of something.She loves the feeling of fresh air and sunshine when she spends her time in nature especially in villages. 
She is very passionate about increasing and enhancing her capabilities to explore new things which will not only help her to grow more and empower more but also inspires other students to realize their true potential of creative ideas ,innovation and entrepreneurship.
She considers being a part of this program as a precious opportunity to make a change in not only her's life but also in others who are also waiting for a chance to explore themselves and to prove their potential. She believes that students who are passionate about what they are studying and who are also provided with better facilities can solve any sort of challenges that comes through their way. So she is very eager to work on with such type of projects which inspires her that will be really useful to others and inspires them also to do so. Happily looking forward to join the family of University innovation fellows.
RELATED LINKS:
Spring 2018 Fellows:
---
---