Fellow:Grusha Kaur Sahni
Jump to navigation
Jump to search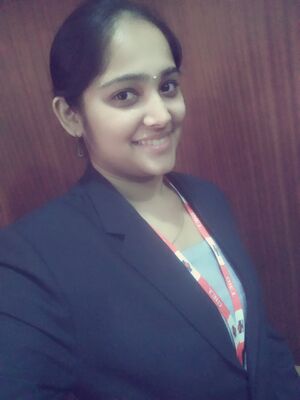 Serving as UIF Since: Spring 2017.
School: Godavari Institute of Engineering and Technology.
What she does now: UIGuide-University Innovation Fellows

,

M.tech in Cyber Security at KLUniversity, Internship at Virtusa.
What that means:Organize Workshops, Bootcamps and classes for Design thinking, Train and inspire new fellows to become the real change agents

.

 
Contact her about:Design Thinking, Student Clubs, Convincing people, Problem Solving, Using Design Thinking to solve technical Problems, Cooking Indian Food and Baking Cakes too... ;p
Email: grushakaursahni30@gmail.com
Grusha Kaur Sahni is a University Innovation Fellow in the spring2017 cohort and a graduate who completed her B.Tech at Godavari Institute of engineering and technology. Her Second Degree Will be an M.tech in Cyber Security from KLUniversity.
Grusha is incredibly passionate about leadership. She is pretty confident on her own but she is a team player too. All her convincing and communication skills got her huge success in all her endeavours. She is not only a hard worker but a smart worker. She hopes to successfully enhance the entrepreneurial and innovative culture at her university by introducing a idea hub where all students with same ideologies can meet and try out something out of nothing.She was an integral part of a college club and also organised many events for her college fest.
Grusha's priority at this time at the educational front is to specialise in cyber security because she feels this is not just an educational qualification but a skill which is the need of the hour.
As a University Innovation Fellow, Grusha hopes to put her ideas on the global platform and connect with students from all disciplines and instil the importance of social innovation and entrepreneurship across campus.she is developing an activity room in her college as after the research and interviewing many students in her college she got to know that there is a gap between theoretical knowledge and practical knowledge, and to fill this gap she developed an activity room in her campus where students can come and form into a team irrespective of their branches.
Here's a video about the University Innovation Fellows program through the lense of the Silicon Valley Meetup help in March 2017:
Written by: Grusha Kaur Sahni
Related Links :-
Pitch Video Click Here :- https://youtu.be/HOL8IAwZIbc
Campus Overview Wiki Click Here :- http://universityinnovation.org/wiki/Godavari_Institute_of_Engineering_%26_Technology
Student Priorities Wiki Click Here :-  http://universityinnovation.org/wiki/Godavari_Institute_of_Engineering_%26_Technology_Student_Priorities
Spring 2017 Members :-
Grusha_Kaur_Sahni
---
---