Fellow:Gane Aashi
Jump to navigation
Jump to search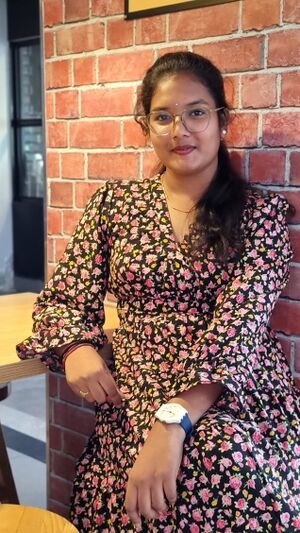 Name

Gane Aashi

School (Cohort)

Aditya College of Engineering and Technology (2023 cohort)

Majoring in

Computer Science and Engineering

Country

India

Email
Aashi Gane is a senior who majors in Computer Science Engineering at Aditya College of Engineering and Technology.
She is an extrovert. Her outgoing nature allows her to effortlessly connect with others and create a lively atmosphere. She thrives in social settings, always bringing a cheerful energy that uplifts everyone around her. Her positive mindset is truly inspiring, as she embraces challenges with optimism and encourages others to do the same. Her vibrant personality and infectious enthusiasm make her a true ray of sunshine in any gathering.
And she adapt quickly. she consider herself a very motivated and driven individual with a passion for continuous growth and learning. she is active person who always looks for solutions and a way to improve.
With a passion for dancing and ability to collaborate effectively with others, she brings joy and unity to any environment. Her dancing is a mesmerizing display of grace and a treat to watch. With every movement, she brings to life the timeless artistry of classical dance forms.Her achievements include holding a Guinness World Record, a testament towards her dedication for dancing.
She is a proactive and collaborative nature reflects her motivation for continuous growth and learning. Connecting with people and discovering new things about them and their surroundings brings her joy
Aashi firmly believes that traditions hold a vital place in our lives and should always be cherished and preserved, and she wants to preserve the traditional dance form, and want to build a peace among the young souls.
She says "Life's most beautiful moments are often found in the little things we do with great love - Spread Love".

Achievements
Social media profiles
Instagram: https://instagram.com/twilight.4567?utm_source=qr&igshid=MzNlNGNkZWQ4Mg%3D%3D
Snapchat: https://www.snapchat.com/add/aashiaashi4490?share_id=vG0VCc3UXD0&locale=en-US
LinkedIn : https://www.linkedin.com/in/gane-aashi-76980728a
---
---