Fellow:Gala Maldonado
Jump to navigation
Jump to search
My name is Gala Maldonado and I'm 20 years old. Every day I get up with a goal to fulfill.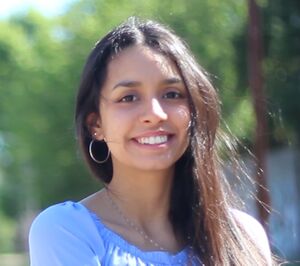 When I was a child I wanted to be an architect, fashion designer, interior designer or a teacher. When I grew up I was keen on work volunteering, dancing, music and theater. Today I study my true vocation: communication, I'm a senior. This course includes everything: advertising, literature, economics, writing, radio, television and more. But nothing is enough for me. I worked in a financial company, an education NGO, a mass consumer product company, and as a community manager in a clothing store. I am a person who can adapt to changing circumstances and environment. My dream is to engage in social marketing and remain an agent of change.
If my life were the title of a movie it would be "How to be epic". And the plot would deal with a young girl who must face all her life difficult situations that make her strong so she can, in the future, be successful and work on what she loves. The moral that would leave would be the learning of how being a normal person can be left a mark on the world and on others peers.
Since I was a girl, I'm interested in social work. I have been a volunteer in my neighborhood and I am going to complete my final project of degree with the aim of carrying out a relevant social change in my community. For this reason, becoming a fellow excites me. I'll acquire tools and knowledge and create a network of people interested in the same thing as me. By doing this, I feel really at home.
---
---