Fellow:Dolva Pagansy
Jump to navigation
Jump to search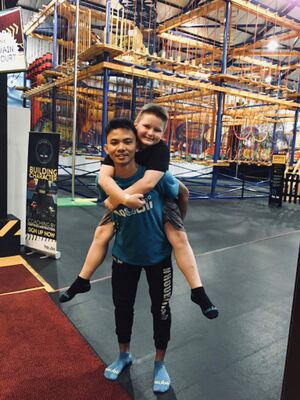 Name

Dolva Pagansy

School (Cohort)

Universitas Gunadarma (2021 cohort)

Majoring in

English Literature

Country

Indonesia

Email
Bio
My name is Dolva Pagansy, I'm a student from Universitas Gunadarma at Depok, Indonesia.I also work for a cryptocurrency project from Brazil as an admin of their social media. I love doing workout as I also a member in Street Workout Depok and I love learning English because English brings me at this time.
Back in 2016 after graduated from Senior High School, I decided to attend Military and Immigration of Academy, I've failed but luckily beside of attending those academies I also worked for 2 companies in 3 years. The first one was Trampoline Park(Houbii Urban Adventure Park) I've been trained for a basic trampoline, after 14 months they gave me promotion to handle the event as the Event Planner, Host and MC after being selected from 40 trainers. I learned a lot about communicating in English with the clients, people from around the world. After 10 months I decided to move to another company it was an Edutainment Park, Kidzania Jakarta. In that place I worked as a role acting on the stage such as Pinocchio, Peterpan, Aladdin and Alice in Wonderland. From these two places I learned a lot about Acting and Public Speaking skills.
After the pandemic I decided to take a college in Gunadarma University majoring English Literature. Through my ups and downs, I'll do my best wherever I am.
Achievements
- 3rd place of Speech in Sundanese (Biantara Depok Competition) Depok, 2010.
- 3rd Runner Up in Depok Islamic Short Story Competition Depok 2011.
-Trained by Greg Roe (Canadian acrobatic specialist, coach, social media influencer and athlete who has won several national gold medals in the gymnastics and trampoline disciplines). <https://en.wikipedia.org/wiki/Greg_Roe/>
-MC-ing the birthday party of son of one of the managers in @America 2019.
Social media profiles
Get in touch to my social medias
Instagram : https://www.instagram.com/dolvagansy/
LinkedIn : https://www.linkedin.com/in/dolva-pagansy-628499164
---
---