Fellow:Dean Geschiere
Jump to navigation
Jump to search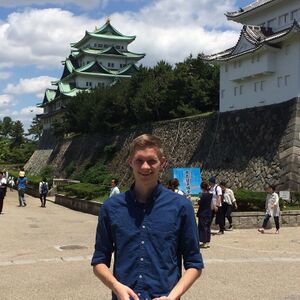 Dean is a freshman studying a double major in Entrepreneurship and Finance with a minor Japanese at Grand Valley State University in Allendale Michigan.  Dean is also apart of the Fredrik Meijer Honors College.  Otside of school he resides in Spring Lake Michigan near Lake Michigan.  
At Grand Valley Dean has been getting used to college life as he has participated in CEO club and now University of Innovation Fellowship.  As well he has taken many opportunities to expand his network by going to many networking events, even heading to Mannhatten Beach California to meet several CEO friends of his Personal Finance Professor.  Dean is excited to soon travel to Japan to study abroad at Internaltional Christian University during the year of 2019.  Afterwards Dean hopes to continue growing his network and participation at Grand Valley in both his persoanl and professional career.
In the near and longterm future Dean desires to continue creating businesses as it is one of his greatest passions.  Expanding into many different fields of technology and innovation, hopefully getting into the field of aerospace, a field which he is quite passionate about.   
Related Links:
School Page
http://universityinnovation.org/wiki/Grand_Valley_State_University
Priorities page
https://docs.google.com/document/d/1Os1rOVdXqgU6LErvFCxXDBnxt-LOSVUK6lRwrGpNBgc/edit?usp=sharing
Past/Current Fellows
http://universityinnovation.org/wiki/Madalyn_Slubowski
http://universityinnovation.org/wiki/Meredith_Filter
http://universityinnovation.org/wiki/Haley_Jennings
http://universityinnovation.org/wiki/Nikhil_Watsa
http://universityinnovation.org/wiki/User:Joevanderbroek
http://universityinnovation.org/wiki/Ben_Parsell
http://universityinnovation.org/wiki/User:Rogutica
---
---