Fellow:Dara Mulia
Jump to navigation
Jump to search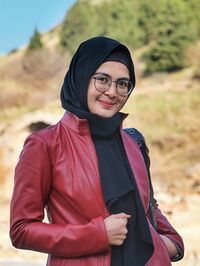 Name

Dara Mulia

School (Cohort)

Universitas Gunadarma (2021 cohort)

Majoring in

Informatics Engineering

Country

Indonesia

Email

daramulia87@gmail.com
Bio
Dara Mulia or commonly called Dara was born in Jakarta on July 8, 2000. I do not remember much of my early childhood, but my mom said I was a very active, curious, and communicative child. I would ask dozens of questions each minute, and even read every word I see on the street.
During my time in school, I was a very active student both academically and non-academically. When I was in elementary school, I was the champion of 2 badminton competitions and the champion of 3 singing competitions at the city level. I also graduated from junior high school as the top 10 best national examination scores. I am so grateful that I have such great parents who have always supported and appreciated my choices.
I was passionate about technology and science. This passion helped me gain a profound knowledge of these areas, so I chose to continue my studies in technology. When I was in college, I made several projects such as Tanilogi, and spik. Tanilogi is an Indonesian agricultural e-commerce website to help the problems of supply chain and distribution of agricultural products, it connects farmers with markets to enable farmers to sell agricultural products at fair prices and in sustainable quantities. While spik is an android applications to translate sign language into text or video in real-time. My motto is,
Make a better world through technology with people with high moral standards.
I will continue to grow to be successful as a person and as a human being.
Experiences
Academic
Toyota Astra Financial Incubation, 2021
Trained on IT infrastructure, project management, digital trends, and data analysis to solve business cases through BMC and pitch deck as a team
Bangkit Academy, 2021 [1]
Bangkit is a Google-led academy designed to produce high-calibre, technical talent for world-class, Indonesian technology companies and startups. Together with Gojek, Tokopedia, Traveloka, and the Ministry of Education and Culture of the Republic of Indonesia. Bangkit have been selected 3,000 students and graduates 2250 students from almost 40,000 interested applicants to join Bangkit.
Non Academic
Celebration of 70 Years of Diplomatic Relations between Indonesia - Italy, 2019 [2]
Indonesian cultural night performance in Rome and Indonesian culture workshop at Sapienza University of Rome
Indonesia Diving Sales Mission - South Korea, 2018 [3]
The Indonesia Ministry of Tourism and Creative Economy's program to promotes Indonesia's Diving Places
Japan Tourism Expo - Seoul 2017 [4]
JATA Tourism Expo Japan, internationally recognized as one of the largest travel events in the world
Social media profiles
LinkedIn
https://www.linkedin.com/in/dara-mulia-476aaa125/
Instagram
https://www.instagram.com/daramulia08/
---
---