Fellow:DJ Jeffries
Jump to navigation
Jump to search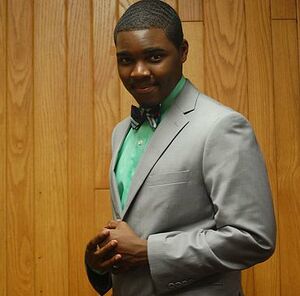 DJ Jeffries is a University Innovation Fellow and an undergraduate student studying Communication at Southern Illinois University (SIU). His focuses include Public Relations and Organizational Communication. Jeffries is originally from Memphis, TN, where he lived until 2013 when he moved to New Orleans, LA for college at Loyola University. After exploring his love for people and his possible career paths, DJ transferred to Southern Illinois University to pursue a degree that would better prepare him for his intended career. There, he was exposed to the University Innovation Fellows. 
At Southern Illinois University, DJ is involved with the College of Liberal Arts council and the Public Relations Student Society of America. In addition, he has worked for the University both as an Undergraduate Assistant, and as a member of the school's student-run Public Relations firm. In his spare time, he offers consultance to students seeking to land full-time jobs or internships in the future.
From a very young age, DJ was interested in entrepreneurship. Growing up, he was also very heavily involved in music, learning to play seven instruments and going on to join the Phi Mu Alpha Sinfonia, a national music fraternity.  In 2013, Jeffries became a recipient of the Gates Millennium Scholarship, an award funded by Bill and Melinda Gates.  Jeffries is passionate about communication, both as a discipline and as practice. This passion has led him to participate in multiple speakers' forums and public debates.  On his campus, he is interested in expanding the way students communicate across disciplines.
Related Links
Souther Illinois University Student Priorities

University Innovation Fellows
Spring 2016:
Deborrius Jeffries
Fall 2015:
Spring 2015:
Spring 2013: