This site will go under maintenance from 25-11-2020 to 30-11-2020. It might not reachable during the maintenance period.
Fellow:Christopher Overkämping
Jump to navigation
Jump to search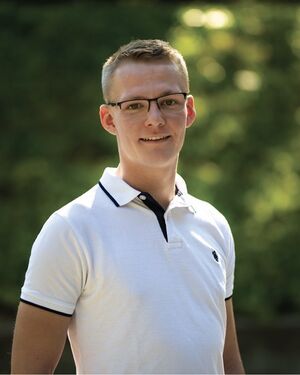 Before coming to the United States to study at Menlo College, Christopher Overkämping worked as a bank advisor at Volksbank Rhede eG in Rhede, Germany. During his time at the Volksbank Rhede eG, he developed strong written and verbal communication skills. While working at Volksbank Rhede eG, Christopher attended the Berufskolleg am Wasserturm vocational banking school, to gain theoretical knowledge on the european financial system. 
In early 2017, Christopher decided to further pursue education in the field of Finance and started at Menlo College in the fall. Since then, Menlo College recognized his strong educational performance as well as his extracurricular involvement on campus by awarding him the Richard F. O'Brien Award in Spring 2019. His extracurricular activities include Head of Operations and Logistics at TEDxMenloCollege, Assistant in the President's Office at Menlo and his support in organizing the Silicon Valley Startup Weekend 2018 and 2019 on campus.
Related Links
Menlo College Student Priorities
University Innovation Fellows
Fall 2019
Christopher Overkämping
Spring 2018
Spring 2017
---
---