Fellow:Chan Ngar Kiu Justline
Jump to navigation
Jump to search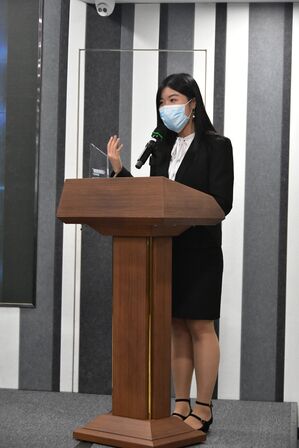 Name

Chan Ngar Kiu Justline

School (Cohort)

Lingnan University (2021 cohort)

Majoring in

Contemporary English Studies, Minoring in Human Resource Management

Country

HKSAR, China

Email
Bio
Hi all! This is Justline Chan and I am a final year student at Lingnan University, Hong Kong. I am a hard-working, sociable and easy-going student who is good at communicating with the others and expressing myself. Changing my role from a volunteer service participant, leader, organiser and now a volunteer movement advising committee member, I learnt a lot from volunteering over the past 7 years.
Achievements
1. Hong Kong Outstanding Tertiary Students, Junior Chamber International City (Hong Kong) http://www.hkcd.com/content/2021-07/24/content_1282794.html
2. Dr and Mrs James Tak Wu Awards for Outstanding Service 2020/21 Awardee(1 top student per year) should demonstrate outstanding service to the general community; outstanding service to professional / academic community; outstanding contribution to the University as well as good interpersonal relationships.
3. Leadership and Service Scholarship, Lingnan Education Organization Limited(2021) Applicants should demonstrate their distinguished contribution in community services, sports activities or student activities as well as their leadership qualities to the University, as well as the surrounding community.
4. President's List, Lingnan University(2020-2021) Academic year 2019-2020 whole year GPA attained 3.70/4.00 or above
5. President's List, Lingnan University(2019-2020) Academic year 2019-2020 whole year GPA attained 3.70/4.00 or above
6. Dean's List, Lingnan University(2018-2019) Academic year 2019-2020 whole year GPA attained 3.70/4.00 or above
7. Hong Kong Outstanding Youth Volunteer (awarded by Social Welfare Department, HKSAR) Youth volunteers with at least three years of volunteer experience and a total of 200 service hours in the past 5 years who demonstrated outstanding contribution to the society
8. Silver Award for Volunteer Service in 2019 (awarded by Social Welfare Department, HKSAR)
Social media profiles
https://www.linkedin.com/in/justline-chan
---
---