Priorities:Lingnan University Student Priorities
Jump to navigation
Jump to search
Lingnan University is new to the idea of Innovation and Entrepreneurship (I&E). Lingnan Entrepreneurship Initiative (LEI) is a platform newly established in Lingnan University which aimed to empower entrepreneurs, innovators, and inventors to take action for inclusive growth. However, students and faculty members may not pay attention to this platform which may not be able to enrich the I&E ecosystem in the university. A 5-year campaign can be launched to improve the I&E ecosystem, including promotion and students activities. Promotion has to be made to raise people awareness on I&E in Lingnan University, as well as enhancing students' creativity and ideas for starting own business by organising different activities.
Promotion and Student Activities 2022/23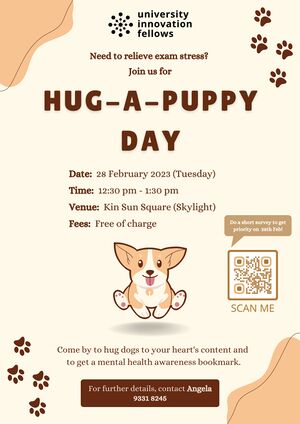 This year's cohorts are focusing on three major themes to pursue innovation and entrepreneurship at Lingnan University, which are students' and faculty members' Mental Health, Cultural Inclusiveness, and to help our Lingnan members to improve our school's catering quality. We hope that our actions could help and support the members in Lingnan.
Hug a Puppy Day
To raise mental health awareness on campus, we have organized the a Hug-a-Puppy Day open to all members of Lingnan University. We invited therapy dogs from our local community to be our guest huggers and were also joined by a couple more adorable dogs owned by one of our faculty members. We designed this event to help students and staff alleviate their academic stress through animal therapy. Moreover, bookmarks were also handed out to all attendees, which contained uplifting quotes, tips on how to manage exam stress, and information on mental health resources available in Hong Kong.
Food Around the World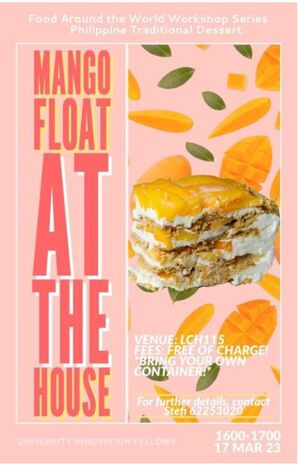 To promote cultural inclusiveness in the campus as well as to bridge the gap between international and local students, we plan to hold a workshop series where students will learn how to make cuisines from different parts of the world. In this activity we emphasis peer teaching. This means that instead of inviting culinary professionals to teach students, we will be inviting a local or international student/s to share a traditional or popular delicacy from their own country and give a demonstration on how to make it in front of other students. We believe that peer learning is a great way to increase interaction among local and international students and they would also get to learn about each other's cultures in the process. The first workshop we organized was led by UIF member Angela Arcay where she shared a popular Philippine dessert called Mango Float, made only with mangoes, graham crackers, and cream.
Opinion Booth on Canteen Menu
In order to improve the quality of meals for employees and students, we plan to launch a collection of offline and online opinions. The purpose is to integrate the collected opinions and communicate with the canteen company to modify the existing menu so that the variety and price of the menu are more suitable for the needs of employees and students. We hope to build such a communication platform to jointly improve the campus life experience of staff and students and to convey the collected views to the university's stakeholders.
Food Cards @ Lingnan
To tackle the low efficiency of food ordering in the Lingnan Canteen and eventually enhance the overall catering quality, we plan to implement a food card scheme in the canteen to say goodbye to long queues. We no longer need long waits to order tour meals and save you time by combining our Lingnan student id card with a money deposit function that may even allow us to have a new payment method around the whole campus. We hope that launching our food card will have more accessible repair contacts within the campus and increase our sense of belonging at school. No more worries that your Octopus deposit card couldn't be reloaded on campus, your food card does!

Promotion and Student Activities 2020/21
To foster innovation and entrepreneurship at Lingnan University, we believe it is important for each individual to explore and figure out his/her own passion. Without a meaning in life or our work, it might be exhausting and stressful to continue, not to mention to spark creativity and change the world. This is why we approach our targets to see if they are happy with the current lives, if they want to pursue something more, if they are motivated to make a difference and how might we support them.
Survey with Lucky Draw via Mass Email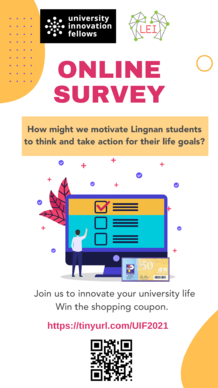 To understand students' needs in life planning support, we have conducted a survey mainly ask about their satisfaction in the current status, whether they have a dream and whether the school's resource is effective. The survey was sent to the whole school by Lingnan Entrepreneurship and Innovation (LEI) department on behalf of University Innovation Fellows (UIF). A lucky draw with ten HK$50 supermarket coupons was given as incentives for the students. We used the mass email as an opportunity to promote University Innovation Fellows and our mission as well. It also served as an educational purpose where students can reflect a bit about their lives before our official functions.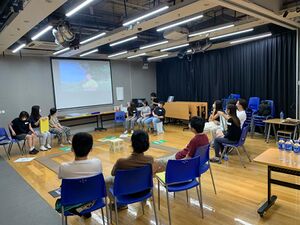 Offline Engagement Activities
To effectively promote entrepreneurship, we co-host an interactive game workshop for students with Lingnan start-up, StoreTruck and Youth Dreamer, Tung Wah Hospital. Through the game settings and rules, students get to know more local news and needs such as the difficulties faced by farmers where the innovation such as agricultural technology can step in to improve the livelihood.
Promotional Video
To raise the awareness of the students about the importance of finding a meaning in life rather than just being "busy", we have filmed a short promotional video "Are you busy...? " It aims to connect students who may feel busy all the time without a purpose or just exhausted. It is hoped that we get them to pause and reflect a bit about being "busy" which might be a time priority. We used this channel to attract students' interests in our project and capture students' situations to the university stakeholders.
Engagement Booth with Free CV Photo-shooting Services
To better engage the students and visualize the students' needs in life planning in the campus, we have scheduled a day to set up a booth in Skylight, an open area where the majority of Lingnan students must walk pass everyday. By writing your dream on a memo paper and sticking it on the engagement board which indicates their confidence in achieving it, and interact with us, they can get a free photo-shooting services. If they have not thought about their dreams, they may also write about their feelings towards their current status such as satisfied/ frustrated... Through this offline promotion, we aim at making more students recognize University Innovation Fellows and getting them to join our follow-up activities.
Tea Time Talk
To facilitate a personal, in-depth and quality conversation with students, we are having regular "tea time talk". Students would enjoy a free nice cup of tea or coffee and they are welcomed to share their struggles like heavy study load, no concrete graduation plan. We believe through talking with people who experienced or are experiencing their own struggles, we may feel comforted and thus gain a new perspective. It is our mission to get people continue to be motivated, to search for a meaning. This tea time talk provides a safe place where like-minded people can support each other for the long term.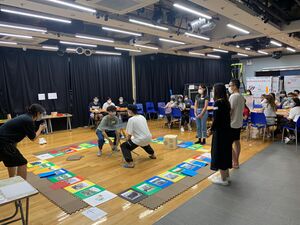 Promotion
Innovation & Entrepreneurship Facilities Virtual Tour
To cultivate innovation and entrepreneurship (I&E) culture among Lingnan students, Lingnan Entrepreneurship Initiative (LEI) provides students and faculty with abundant resources. However, according to a survey conducted, the majority of Lingnan students are not familiar with the resources and facilities available at Lingnan. Therefore, we propose the idea of shooting a promotional video to introduce the facilities and technology resources that are related to I&E. The promotional video not only could be accessed on LEI official website but also can be shared on the instagram pages of LEI and Lingnan University to reach out to more Lingnan members. The objective is to raise awareness among Lingnan students about I&E ecosystem and resources at Lingnan University.
Person in charge: Bliss, TAN Xiao Qian
Startup Weekend Hong Kong @ Lingnan University and Bootcamps
This year our theme is on "Climate Action". Through a 2-day frenzy of business model creation, coding, designing, and market validation, in order to spark new ideas and take actions to address the environmental challenges which threaten humanity at the present and in the future. LEI will also organize two SWHK bootcamps to get you prepared before the competition. -
STUDY TOGETHER
To cultivate design thinking skills and boost the learning atmosphere among Lingnan students, Lingnan Entrepreneurship Initiative (LEI) as well as the Lingnan Library offers students and faculty with endless resources and references. Moreover, as observed that students are not familiar with the application of design thinking skills and students are too shy to speak up and share their ideas. Besides, they are not productive enough to excel well. Hence, we would like to hold the activity called Study Together. This provided students with a platform to discuss over design thinking topics with other students, it also can enhance students' understanding towards design thinking. Eventually, we hope students become familiar with design thinking and be confident to share their point of view. Studying together and improving together.
Person in charge: Lee Cheuk Wun, Samantha
Lingnan Makers Creators
Lingnan Makers Creators is a space where Lingnan students will get in touch with their creative spririt by putting their innovative ideas from abstraction to tangible products. Here in Lingnan makerspace, students will be equipped with the tools, for example: woodworking, recycling workshop, natural materials workshop, etc... to create a rudimentary physical product. We will work and experiment with new tools and materials. The key motto of Lingnan makerspace is to have fun, be creative, be playful and very importantly, to exchange ideas.
Person in charge: Pham Thuy Duong
Promotion and Student Activities 2019/20
Promotion
Lingnan University Information Day for Undergraduate Admission 2019 
As an annual event to be held in Lingnan University, Information Day serves as a promotion purpose to promote "Why Lingnan?" to the visitors, especially to those soon-to-graduate high school students. On the Information Day, each department and office will set up different booths with the purposes of programme introduction, briefing and consultation services, campus tour, booth and exhibition showcase, test and game activities etc. Given the opportunity to set up a booth by our faculty champion, we aim to seize the chance to promote the concept of "Innovation and Entrepreneurship" to visitors and students.
Person in charge: Claire, THUM Qiao Hui
Student Activities
New World Development Company Limited - Design Thinking Booth 
In collaboration with New World Development Company Limited, a Design Thinking Booth will be set up off campus, aiming to spread the idea of innovation and entrepreneurship (I&E) to the public. Through game booths, product showcases, leaflets and souvenirs distribution, we expected the public to  better understand how I&E is feasible and may affect their life, thus changing some common misconceptions the public may have towards I&E. 
Person in charge: Iris, FUNG Kwan Ting
Together We Sign - a year-long Hong Kong Sign Language promotion on Instagram
Regarding the social stereotype and inadequate understanding of the deaf, Together We Sign aimed to encourage fellow students to enjoy the interesting part of learning simple sign language. Since social media is accessible to reach a massive number of audience,  posting a year-long weekly IG tutorial videos and involving interaction regularly with fellow students are the main focuses in the first year. 
Person in charge: Kelia, HO Tsang
Redefine - Experiential Workshop
Students in Lingnan University often think of startups, science or new technologies when they heard of innovation and entrepreneurship (I&E). However, I&E do not have to be big projects or fancy ideas. In this workshop, we are going to share how University Innovation Fellows interpret the concept of I&E into a way of mindset. To further illustrate how I&E can be something that is small  and relevant to daily lives, we will include a short session with a DIY solar panel power bank in the workshop.
Person in charge: Lucas, LOKE Wei Xiang
Promotion and Student Activities 2018/19
Promotion
Canteen Promotion Cardboard
Canteen is a place where students will reach everyday, grabing lunch, having tea, finishing dinner... This is a great place for us to promote I&E on campus. By making small cardboard which can stand on table, information of upcoming I&E activities as well as contact information will be shown on the cardboard. Students walk pass will be able to see these information and join the activities if they wish to. This is a useful promotion tool that can reach a large number of people in the university. This can be done in the first year.
Lunch Box Promotion 
Realizing the problem that there aren't enough promotion of Innovation and Entrepreneurship in Lingnan, our group also come up with some possible solutions and ideas, one of them is to print advertising information of I&E on the takeaway lunchbox in canteen. Since, there is only one canteen in Lingnan, most of the students usually have lunch or buy takeaway lunches there. We discover that the takeaways lunchboxes have a lot of empty spaces in fact and it would be wasteful if students just throw them away. Therefore, we come up with the idea that  we could print some advertising information on the lunchbox, so that whenever students by takeaways lunches, it may arouse their interest.
Regarding the process of launching this project. We would first design an attractive and informative cover for the advertising, then we would contact school office and canteen to seek their approval. Once we get the approval, we would then contact the company which produce the current lunchboxes in canteen, send them our design and print them out. We hope that this project would be a short-term one, which we spend not more than a year to finish it.


Social Media Promotion
Social media plays a crucial role in student's life. They spend a lot of time on social media, paying attention on those platforms. We think it could be a effective way to communicate with students and reach out to them instead of the more traditional way of engaging students. And as  a result, it could help promoting activities organised by University. Starting a social media account could create a more easy-going image. Besides the platform could act as be the center of information about I&E in lingnan. So students can save the time searching for different opportunites on doing something more useful.
Student Activities
Mentorship Programme
Lingnan University puts emphasis in strengthening the bonding between current undergraduate students and Lingnan alumni. Aiming at raising the awareness in Innovation and Entrepreneurship in Lingan community, a mentorship program could be launched for undergraduate students from all disciplines. Some Lingnan alumni in entrepreneurial sector and other successful start-up founders are invited to be mentors for Lingnan students. This program serves as a platform for both parties to share their creative thoughts. Not only mentees can seek advice from I&E perspective from their mentors, but mentors also can share their personal experience in launching a creative business to their mentees. A series of interactive activities will be arranged for both mentors and mentees to establish a close relationship and get a deep understanding towards innovative entrepreneurship. These help students who are potentially interested in establishing start-up company to acquire first-hand information and help stimulate students' creative mindsets. The I&E ambience in Lingnan could be greatly enhanced.


I&E Study Tour
Lingnan University provides many outgoing opportunities for students like exchange programme or overseas internship programme. In order to attract more students raising awareness on I&E issue, I&E study tours can be organized to allow students borden their horizons and build more ideas of entrepreneurship. UIF programme can be one of them. Trips to Asia countries like Korea or Mainland China, which developed many wonderful creative industries and start-up companies, can also be organized. Students may be able to visit different start-up companies and have different brainstorming sessions to develop more ideas on entrepreneurship. Students are required to come up ideas and do reflection at the end of the tour illustrate their ideas and what they have learnt throughout the tour. The university may provide subsidies so that students do not have to worry about financial ability before having these wonderful experiences.
Related Links
Lingnan Fellows
UIF2021: Inclusiveness and Study Atmosphere Enhancement at Lingnan University https://www.youtube.com/watch?v=y7Fa3W4CBxg
UIF2020: Redefining "I&E" at Lingnan University https://www.youtube.com/watch?v=y7Fa3W4CBxg
UIF2019: Creating a maker community at Lingnan University 
---
---