Fellow:Bharath Kumar
Jump to navigation
Jump to search
     Bharath kumar is a current Electronics and Communication engineering student in V R Siddhartha Engineering College. He is from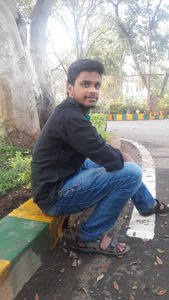 Andhrapradesh,India. His concentrations are Electronics and Communication engineering with an intended business minor. He believes that every situation and every person we met are inspired us in some point. He always search what we can learn new this day. He treat every day with a new hope. He likes and enjoy to visit different places, cultures.He is an animal lover.
       He is more passionate about to study new technologies and invent new things. He present involves in one project regarding Electronics and IOT. He also aimed to start an app based start-up regarding traffic control in India. He likes to be part of social service and he is a member of NSS. He has an experience of leading a team, which supplies food to around 10,000 people for 12 days under state government.
      In his free time he listen to music,following current issues, chat with friends. He believes that chatting with friends, team members always led to born of new idea.
     He has lot of weak points also. He always try to strengthen them.
     Bharath Kumar would like to know about your passions and talk, or share your ideas.
     His mail id:    bbbkazad@gmail.com
Related Links:
University Innovation Fellows:
Bharath_kumar
---
---