Fellow:Ayush Karanwal
Jump to navigation
Jump to search
<parsererror style="display: block; white-space: pre; border: 2px solid #c77; padding: 0 1em 0 1em; margin: 1em; background-color: #fdd; color: black">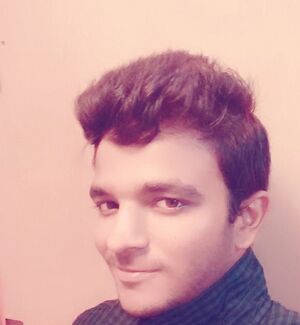 Ayush Karanwal is a University Innovation Fellow and an undergraduate, studying Computer Science & Information Technology at Galgotias Educational Institutions (GCET). His major domains also include Public Relations and Public Communication skills. Ayush is originally from Meerut, UP, where he lived until 2014 when he moved to Greater Noida, UP for college. After exploring his love for people and his possible career paths, Ayush started searching for ideas that would make people see life differently and spread happiness. Then, he was exposed to the University Innovation Fellows. 
At GCET, Ayush is involved with the Literary Club and holds an important position, Galgotias Marketing & Promotions club,Rotaract club where he is the Club Director. In addition, he is the Joint Secretary for the Xtreme club a society of CS and IT department .He worked as the Audi Management head for the college's Incubation Centre drive co-organised in collaboration with IIT. In his spare time, he loves to write and works as interns for various start-ups.
From a very young age,Ayush was interested in entrepreneurship. Growing up, he was also very heavily involved in organising events,fests learning to play core roles and going on to join the startup Fashalot being the Campus Ambassador. This provided him the boost of confidence which has led him to participate in multiple speakers' forums and public debates. On his campus, he is interested in expanding the way students communicate across discipline.
He has a motto "To achieve something you only need to dream them, rest is all your will power".
He believes that when you have a dream chase it till you achieve it, everyone out there has a dream to fulfil, then why wait. It's time to join our hands together and make this world a better place to live in.


Student Priority
Galgotias College Of Engineering and Technology (Student Priority)



---
---