Priorities:Galgotia's College of Engineering and Technology Student Priorities
Jump to navigation
Jump to search
Overview
Strategy #1 : Increasing the Contribution of First year Students in College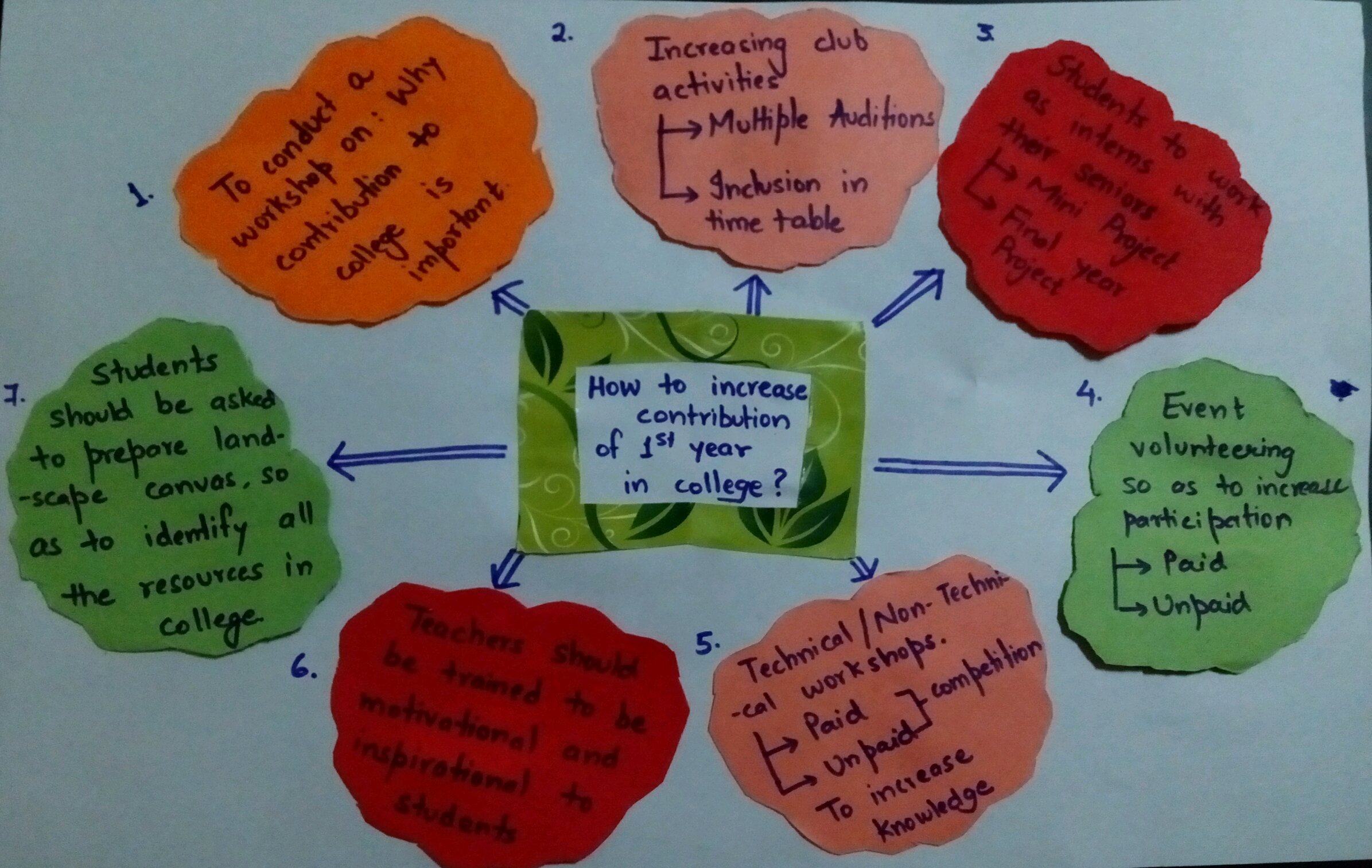 Awareness and Motivation in Students
Workshop and seminars to be conducted to educate students with respect to the importance of the contribution they might do to their college.  (Expected time of initiation: Accomplished) 
Volunteering in activities that helps them to interact with seniors. (Expected time of completition: Accomplished) 
Teachers to be more enthusiastic in listening and guiding students.  
Motivating students to prepare landscape canvas, so as to analyse the resources in the college and be updated with it. (Expected time of completion: By March 2018) 
Increasing Activities
OPPORTUNITY STATEMENT: How might we make the education micro-system in our college encourage creativity instead of discouraging it?
Prototype (or rather a Pretotype) Debate Workshop by Akshat: 
In the face overwhelming Monotony students often end up losing their creativity. The curriculum does not promote free association of ideas in the students and often steers them towards a habit of either excessive rote learning or intensive procrastination.
Extra- Curricular Activities, like Art, Photography, Poetry, and Debating can help the students gain a fresh perspective on their syllabus, and perhaps even carve out new careers via the unique application of their knowledge.
Students often find themselves to be at a loss for where to begin, with the first year students being actively discouraged from participating in Club activities and from Interacting with their seniors.
Interesting Workshops and Cross- Collaboration between the clubs can promote healthy interaction between the first year students and help alleviate their feelings of loneliness by creating a place for them in a community of like-minded individuals, whilst helping them gain important skills viz. Rhetoric, Argumentation and Rational Thinking.
 https://sucourses.novoed.com/embeddings/574388
https://sucourses.novoed.com/embeddings/574390
https://sucourses.novoed.com/embeddings/574391
Strategy #2: Changing the ecosystem to a more innovation encouraging environment
In transitioning from school life to college life, students loose their vision of achieving something great, that is beyond classrooms. A subject focused life takes away their ability and interests of innovating, developing and creative thinking. 
Attendance issue with the students
Apart from awareness problem we realized innovating young minds have to compromise a lot with their attendance in order to bloom their flower of idea, have to arrange for their resources (which is way too much than the actual time it should take), and mostly end up coming back to where they were initially, this time swearing not to think again in this direction, instead focussing in the academia in college (lack of failure accepting mindset at a very initial stage in innovation).
So working in this direction, we thought of addressing the attendance problem of the students where-
would be allowed to work over their innovation during weekends in labs(Expected time of completion: Accomplished) 
students from all branches would have access to these labs (Expected time of completion: Accomplished) 
Students lab hours would be increased so that they can access labs after 5pm (in the evening) as well  (Expected time of completion: By March 2018) 
Addressing attendance issue helps the students by providing time in the college. This is a very basic step addressing the problem of the few students that have ideas that need to be prototyped or experimented. Apart from that innovation can be initiated in college by making students realize its importance.
A Response from Students 
 Introduction of a weekly response letter/form to be filled by students as well as Faculty to rate the progress and introduce ideas on changing the classroom environment from current (completely marks focused) to an environment where the major focus is on "learning by doing" and actively participating into promoting ideas of every individual present in the class. (Expected to be completed by June)
Workshops for Teachers

Workshops for Teachers/all Faculty members as on how to connect with students, and rather that only demanding marks and then judging students solely based on academic performance. Equal weightage should be given to the creative mindset and the effort a student puts into brining the idea/entrepreneurship skill into action. (Accomplished)
Innovation Enouragement Task (IET)

A monitoring team consisting of an elected student and a professor in the mid 30's to develop a monthly report on innovation encouragement task (IET) and hence providing their feedback to the respective subjects of this program, to fill the gaps. (professor in mid 30's as He/She will be having enough experience in the field for such evaluation, and won't lacking that spark to achieve something He/She was a student not soo long ago. )  (Expected to be completed by December 2018)
Inspirational Talks  
Playing inspirational videos every week without prior notice, so that students continue into processing their energy to an innovative and focused learning. Also organizing inspirational talks by successful startup leaders about their journey, and what all is waiting for the students in the world beyond campus boundaries. (Accomplished)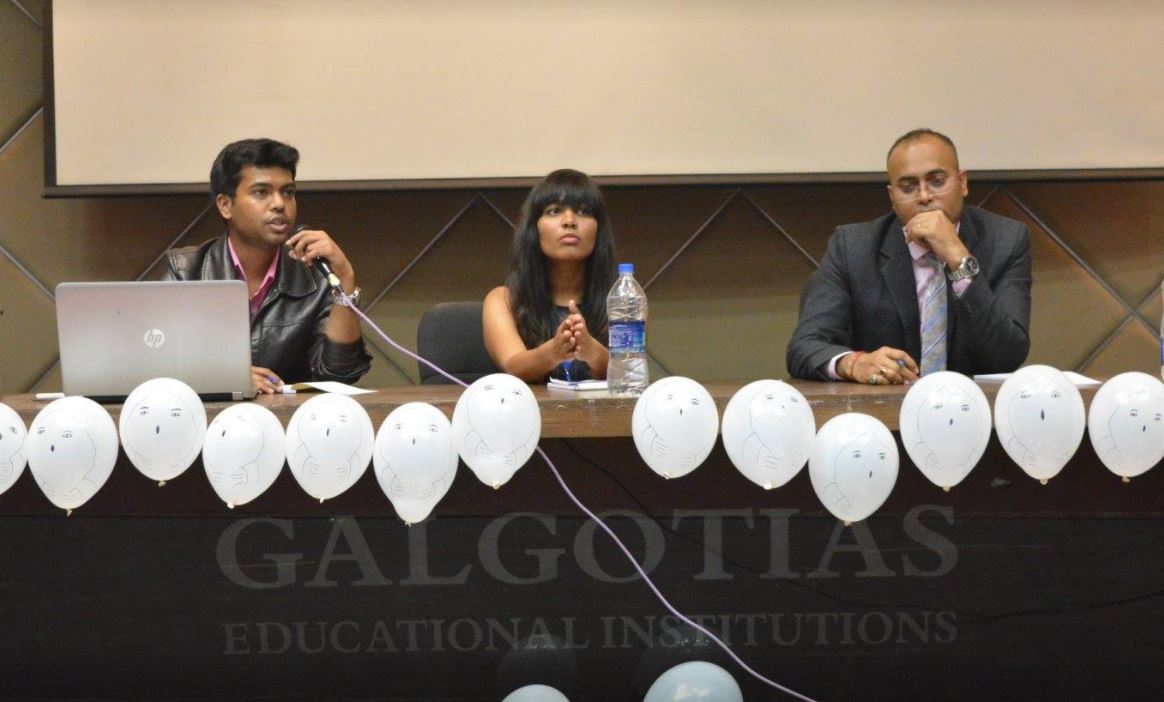 Strategy #3: Increasing Support to Increase Generation of Ideas

Prototype: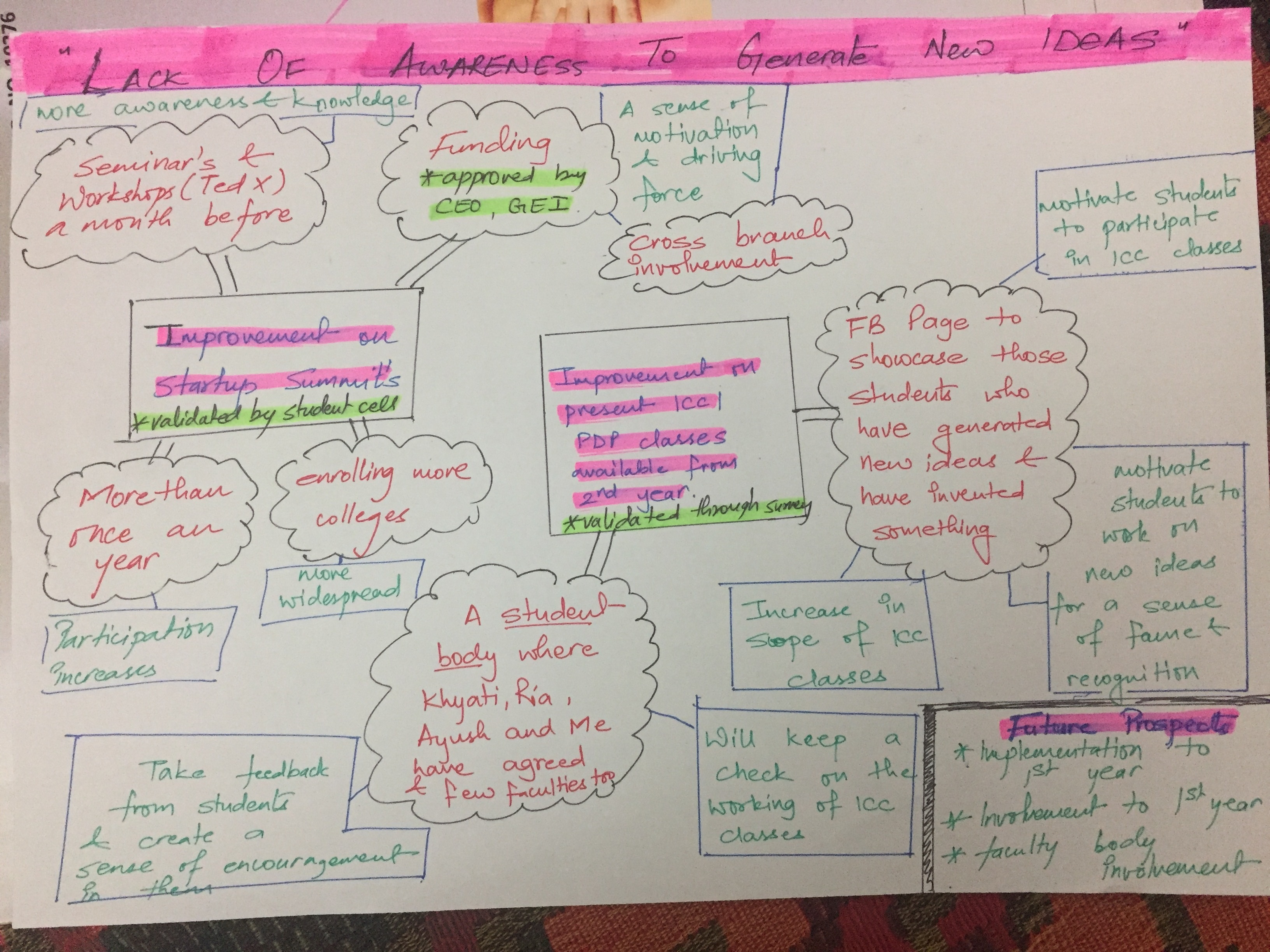 INCREASING SUPPORT TO INCREASE GENERATION OF IDEAS
Imagine an ideal situation; you have a bowl of noodles and a pair of chopsticks. Also suppose you are new to using chopsticks. Now if you are in a Chinese/Japanese restaurant then you would surely feel left out and guess what it's never your fault, you have the bowl of noodles you have chopsticks it's just that you don't know the procedure to use it. Similarly, thousands of children all round the world want to generate new ideas "they want to eat (in case of our example) but don't know how to use the chopsticks or as in our case generate new ideas. In our college two programs run in a similar direction. One is ICC(Infosys Campus Connect)/PDP(Personality Development Program) and second is Startup Summit's. ICC/PDP is available from second to the third year of graduation which might not be too late but yes it is late. Why waste a year to start idea generation. Idea generation is like growing a plant, it takes years. Presently, students tend to bunk such sessions so before we implement to first year we would like to improve the present scenario.
Improvement on Present ICC/PDP Classes
·         Creating a Facebook (social media based) page to showcase those students who have benefited from such programs and how their journey started. This would stand as a mode of inspiration and motivation to new comers and those who don't find its importance. Also, it would act as a virus which could spread cross branches and cross colleges for greater impact. 
Expected Time of Completion : Accomplished.
·         Spreading awareness regarding the importance of ICC/PDP classes.
Expected Time of Completion : Accomplished.
·         Motivating Students to participate in competitions related to ICC/PDP.
·         A Student Body (presently the fellows of the said college have agreed to take charge) under guidance of faculties, who would keep a check on the said program. They would monitor that students do attend such sessions, and if they don't then motivate them to attend these lectures by telling them about its importance.
Expected Time of Completion : Before April 2017 in which the student body would be ready and recognised in the college.
·         Motivating students to generate ideas by giving them past examples so that they have a basic sketch of how to climb ladders. This was done recently by a senior of our college who created an application for the college attendance, and yes it did come out good.
Improvement on Start-Up Summits
Seminars and workshops (TEDx) workshops should be initiated a month before the startup summits so that those who wish to participate in such events have ideas on what to do and how to do since people tend to be blank about the proceedings of such events.Expected Time of Completion : Before July 2017 as orgainising seminars would require mentors and faculties with sponsorships.
Funding for the same is needed to be generated (which is approved by the CEO of GEI)
To be held more than once in a year as many students are not able to attend when it takes place a single time a year. This would ensure more participation and yes motivation to do. Expected Time of Completion : Before August 2017 a Startup Summit shall be conducted.
Cross branch involvement, as this would ensure that right guidance is provided to beginners and a bigger idea can be brought to life.Expected Time of Completion : Only post the above mentioned programmes work efficiently.
'Future aspects

('Expected Time of Completion : Only post the above mentioned programmes work efficiently.)
Once the above plans are running successfully
·         Implementation to first year would take place. As it would be safe to initiate the whole process to first year after it has been improved where it is presently exercising.
·         More faculties would be involved. This would require fewer efforts as they themselves would understand its importance post its success.
Strategy #4: Ways to Increase Funding for Students
Central Problem
Though the increase and providing funds lies in the hand of the highest levels of management , still we found the following issues.
There is no proper channel for the students to follow and gain funds from the concerned authorities.
Students end up in acquring the wrong notions about funding.
 Lack of motivation from the supporting staff and teachers end up in the project being regarded as a failed idea.
Walk through the most effective channel

    Redefining the most effective channel to be followed so that the students don't end up in dimissing their ideas.
    Indulging the faculties and other teachers to support the student and guide them to success.
    Providing the management with working prototypes so that they have a clearer idea about the upcoming project.
Expected time of Completion : Mid May 2017

A  managerial body would look into the idea soon and confirm the formation of the club or panel for felicitating the Head Of Departments(HOD's).
The CEO has shown positive thoughts to impelemt the idea and so with regular updates , the idea would be soon implemented
Other Smaller initiatives
Increase funding through goverment bodies like MSME and SIDBI.
Organize fund raisers for personal funding .
Form a platform where stuffs discarded by one person can be used as a raw material for other's need.
Allocate annual budget for funding extraordinary ideas.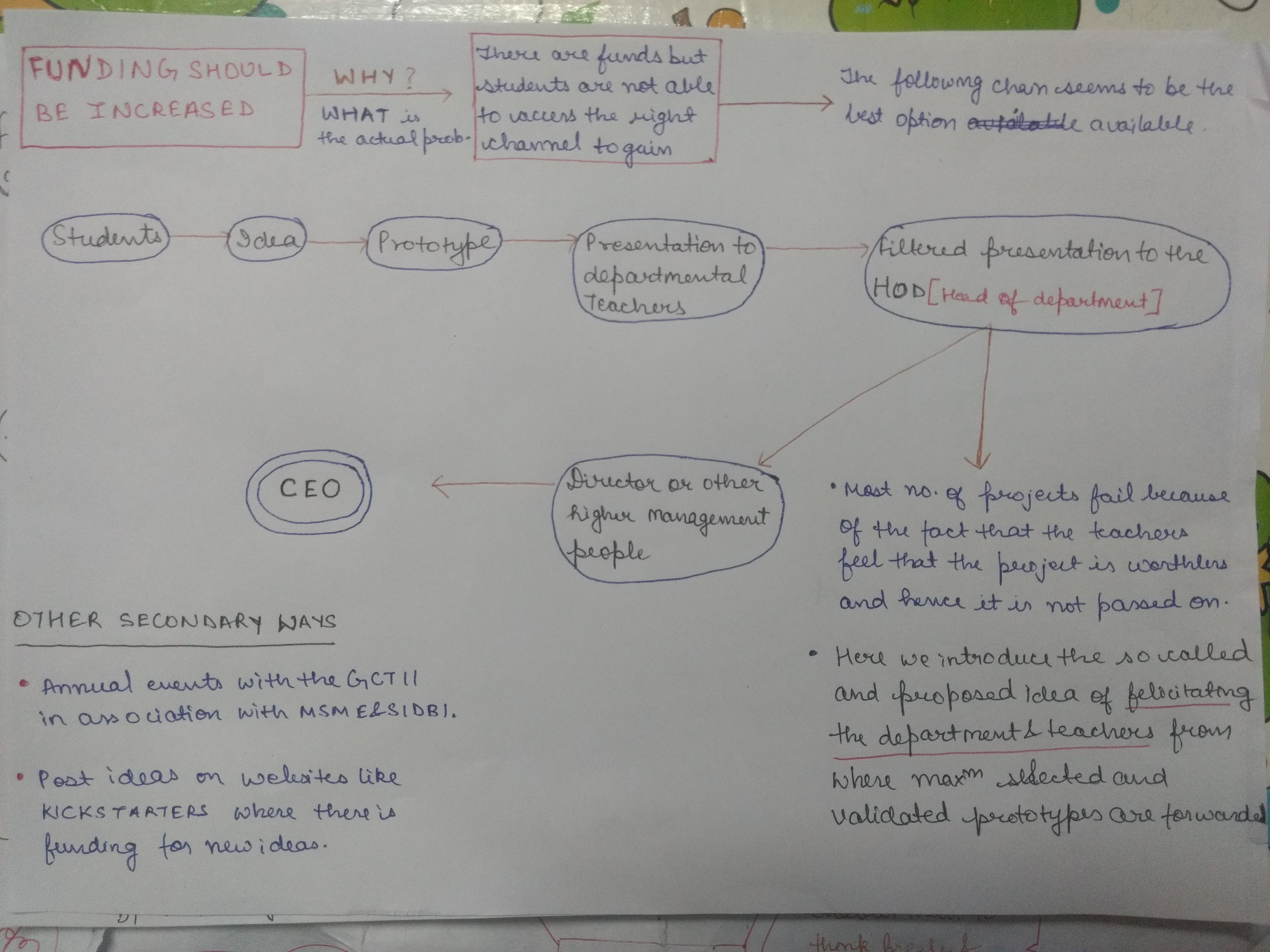 Strategy #5: Implimenting Internship cell inside the college
Introducing internship cell innside the college which will help the students to get knowledge about the available opportunities near them.
Many graduating students struggle to identify the right career path or find themselves getting lost in the competitive job market. Employers increasingly hire students with internship experience over students who have none. In their survey, NACE found that about 63% of students who completed an internship were offered at least one job after graduation, while only 35% of students who did not complete an internship received at least one job offer. Completing an internship - or several - while you're in school can help you gain an edge on the competition.
With the indroduction of internship cell, students will be given detailed knowledge and guided about the available opportunities. Which will not only add to their resumes but also help in overall development of an individual. Not only will the individual get his skills improved but will also be familier with the atmosphere inside an organisation. Thus making an individual organisation ready.
Roughly 80-90% students haven't been able to find internship even by the end of the 3rd year.Thus there is a need for developing an internship cell inside every campus.
Implimentation:A  managerial body would look into the idea soon and confirm the formation of the club or panel for felicitating the Head Of Departments(HOD's).
The teachers have shown positive thoughts to impelemt the idea and so with regular updates , the idea would be soon implemented.
STRATEGY #6 - UNAWARENESS ABOUT THE ENTERPRERNUSHIP,  GCTII(E CELL)  AND MSME OF OUR COLLEGE
Enterprernuship can be a solution to the problem of unemployment. But, it is not understood correctly. Many a students are unaware about the fact that their own college is having an e-cell and the one's in the GCTII are working like sheeps in order to conduct a once a year submit.
Spreading awareness in each and every class through announcemnt

Apart from awareness through facebook pages, announcements regarding this cell and MSME should be done in order to induce one more career option for the students so that they can give their best by investing their time in innovation and startups. (Expected time of completion - already done)
spreading awareness in campus : https://www.youtube.com/watch?v=jb651RN29kg&feature=youtu.be
Conducting workshops and interactive seassions on GCTII
Students need to understand that Enterprernuship is the process of converting a vision into reality and not simply the desire of being an Entrepreneur. They should work upon something they are obsessed with and do innovate about that and not random things. These workshops and interactive seassions will give students the knowledge to work effectively and innovatively. (Expected time of completion :- By September end 2018)' '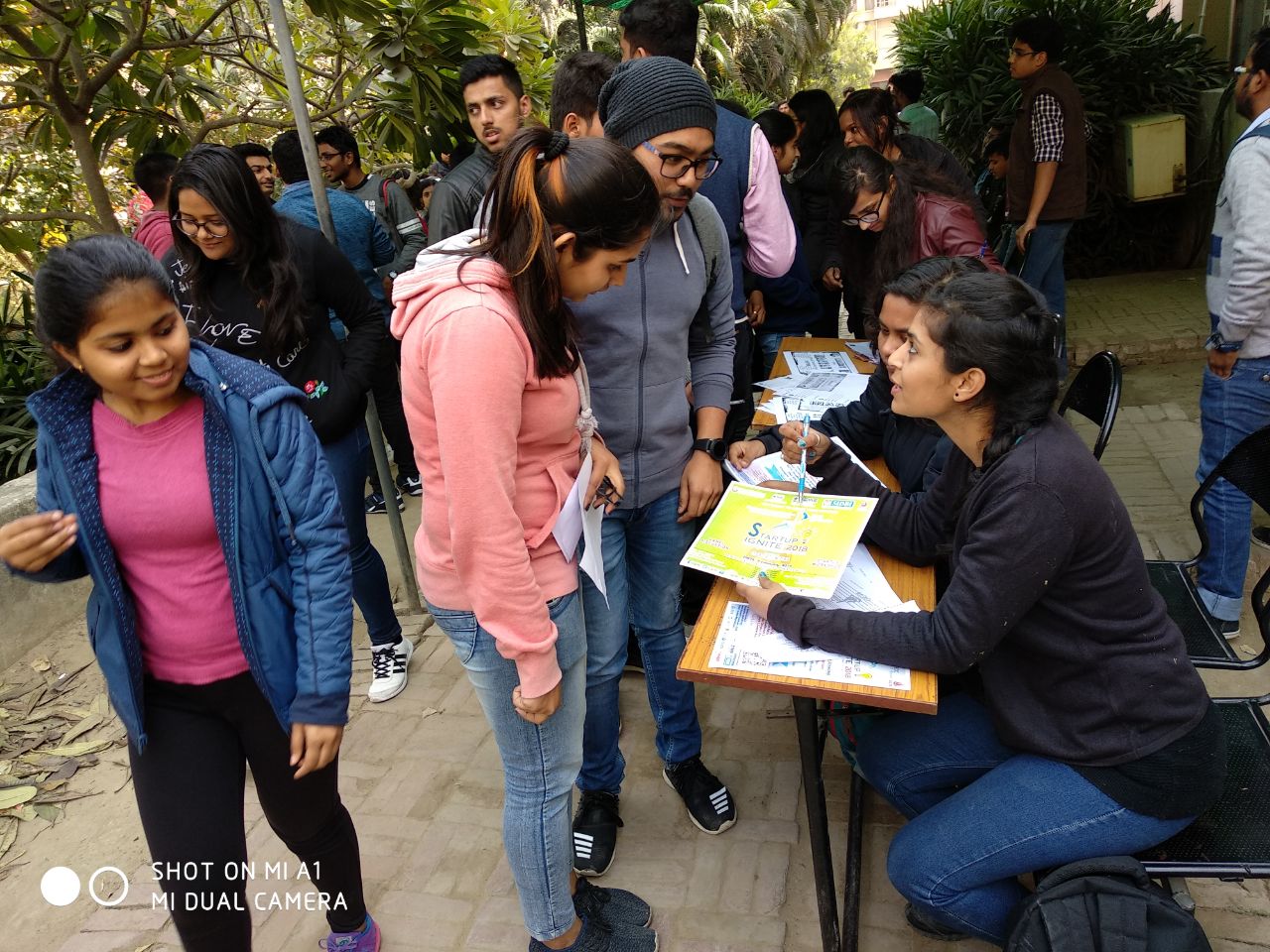 Related Links :
Galgotias College of Engineering and Technology
Spring 2018:
---
---