Fellow:Asia Lee
Jump to navigation
Jump to search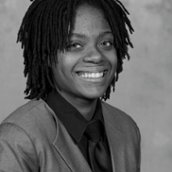 Learning everything from Finance, Accounting, Marketing and Management to Studio Arts, Visual Culture, and Digital Art & Design, in May 2015 Asia obtained her Bachelor of Science in Marketing with a minor in Art. Not only was she the first in her family to attend college but she also recieved Magna Cum Laude Honors. 
During her undergraduate academic career she was involved in the McNair Scholars program, engaging in an 8-week self-conducted research study; the Interactive Marketing Immersion program (IMIX), learning conceptual and practical applications in marketing (1 of the top 31 students chosen trhoughout the US); Africana Theater Lab, as an artistic director; and worked as a content manager for SIU's Web Communciations and Marketing department for almost 3 years.
Her second degree will be a Masters in Business Adminisration. Currently Asia is a graduate assistant with the university's Social Media Team, managing various social media platforms (reaching over 20,000 followers); involved with the Saluki CEO Organization, managing their social platforms for the upcoming event TakeSI; and a College of Business Admbassador, engaging with students through academic life panels.  
She hopes to successfully enhance the entrepreneurial and innovative culture at her university by introducing a startup competition dedicated to finding solutions for food deserts located in Southern Illinois. "Due to the Illinois budget impasse it is very important to ensure in our students that they will be well taken care of and access to food is just one marginal step in the process."
She continues to state, "Growing up in Chicago was very tough. Once I got to SIU I was able to branch out and accomplish things I never thought I could 5 years ago. In the future, I plan on directing my studies, networks, and experience to bigger societal issues, especially to create an inclusive, safe environment for the city kids of Chicago.Change starts with us."
Related Links
Souther Illinois University Student Priorities
University Innovation Fellows
Spring 2016:
Fall of 2015:
Spring 2015: