Fellow:Alex Hutchinson
Jump to navigation
Jump to search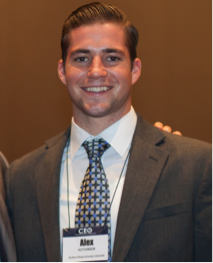 My name is Alex Hutchinson, a  University Innovation Fellow from the Spring 2015 cohort and senior at Southern Illinois University in Carbondale double majoring in Finance and Marketing. I am currently President of a student organization titled Saluki C.E.O. (Collegiate Entrepreneur Organization) Corps. I am very proud of this organization and have been investing myself into the progress we contribute to rising entrepreneurs throughout Southern Illinois. This position helps me to expand and exceed on my professional leadership skills as well as be a part of a team that is dedicated toward growth and innovation of the modern business world.

While my undergraduate career is coming to end this year, I have gained a variety of invaluable experiences throughout my time at SIU. Founding my first company my freshman year (Area Concepts Construction) has taught me so much in the realm of Entrepreneurship, including management delegation, fiscal coherence of a start up and fundamental pragmatism. This venture helped realign my vision toward Entrepreneurship where I joined the Saluki CEO Corps in order to integrate into a community of ambitious business owners. It is in this capacity that I enrolled in Saluki Ventures, a student business incubator program that has provided me with resources necessary for my latest venture, a smartphone app in the food and beverage industry.

My internship with Edward Jones Investments first induced my hunger for financial fortitude. With my double major of Finance and Marketing, I was able to shift my professional goals with my strengths in the pursuit of a career in Investment Banking. My senior year is dedicated to my progression of both field experience and systematic education as well as developing a network of established and forward thinking connections.
I look forward to joining UIF and participating in rewarding experiences with you all!
Alex Hutchinson
Related Links
Souther Illinois University Student Priorities
University Innovation Fellows
Spring 2016:
Fall of 2015:
Spring 2015:
---
---