Fellow:Ahmet Berk Tuzcu
Jump to navigation
Jump to search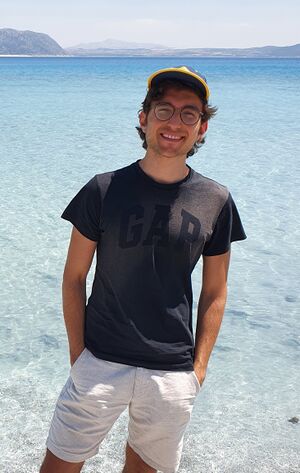 Name

Ahmet Berk Tuzcu

School (Cohort)

Koç University (2020 cohort)

Majoring in

Electrical and Electronics Engineering & Physics (DM)

Country

Turkey

Email
Bio
Berk studied electrical and electronics engineering and physics (Double Major) at Koç University. He also has a minor in psychology. He is from Denizli (a town in Turkey in the Aegean Region), but he has been living in Istanbul for his studies since 2011. He is into psychology and neuroscience. He worked as a researcher at OML (Optical Microsystems Lab). He is amazed by the mechanisms of human vision and the anatomy of the eye and the subjects of his current projects include neuro-ophthalmology, deep learning, and bioelectronics. He was one of the presidents of KU-SIGN (Koç University Student Interest Group in Neurology) in 2021.
After graduation he has started working at CareX.ai, a silicon valley company working on a phone application for non-invasive vital reading.
In the future, he is planning to continue his studies and obtain a Ph.D. degree. He wants to find novel solutions to diseases (prediction, prevention, and cure) and develop non-invasive predictive technologies combing signal processing and machine learning with medicine (especially neurology).
He believes in the power of wanting, and he approaches the world from a holistic perspective. He likes traveling, writing, doing yoga, playing the piano, and meditation. He considers himself as an amateur modern-day polymath. He likes being mindful and spontaneous although he dreams big. He wants to help people find happiness in every situation. He knows Turkish (Native) English (Proficient), Spanish (Intermediate), German (Beginner), and Russian (Beginner).
Artistic Background
For him art is a lifestyle. He finds himself and expresses his feelings freely through it. He was a national dancer in ballroom dancing although his training was interrupted due to the Covid-19 crisis. He has been doing musicals for 8 years and he was the head of the musical club at Koç University in 2020. He did ballet, Argentinian tango, salsa, and contemprary. As an amateur artist, he does sculpting and painting. He studied at Pera School of Performing Arts (Guitar) as a second high school. He has the degree of "Distinction" from the London College Guitar exam 8.
He has started studying musical theater at Bahçeşehir University Conservatory in September 2021. He is also working as the choreographer of the musical club of Koç University.
Social media profiles
Instagram: personal: @berk_tuzcu artworks: @icarusartwork photography: @dark_photos1
Linked-in: @Berk Tuzcu
---
---