Fellow:Adam Schwartz
Jump to navigation
Jump to search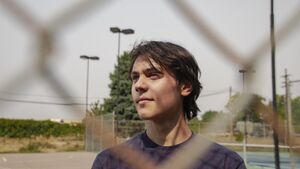 Name

Adam Schwartz

School (Cohort)

Colorado School of Mines (2021 cohort)

Majoring in

Mechanical Engineering

Country

United States

Email
Bio
Adam Schwartz is a Mechanical Engineering student at Colorado School of Mines. He is passionate about music, has a lifelong love of animals and conservation, and is a Type 1 Diabetic. He comes from an unconventional path and is unusually extroverted.
He was born in Denver, Colorado, and is the youngest of three children. After experimenting with the public school system, Adam was home-schooled, with a strong foundation in math and science. He attended Two Roads Charter School, concurrently with home-schooling, from grades 2 - 8, where he studied history, art, Latin, and theater. During this time period, he tried a variety of sports, with competitive swimming being the most impactful.
Instead of attending a high school, he went straight to Community College of Denver, being 13 but taking classes with 30 year-olds. At this time he stopped swimming, started competing in cross country for Denver East High School, and gained the hobby of dancing. He also participated in a volunteer program at the Denver Zoo for two years, working with other teenagers, keepers, animals, camp counselors, and toddlers for hundreds of hours. He would remain at the Denver Zoo and the Denver Museum of Nature and Science for several years in assorted volunteering positions.
After completing an associates degree, Adam transferred to Colorado School of Mines, where after brief experimentation with Computer Science, he studies Mechanical Engineering. Adam is involved in a copious amount of student organizations, founding the Mines Solar Committee, serving as treasurer for Socially Responsible Scientists and Engineers, and participating in the Solar Decathlon design competition, HIKE for Help, Mines Green Team, the Mines Sustainability Committee, Ballroom Dance, Chess Club, Karaoke and Music Club, and more. He has worked as a researcher, TA, a peer mentor, tech support assistant, busser, cook, dishwasher, retail store worker, laborer, and construction worker.
Adam has the future goal to work in renewable energy, but is still deciding the path to get there. He intends to attend graduate school, but wants to live abroad and gain more experience as well. He hopes to improve the college experience for future Mines students and leave a positive lasting impact.
Adam's project with University Innovation Fellows is creating undergraduate opportunities in Renewable Energy, in the form of academic paths and industry partnerships. Adam is currently organizing student support and working with faculty to better plan an effective and useful path for this area.
Achievements
- Associates of Science (3.89 GPA)
- Dean's List (3.60 GPA)
- GED Certificate
- 2nd Place in Solar Design Challenge
- Proficiency in Spanish
- "Ultimate Oredigger"
- 400 Hours Volunteered in two summers at the Denver Zoo
- Sank a cardboard boat within a minute of it touching the water

Social media profiles
Adam believes social media is a toxic waste of time designed to cripple your mental health and self-development, and therefore does not have any social media profiles.
---
---