Fellow:Abdul Wadood Shaik
Jump to navigation
Jump to search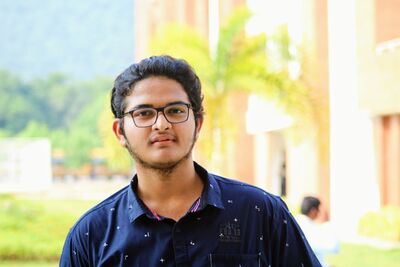 Name

Abdul Wadood Shaik

School (Cohort)

Sri Venkateswara College of Engineering (2020 cohort)

Majoring in

Bachelor Of Technology in Information Technology

Country

India

Email
Bio
Abdul Wadood is an undergraduate student from the Information Technology Department in Sri Venkateswara College of Engineering, Tirupathi, Andhra Pradesh, India Passing out in the year 2022.
He is always excited about his future. He wants to change the world with new things and skills. From his childhood, he always wants to become an entrepreneur. He Dreams to set up his startup.
He is a Photographer too. He Loves to carry the Camera with Him always to Capture the Moments. He would love to say "Be Like a Camera Focus On What You Want and Blur The Unwanted From The Life".
He always says "We should be in a position to give anything to others not to take from others".
He lives in the moment by motivating himself "Life is a Lesson, Today is the Test and You are the answer".
He Easily Connects with New Peoples without any Issues. He always Created friendly and smiling environment in the surroundings.
Achievements
When He is in School He was Black Belt Champion and Sliver Medal Holder across the India in National Level Karate Championship.
He is a Overall Campus Coordinator For RentDuniya Which is a Start Up Company By College Seniors.
He also a Technical Team Lead For College Campus Radio.
He was Department Coordinator For College Events.. He Was Certificated in Various Events and Workshop Like Student Entrepreneurship, Cyber Security, IOT and Department Fests.
Social media profiles
EMAIL : abdulwadoodshk@gmail.com
PHONE : +919652465760
FACEBOOK : https://www.facebook.com/profile.php?id=100009157795504
INSTAGRAM : https://www.instagram.com/____wadood____/
SNAPCHAT : wadoodbhai
LINKEDIN : https://www.linkedin.com/in/abdul-wadood-shaik-806859172/
TWITTER : https://twitter.com/ShaikWadood
Related Links
University Innovation Fellows
FELLOWS 2017 Fall 

FELLOWS 2018 SPRING 

FELLOWS 2018 Fall 

FELLOWS 2019 Fall 
FELLOWS 2020 Fall 
---
---