Fellow:Abdoul Mohammed
Jump to navigation
Jump to search
          Mr. Abdoul Mohammed
University Innovation Candidate, Fall 2015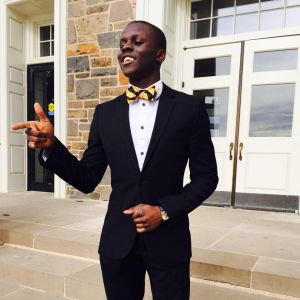 Hello,  Abdoul Mohammed is a junior Transportation Systems Engineering Major at Morgan State University. He is involved in various organizations on campus. He is the Director of Educational of Affairs for Alpha Phi Alpha Fraternity, Inc. and apart of the Transportation Engineering Club. He is the Social Media Chair for Morgan State Entrepreneurship Club. As a freshmen, He intern at Exelon-BGE as an Information Technology Analyst. He enjoyed writing test defects for the BGE operating management system.  Last summer, Abdoul intern for NIH (National Institute of Health) ASCEND program where he learned how to research of bio-medical related issues and how to develop a research proposal.
            Abdoul enjoys spending time watching personal development videos and reading books related to business, health, wealth, and entrepreneurship.  He enjoys engaging in conversations related to new ideas and business plans. His goal is to shape his campus into an entrepreneurial mindset.
           As a University Innovation Candidate, he believes already the program has helped his group identify problem within the campus that they can resolve. The experience has already shaped his him and his teammates to identify entrepreneurship programs that they can soon implement into their university.
Related Links

Morgan State University Student Priorities
University Innovation Fellows
Spring 2016:
Destiny Bond
Fall 2015:
Fall 2014:
Fall 2013: