School:Visvesvaraya Technological University (VTU)
Jump to navigation
Jump to search
OVERVIEW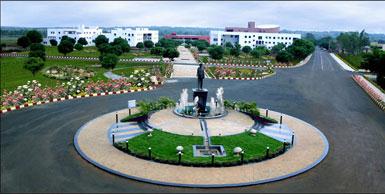 Visvesvaraya Technological University (VTU) is one of the largest Technological Universities in India with 16 years of Tradition of excellence in Engineering & Technical Education, Research and Innovations. It came into existence in the year 1998 to cater the needs of Indian industries for trained technical manpower with practical experience and sound theoretical knowledge.The university having 202 affiliated colleges, 1 constituent college and 17 Autonomous colleges with undergraduate courses in 35 disciplines, PG program in 94 disciplines and Ph.D& M.sc(Engg.) with research programs in 592 departments, over4 lakhs Engineering Students study in the various institutes affiliated to the University. The University has 13 Quality Improvement Programme (QIP) centers in various affiliated colleges.University is comprised of a multi-disciplinary and multi-level institution offering wide ranging programmes in engineering, technology and Management. The University is making steady progress in developing and providing best technical environment for education and will continue to serve the nation in coming years. The University has  extremely rich resources of an outstanding student body and faculty strong partnerships with business, industry, and government and support from alumni and friends, VTU is designing a future of global preeminence, leadership, and service.
To encourage Innovation and Entrepreneurship on campus, the University is setting up various centres with necessary resources so that the students can  improve their creative, innovative and entrepreneurial skills.
STUDENT INNOVATION AND ENTREPRENEURSHIP



The university has many resources available on campus that act as catalyst to improve Innovation & Entrepreneurship among students of different colleges affiliated to University. To nurture the entrepreneurial, creative and innovative skills of the students- various workshops, competitions, technical talks and incubation centers have been set up where students get inspired to become a social-entrepreneur or technopreneur.

Various programs that are aimed at improving Innovation & Entrepreneurship on campus are as follows:

LEAD PRAYANA
The youth of today are the leaders of tomorrow. For this purpose, the LEaders Accelerating Development (LEAD) Program of the Deshpande Foundation was born. LEAD develops innovative and entrepreneurial thinking within college students by exposing them to social issues, encouraging them to volunteer their time and efforts for their community, and igniting their talent to come up with creative solutions. Through this unique platform provided by LEAD, students are gaining the skills and confidence needed to transform their visions into realities.
LEAD PRAYANA is an annual leadership journey for youth aged 18-26 to encourage student innovation and entrepreneurship.With the aim to "unleash your leadership potential", the program involves a memorable 1800 km journey of lifetime where students visit various colleges, organizations and interact with various experts in the field of entrepreneurship. It is two week fun-filled program involving more than 10 inspiring role models and speakers, see their extraordinary work, visit more than 8 destinations, take part in panel sessions, explore more than 12 unique organizations, institutions, MNC's and industries, and help the students to create their own groups to share their hands-on experiential learning and develop creative, innovative and entrepreneurial skills.

INCUBATION CENTRE
All the colleges affiliated to VTU have an Incubation Centre to promote entrepreneurial leadership across all disciplines, facilitate entrepreneurial activity amongst students, and invite entrepreneurs to use Incubation Center services so as to develop end products for commercialization. At KLS GIT, there have been  two startups founded by students that were incubated-dotCoRD and Boredbees.

dotCoRD
dotCORD is a company founded by a group of students of KLS Gogte Institute of Technology affiliated to VTU with a professional tint to their pursue of knowledge. They pioneer in providing superior and world standard web based solutions for small to large corporate companies; offshore and local.They fully appreciate the fact that in a highly competitive biz world a well designed website can act as a strong and effective marketing tool for your company. Working closely with your ideas and necessities coupled with technical expertise can turn a simple web design from a mere presentation to powerful business equipment.

Boredbees
Boredbees Tech Solutions India (P) Ltd. is one of the leading companies providing IT consultancy and outsourcing services. With more than 5 years of experience and with great leadership team Boredbees serve more than 100 customers globally.The company. is known for providing turnkey solutions. The consultancy teams here are experienced to understand the business processes and give best possible solutions.

NEW AGE INCUBATION NETWORK (NAIN)
The program is designed to give preference to students, research scholars and alumni of the colleges in Karnataka to encourage innovation and entrepreneurship. The projects undertaken by students from different colleges of VTU are provided with funds that can help them to take commercialize their ideas into a startup.
FACULTY INNOVATION AND ENTREPRENEURSHIP



To encourage Faculty to undertake research activities and commercialize their research into an innovation or entrepreneurial activity, various research centres have been established in various colleges affiliated to VTU. The research centres that are aimed at improving innovation among the faculty has following benefits :
To enhance the awareness about research and innovation amongst the faculty as well as students through events like workshops, symposia and guest lectures on research methodology , innovation, patents etc.

To encourage faculty member to get involved in R&D activities and further commercialize their ideas into a startup venture.

To encourage/facilitate the faculty as well as students to publish papers in leading journals/ conferences.

To create awareness and encourage/facilitate faculty as well as students to apply and work on funded research projects sponsored by AICTE, VTU-VGST, DST, ISRO ,DRDO etc. The funding helps the Faculty to undertake their research and further commercialize it in association with the companies that have funded the project or partnership with other organizations

To encourage/ facilitate the faculty as well as students to work on Industry based live projects that will help them to tie up with the concerned industry and develop entrepreneurial mindset with such projects.
UNIVERSITY TECHNOLOGY TRANSFER FUNCTION



VTU has signed MOUs various Institutes/Universities and organizations to encourage technology transfer among different colleges of University, with other universities and other organizations  that will help the students to share skills, knowledge, technologies and facilities among universities and other institutions to ensure that scientific and technological developments are accessible to a large section of the student community that will improve their creative, innovative and entrepreneurial skills.
Some of the Institutes/Universities that have signed MOUs with VTU are:
Virginia Commonwealth University

.

University of California

.

T&R Consulting Pvt Ltd. Australia

.

The Indus Entrepreneur

for encouraging students to undertake entrepreneurship on campus.
FACILITATING UNIVERSITY - INDUSTRY COLLABORATION



VTU has collaborated with many multinational organizations to enhance University-Industry relation that is aimed towards improving student interaction with the industries that can help them to nurture their skills in the field of interest by utilizing the resources provided by the Industries.

Some of the centres that have been started in the University in collaboration with industries are as follows:

VTU - Bosch Rexroth Center Of Competence In Automation Technology
Visvesvaraya Technological University has established the VTU-Bosch Rexroth Centre of Competence in Automation Technology in collaboration with Bosch Rexroth AG – Germany at its extension centre in Mysuru.The centre has world class equipment, training kits, hardware, software and teaching aids with adequate faculties trained from Rexroth, Germany.The Centre provides hands on experience in the field of industrial automation to industry personnel and students pursuing Engineering.

VTU has collaborated with the following  organizations : Autodesk, Deshpande Foundation-Startup Center, India Electronics and semiconductor Association, IBM India Ltd., Intel Asia. Bengaluru, Ingersoll-Rand (India) Ltd. Bengaluru, ISRO,United Telecoms Ltd. Bengaluru, Infosys, Honeywell, WIPRO, RGUHS, Air force test pilot School, Karnataka State Bio-Fuel Development Board, Karnataka State Pollution Board, Construction Industry Development Council. New Delhi, International Institute of Industrial Safety Management College.
ENGAGING WITH REGIONAL AND LOCAL ECONOMIC DEVELOPMENT EFFORTS



Visvesvaraya Technological University in association with the Karnataka government has undertaken many initiatives that are aimed at improving the social and economic development of the region in and around the University ecosystem. The initiatives include training for a larger section of the youth community to develop their skills in the field of interest, providing employment opportunities, catering to the need of society by providing technical assistance and working for social and economic welfare through Social Innovation clubs that are established in every college affiliated to VTU.

Some of the initiatives undertaken by VTU in this regard are:

NATIONAL ACADEMY FOR SKILL DEVELOPMENT
VTU- National Academy for Skill Development is a noble initiative of Visvesveraya Technological University to cater the present need of skill requirement in India. India today is in a serious need of skilled workforce. Responding to the call of Skill India initiative the VTU-NASD has been established in Dandelli District of Karnataka.The skill development centre aims at introducing certain valuable training courses and programmes to enhance the employability and bridge the gap between academics and Industry. VTU-NASD aims to provide training courses to the needy youths of Karnataka and India in whole, in the lines of National Skill Development Corporation.The primary mission of the academy is to conduct a broad based multidisciplinary programme in various Industrial Technical Fields, directed towards the development of skills and trades and to become a world class training centre that represents specialized trade training programs in alignment with the Industry requirements across the globe. VTU-NASD has been supported by the Government of Karnataka.
Economic-Social Innovation Club
These clubs are set up in colleges affiliated to VTU that are aimed at providing service to the society that enhances the economic and social development of the region. The Rotaract club of GIT and LEAD are some of the clubs established in KLS GIT to undertake projects that help the society. These clubs have completed projects like "Joy of Giving", Charity show to raise funds for helping the needful people of the society etc.
---
---