School:University of Colorado Colorado Springs
Jump to navigation
Jump to search
Campus Overview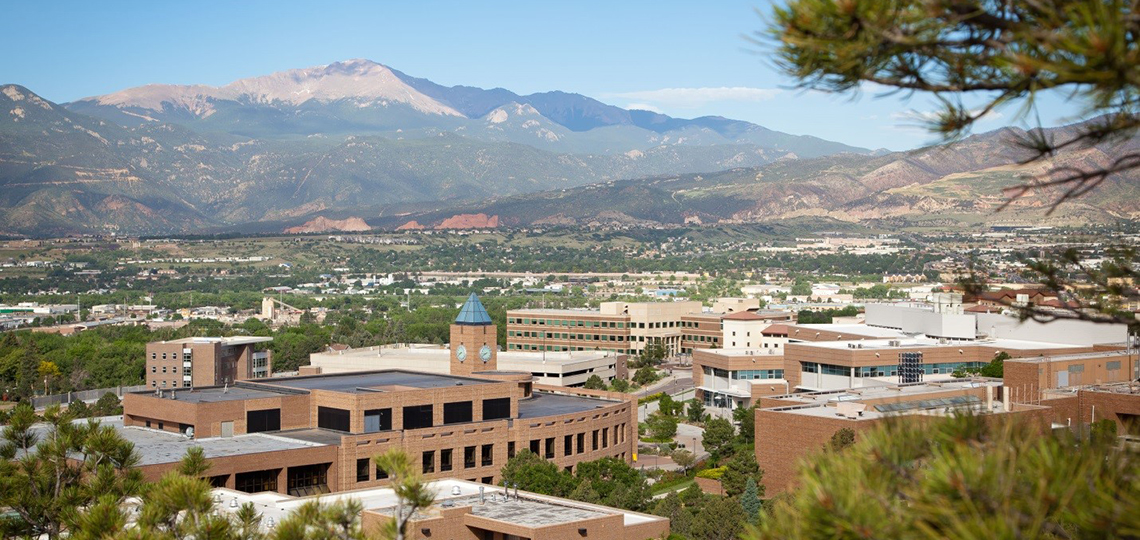 Promoting Student Innovation and Entrepreneurship
Innovation and Entrepreneurship are a core focus at the University of Colorado Colorado Springs (UCCS).  This is demonstrated through the unique Bachelor of InnovationTM (BI) degree. There are currently 12 BI degrees, spanning across the College of Business, College of Engineering and Applied Science, College of Education, and the College of Letters, Arts and Sciences. This degree combines an emphasis (a major), the innovation core, and a cross-discipline core (students can choose between business, globalization, creative communication, or engineering technology). The innovation core, the heart of the BI, provides students with an experiential education in innovation and entrepreneurship.
In addition to the BI degree, our campus, through the El Pomar Institute for Innovation and Commercialization (EPIIC), regularly hosts events focused on innovation and entrepreneurship such as TEDxUCCS, Lion's Den Pitch Night, Global Game Jam, and EPIIC Nights Speaker Series.  Each of these events are meant to encourage students to get involved in an innovative and entrepreneurial space, attempting to reach both students who have ideas and students who want to get involved. These are augmented by entrepreneurship classes offered in the business school for students who want to go deeper.  If a startup comes out of one of these events, or if students create a startup independently, The Garage is available as an entrepreneurial workspace for students who are developing companies.
Encouraging Faculty Innovation and Entrepreneurship
Faculty at UCCS are responsible for the innovative BI degree, but also for creating an atmosphere and curriculum that promotes innovation and entrepreneurship on campus.  The curriculum developed for the Innovation Core is designed to facilitate both the mindset shift that is required for students to utilize their innate innovative abilities and the experiential learning that allows students to explore this ability with the purpose of transforming ideas into impact through the projects they work on for class.
Outside of the BI, there are few classes that are focued on innovation or entrepreneurship that are widely available.  The majority of entrepreneurship classes are focused in the College of Business.
In addition to these classes, UCCS is home to both El Pomar Endowed Chair in Entrepreneurship, Dr. Tom Duenning, and El Pomar Endowed Chair in Innovation, Dr. Terrance Boult, who help facilitate innovation and entrepreneurship on campus.
Actively Supporting the University Technology Transfer Function
Within the Bachelor of Innovation™ we have two courses that teach our students about intellectual property and support our university technology transfer function. The first is Business and Intellectual Property Law. In this class, students dive into what intellectual property means and how they can protect their ideas. Students learn how to develop a patent and work together to understand how these skills fit into their futures. The second class, Technical Writing, teaches students how to research, find, and write grants, culminating in writing a real grant proposal for a real client. Both of these classes provide students with hands on experience and skills that they will be able to apply in their future careers. After taking these two classes students have a realistic grasp on what intellectual property is and how they can protect, and leverage it in their future.
In addition to the BI courses, the University of Colorado, as a system, has a Tech Transfer office which has the ability to license patents out to students to facilitate the development of a product or company around intellectual property that the University owns. This gives students the valuable opportunity to create innovations and protecting their intellectual property out of the box.
Facilitating University-Industry Collaboration
Colorado Springs itself contains several opportunities to connect our university to the entrepreneurial industry: 
These resources can provide great value to students interested in innovation and entrepreneurship at UCCS; it is therefore critical that UCCS creates relationships and partnerships with these organizations to provide students with both opportunities and the resources to pursue innovation and entrepreneurship.  Many of these relationships exist, but they could be better and more widely utilized.
Engaging with Regional and Local Economic Development Efforts
At this point, the most significant point of outreach in the community at UCCS are the Innovation Teams classes in the Bachelor of Innovation.  Teams of students work for clients in the community as innovation consultants for a semester, solving a problem for their client.  Clients have provided a variety of projects from mobile application development to market research and business plan development.
QUAD Innovation Partnership, as mentioned above, is helping to fill this need through connecting students to relevant projects in the community outside of the university setting.
Although outreach at UCCS is currently providing significant value in the community, engagement with regional and local economic development efforts should be developed.  Creating and maintaining relationships with the Colorado Springs community is critical, as the community is growing quickly, and new innovative and entrepreneurial opportunities are created through the development of empathy and intersections of ideas.
Related Links

University of Colorado Colorado Springs Student Priorities
Contributors:
Fall 2017: 
Fall 2015:
---
---