School:University of Chicago
Jump to navigation
Jump to search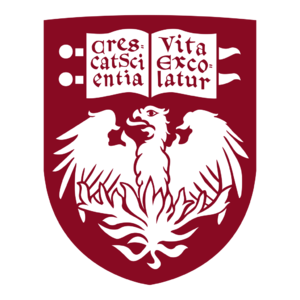 Introduction
The University of Chicago is a prestigious private research university located in Chicago, Illinois. The university consists of one undergraduate College, five graduate divisions, six professional schools, and the Graham School of Continuing Liberal Arts and Professional Studies. The university has an undergraduate student body of 5,692 students and 9,502 graduate and professional students. The university manages Argonne National Laboratories and Fermi National Accelerator Laboratory, and is affiliated with the Marine Biological Laboratories. The school boasts 89 Nobel Prize winners who have either served as faculty members or graduated as students of the university.
Promoting Student Innovation and Entrepreneurship
The University of Chicago seeks to establish a more prominent role in the growing Chicago-area entrepreneurship ecosystem as evinced by numerous developments in programs to stimulate and foster innovation and entrepreneurship. The university recently unveiled its first engineering department the Institute for Molecular Engineering, and a new center for providing services to students and faculty members interested in pursuing entrepreneurial opportunities called the Chicago Innovation Exchange. The following describes various resources that are available to students to explore and develop their own entrepreneurial ventures.
Entrepreneurial Discovery
The University of Chicago offers various classes and programs to expose students to entrepreneurship.
Classes
MENG 20000. Introduction to Emerging Technologies. 100 Units.
This course will examine five emerging technologies (stem cells in regenerative medicine, quantum computing, water purification, new batteries, etc.) over two weeks each. The first of the two weeks will present the basic science underlying the emerging technology; the second of the two weeks will discuss the hurdles that must be addressed successfully to convert a good scientific concept into a commercial product that addresses needs in the market place.
PHYS 22600. Electronics. 100 Units.
The goal of this hands-on experimental course is to develop confidence, understanding, and design ability in modern electronics. This is not a course in the physics of semiconductors. In two lab sessions a week, we explore the properties of diodes, transistors, amplifiers, operational amplifiers, oscillators, field effect transistors, logic gates, digital circuits, analog-to-digital and digital-to-analog converters, phase-locked loops, and more. Lectures supplement the lab.
BIOS 11140. Biotechnology for the 21st Century. 100 Units.
This course is designed to provide a stimulating introduction to the world of biotechnology. Starting with an overview of the basic concepts of molecular biology and genetics that serve as a foundation for biotechnology, the course will segue into the various applied fields of biotechnology. Topics will include microbial biotechnology, agricultural biotechnology, biofuels, cloning, bioremediation, medical biotechnology, DNA fingerprinting and forensics. The goal of this course is to provide the Biology non-majors with an appreciation of important biotechnology breakthroughs and the associated bioethics issues
BIOS 24206. Peering Inside the Black Box: Neocortex. 100 Units.
The neocortex is the multilayered outermost structure of the mammalian brain. It is the site of higher brain functions including reasoning and creativity. However, the complexity of the neocortex—it is comprised of ~20 billion neurons which have 0.15 quadrillion connections between them—seems to preclude any hope of achieving a fundamental understanding of the system. Recent technological innovations have opened novel avenues of investigation making realization of the neocortex an increasingly tractable problem. This course will place particular emphasis on how to critically read scientific papers as we evaluate and discuss current experimental approaches to the neocortex. Integral to this evaluation will be the detailed discussion of the latest technological approaches.
CMSC 22010. Digital Fabrication. 100 Units.
Digital fabrication involves translation of a digital design into a physical object. While digital fabrication has been around for decades, only now has it become possible for individuals to take advantage of this technology through low cost 3D printers and open source tools for 3D design and modeling. In this course we will cover the foundations of 3D object design including computational geometry, the type of models that can and can't be fabricated, the uses and applications of digital fabrication, the algorithms, methods and tools for conversion of 3D models to representations that can be directly manufactured using computer controlled machines, the concepts and technology used in additive manufacturing (aka 3D printing) and the research and practical challenges of developing self-replicating machines. We will have several 3D printers available for use during the class and students will design and fabricate several parts during the course.
CMSC 23400. Mobile Computing. 100 Units.
Mobile computing is pervasive and changing nearly every aspect of society. Sensing, actuation, and mediation capabilities of mobile devices are transforming all aspects of computing: uses, networking, interface, form, etc. This course explores new technologies driving mobile computing and their implications for systems and society. Current focus areas include expanded visual experience with computational photography, video and interactive augmented reality, and synchronicity and proximity-detection to enable shared social experiences. Labs expose students to software and hardware capabilities of mobile computing systems, and develop the capability to envision radical new applications for a large-scale course project.
CMSC 23800. Game Construction. 100 Units.
Computer games are one of the most exciting applications of computer technology. They also are large software systems that embody cutting-edge graphics, as well as techniques from AI, scientific simulation, networking, and databases. This course introduces the student to the basic algorithms and techniques used in computer-game construction. Students work in teams to design and create games using existing libraries for graphics, physics simulation, and so forth.
ECON 22600. Innovators. 100 Units.
Economists believe that innovation is a primary source of economic growth. Yet although most innovations are made by individuals or small groups, until recently economists have not studied how those exceptional people produce their discoveries. Recent research has shown that there are two very different types of innovators, who have different goals and follow different processes. This course surveys this research, examining the careers and innovations of important practitioners in a range of modern arts, including painters, novelists, sculptors, poets, movie directors, photographers, songwriters, and architects, as well as entrepreneurs and scientists. The material covered in this course adds a new dimension to our understanding of creativity and of how innovators in many different activities produce new forms of art and science.
Entrepreneurial Learning
The University of Chicago is developing a dynamic entrepreneurship ecosystem that provides various learning opportunities for undergraduates. Numerous programs integrate with the academic and social sphere, training students to become well-rounded innovative thinkers who can utilize their knowledge and skill sets to tackle real-world issues. 
Extra-curricular
Edge - UChicago's undergraduate entrepreneurship organization. They support student ventures and foster an entrepreneurial spirit on campus. Their mission is to promote entrepreneurship education at the University of Chicago and to empower the next generation of entrepreneurs. Edge focuses on providing UChicago students with resources and a community to help them build skills, companies, and relationships.
Uncommon Ventures - a student-run venture firm on the UChicago Campus that provides seed funding for early-stage student startups. With a total fund size of $500,000, they exist to provide capital to college entrepreneurs and to help undergraduates start and grow their amazing business.
TedXUChicago - a local, independently organized event at The University of Chicago that strives to re-create the unique experience found at TED, where the world´s leaders, thinkers and doers congregate to share what they are most passionate about.
Programs and Competitions 
Uncommon Fund - a pool of money allocated by Student Government towards interesting and creative student projects and initiatives on campus. These projects and initiatives range from one day events to large scale initiatives or projects. The goal of the Uncommon Fund is to encourage students to take action on campus in creative and unique ways. The fund is also unique in that all other sources of SG funding require Registered Student Organization status. Additionally, one Uncommon Fund board member and ORCSA staff member are assigned to each project to help ensure it's success. For more information, check out the Uncommon Fund website.
UChicago App Challenge- the Mobile Apps Challenge is a joint effort between IT Services, The Polsky Center for Entrepreneurship, and UChicagoTech to cultivate, evaluate and develop ideas for mobile apps from anywhere in the University.
College New Venture Challenge - building off the success of the University of Chicago's Social Innovation Competition, the Career Advancement and the Polsky Center for Entrepreneurship and Innovation launched the College New Venture Challenge (CNVC) in 2012 to create a supportive and highly rewarding environment for all undergraduate students interested in entrepreneurship. CNVC was designed exclusively for University of Chicago undergraduate students. Through the program, students create a viable plan for a for-profit or nonprofit enterprise with an innovative component.
Entrepreneurial Experimentation
Experiential Courses
Campus Catalyst - Exposing students to the business of non-profit organizations and the evolving social sector by having them form consulting teams to tackle issues faced by real non-profit organizations
D4 Foundations - Teaches students entrepreneurial design thinking by working on hands-on projects to identify unmet needs in education and healthcare
New Venture and Small Enterprise Lab - Provides business school students with the opportunity to work with senior management at early-stage companies on tackling issues they face in bringing their product to market
Infrastructure
Hack Arts Lab - The Hack Arts Lab (HAL) provides an open-access laboratory for creative digital fabrication and visualization. This makerspace-styled workshop is designed to support a breadth of activity ranging from undergraduate projects to faculty-led exploration. HAL resources include 3D printers, laser cutter, advanced graphics, and microcontroller workbenches, all offered at minimal cost.
Chicago Innovation Exchange - The Chicago Innovation Exchange provides entrepreneurs with a space to translate their ideas and technologies into startups.
Polsky Center Incubators and Workshops
Extracurricular Formation and Nurturing of Design Teams
Uncommon Ventures
Midway Ventures
Internship Opportunities
Innovation Fund Associates Program
Edge Entrepreneurship
Jeff Metcalf Internships
University Careers in Entrepreneurship
Entrepreneurial Pursuit
The University of Chicago provides various programs to help entrepreneurs begin implementing their startup ideas
Incubators and Accelerators
Polsky Center Accelerator Program - The Accelerator Program helps student teams work on their businesses and social enterprises in a collaborative and dynamic environment.
Chicago Innovation Exchange - The Chicago Innovation Exchange provides entrepreneurs with a space to translate their ideas and technologies into startups.
1871 - This co-working facility provides Chicago-area startups with space and amenities to incubate their companies
Seed Funding
Midway Ventures - Midway Ventures is a student-run venture capital group that connects undergraduate entrepreneurs with world-class investors
Uncommon Ventures - Uncommon Ventures is a student-run venture capital group that provides undergraduate entrepreneurs with seed funding
Entrepreneurial Spin-Out
The University of Chicago also offers several programs to help entrepreneurs (primarily faculty members) fully develop their startup ideas into companies.
Product Creation and Prototyping Resources
CIE Fabrication Lab (Chicago Innovation Exchange) - A new fabrication lab equipped with a 3D printer to help entrepreneurs prototype their product ideas
Hack Arts Lab - The Hack Arts Lab (HAL) provides an open-access laboratory for creative digital fabrication and visualization. This makerspace-styled workshop is designed to support a breadth of activity ranging from undergraduate projects to faculty-led exploration. HAL resources include 3D printers, laser cutter, advanced graphics, and microcontroller workbenches, all offered at minimal cost.
Research and National Labs - The University of Chicago boasts numerous, state-of-the-art scientific research facilities both on and off campus. Examples include the Knapp Center for Biomedical Discovery, Argonne National Laboratories, and the Marine Biological Laboratory
Regional Sources of Capital
Hyde Park Angels
Lightbank
Hyde Park Venture Partners
Innovation Fund - The Innovation Fund is a university-operated venture philanthropy fund that provides grants to faculty and university affiliated persons with business ideas to prototype and develop proof-of-concept models for these ideas
Advisory Networks
Chicago Innovation Mentors - The Chicago Innovation Mentors support university-based and local new technology ventures through the use of mentor teams.
Chicago Innovation Exchange - The Chicago Innovation Exchange holds office hours for its members to discuss business ideas and issues in startup development
Polsky Center for Entrepreneurship - The Polsky Center for Entrepreneurship holds office hours for entrepreneurs on campus to discuss business ideas and issues in startup development
UChicagoTech - UChicagoTech hosts Executives-in-Residence who help faculty members in the development of their technologies
Encouraging Faculty Innovation and Entrepreneurship
The University of Chicago offers a plethora of resources to help faculty translate their research into viable startup businesses.
Entrepreneurial Exposure
Big Ideas Generator
Arete
Chicago Innovation Exchange
Entrepreneurial Training
New Venture Challenge
National Science Foundation Innovation Corps (i-Corps) Site Program
Chicago Innovation Mentors
Entrepreneurial Creation
Innovation Fund - The Innovation Fund is a university-operated venture philanthropy fund that provides grants to faculty and university affiliated persons with business ideas to prototype and develop proof-of-concept models for these ideas Tech Transfer Office
UChicagoTech: Center for Technology Development and Ventures - UChicagoTech works with university faculty members to help them develop and launch their research and technology into the market
Hyde Park Angels
Entrepreneurial Incubation
ARCH Venture Partners New Venture Incubator - This incubator provides the winners of the New Venture Challenge with space to build up their products and services.
University Technology Park at IIT - This technology park provides more than 300,000 square feet of wet and dry lab and office space for growing companies focused on materials and life sciences, biomedical engineering, medical devices and diagnostics, green and clean technology, food safety, information technology and many other fields.
Actively Supporting the University Technology Transfer Function
The University of Chicago boasts an active technology transfer department called UChicagoTech: Center for Technology Development and Ventures, which caters to the needs of faculty members who are interested in bringing their research to market either through partnerships with startups and large businesses or through new venture creation and patent filing.
More specifically, UChicagoTech
- Collaborates with its extensive network of commercial and venture contacts, making connections that advance innovation within the University and the Chicago region
- Supports science and technology development through specialized mentorship, proof-of-concept funding, and venture initiatives
- Pursues commercialization through expert market analysis, intellectual property protection, and license and partnership negotiation
The following are some of the resources and programs that UChicagoTech offers to faculty
The Innovation Fund - awards grants and invests in promising technologies and start-ups created by University of Chicago faculty, students, and staff with high potential for societal and commercial impact, helping them to bridge the gap between basic research funding and commercial investment. UChicagoTech launched the Innovation Fund in 2010 to accelerate the commercialization of promising, early-stage University of Chicago research discoveries. It is now managed by the Chicago Innovation Exchange in partnership with the Polsky Center for Entrepreneurship & Innovation and UChicagoTech, Center for Technology Development & Ventures. Learn more
Chicago Innovation Mentors - matches early-stage science commercialization projects with an elite network of business and translational experts willing to volunteer as mentors. The program is modeled on, and implemented in collaboration with, MIT's Venture Mentor Service. As of Spring 2013, CIM has over 150 mentors mentoring almost 60 projects. Co-founders with UChicago include Northwestern University, the University of Illinois, and the Illinois Biotechnology Industry Organization Institute. Argonne National Lab recently joined as a founding institution. Support also comes from the Chicago Biomedical Consortium. CIM's primary focus to date has been healthcare ventures, but it is now expanding into materials, cleantech, and computing and is becoming the go-to organization for early stage academic research-intensive venture origination. See Chicago Innovation Mentors for more information.
Executives-in-Residence - brings accomplished technology entrepreneurs and executives to the University on an extended basis to meet with faculty, identify opportunities, and build projects. See some of the EIRs involved on UChicagoTech Team page.
UChicagoTech / Booth Links - provide very complimentary skillsets at the University of Chicago and work closely together, regularly cross-referring and collaborating on each other's and joint programs. These include:
Innovation Workshop Speaker Series - successful entrepreneurs and innovators address faculty and students. The intent is to provide researchers and students with a business perspective, raise awareness of commercial possibilities, and provide networking opportunities. See Innovation Workshop Series for more information.
New Venture Challenge - launched in 1996, the Edward L. Kaplan, '71, New Venture Challenge (NVC) is one of the nation's premier business launch programs, allowing students to act upon their entrepreneurial ideas within a supportive and highly rewarding environment.
D4Lab - aims to bring together students and professionals from across campus to combine entrepreneurship education with human-centered design. D4Lab offers workshops for the University of Chicago at large and fellowship opportunities for a select group of individuals interested in designing solutions for healthcare. See D4Lab for more information.
Student Engagement - MBA students and science PhD students and postdocs are increasingly participating in Innovation Fund proposals and Chicago Innovation Mentor projects. There are plans to launch a formal Innovation Fund Associates Program for students across campus, and jointly managed by UChicagoTech and the Polsky Center. A CIM Fellows Program, involving science PhD's and postdocs assisting Chicago Innovation Mentors projects is growing rapidly. The Polsky Center and UChicagoTech are collaborating on a project to extend education programs in both science and general innovation and entrepreneurship across campus.
Facilitating University-Industry Collaboration
In addition to providing faculty members and students with resources to translate their research to the market, UChicagoTech also plays a major role in facilitating university-industry collaboration through its connections with numerous companies. UChicagoTech facilitates the process of licensing university intellectual property to businesses and private-sector entitites.
The Chicago Materials Research Center connects university faculty and students with private-sector entities that are interested in licensing university research or requesting consulting services from university members. To this end, the Materials Research Center runs several programs like the Management Lab, which exposes graduate students to industrial work by connecting them with Booth students and companies that are in need of technical and business assistance.
The University's Office for Corporate Relations coordinates opportunitites for businesses to recruit, and conduct research and clinical with university faculty and students.
Engaging with Regional and Local Economic Development Efforts
The University of Chicago recently opened up its Chicago Innovation Exchange to serve as a hub of innovation for not only students and faculty, but also members of the local community. The CIE provides resources and programming to community members who are interested in bringing their ideas to the market.
The University also operates an initiative called UChicago Local, which fosters partnerships with businesses and job seekers in mid-South Side neighborhoods to opportunities at the University, the University of Chicago Medicine, and their vendor networks.
Local Hiring - the University of Chicago is the largest employer on the South Side of Chicago, with nearly 6,000 staff employees of the University and medical center living within seven zip codes near its campus. In fiscal 2014, those area residents accounted for about one-third of UChicago's total staff. UChicago Local works to advance local hiring by supporting workforce development agencies in their efforts to match mid-South Side residents with jobs and prepare them for employment.
Opportunity Link - the University of Chicago has formed a referral partnership with 741 Collaborative Partnership, a nonprofit collaborative of 10 workforce development agencies, that will help link local residents working with any of 741's partner agencies to job opportunities at the University, the Medical Center, and surrounding businesses.
Training for Local Workforce Development Agencies - UChicago Local provides workforce development practitioners with training and informational resources that prepare them to better serve mid-South Side job seekers.
UChicago Procurement - through UChicago Local, the University and Medical Center are realigning normal purchasing activity to potentially transfer business to competitive local vendors and, as a result, have a greater impact in local communities. The initiative targets prospective businesses in eight categories: - Consulting and professional services - Plant and maintenance services - Food supplies, dining and social activities - Non-shop supplies and equipment - Transportation and livery services - Shop supplies and equipment - Equipment lease and rental - Space lease and rental
Capacity Building - in partnership with Chicago Anchors for a Strong Economy (CASE), UChicago Local provides training to help local companies grow their business to the next level by building capacity in core business skills.
Business Showcase Events - through the UChicago Local initiative, the Office of Civic Engagement hosts or sponsors regular forums for mid-South Side businesses to showcase their products and services to UChicago and UChicago Medicine staff, faculty and students
UChicago Local Newsletter - university faculty, staff and students receive direct information about discounts and promotions at local businesses through the monthly UChicago Local newsletter.
The University is committed to enhancing the quality of life in local neighborhoods, working with community-based organizations to improve the area's housing, retail, parks, and public facilities. For example, they are working with the city and community groups to turn the 53rd Street retail district into a vibrant, mixed-use main street. To advance its goal to support a stronger mid-South Side, the University and University of Chicago Medical Center offer financial incentives for homebuyers and renters through an Employer-Assisted Housing Program, to encourage employees to live in the nine neighborhoods surrounding campus.
Landscape Canvas
We have identified the following resources and programs that help students get involved in innovation and entrepreneurship.
Related Links



University of Chicago Student Priorities
---
---