School:University of California Merced
Jump to navigation
Jump to search
Overview

Founded only recently in 2005, the University of California, Merced is the United States' first research university built in the twenty-first century and is located in the heart of California's Central Valley. UC Merced is unique among the University of California campuses as half of its student body are first generation college students, many of whom are local to the under-served Central Valley. Due to its constant growth, the university has the innovative outlook necessary to put into practice ambitious, forward-thinking ideas, whether they be encouraged by the administration or driven by students. Student entrepreneurship is a central focus on UC Merced's campus, and its faculty are constantly looking for new opportunities to encourage entrepreneurial spirit. Innovation stems from our research labs, student run projects and registered club organizations.
Student Innovation and Entrepreneurship
Coursework
E&J Gallo Management Program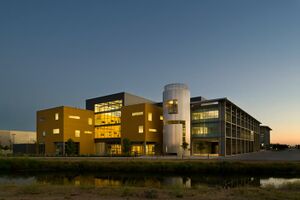 There is no formal emphasis, major, or minor available at UC Merced in the field of entrepreneurship. However, UC Merced offers a course in Entrepreneurship (MGMT 180) under the E&J Gallo Management Program which encourages students to experience the creative process behind creating new products, crafting business plans, and delivering pitches. Starting in spring semester 2014, management and economics students from this program have begun collaborating with engineering students in the Capstone program. They will help Capstone groups to monetize and market their products.
Intellectual Property for Engineers and Scientists
The School of Engineering hosts a class on intellectual property law, ENGR 192, that convenes on Saturdays. This class is intended for engineers and teaches them aspects of patent and intellectual property law which are applicable towards undergraduate and graduate studentswho are planning to pursue a career in research and technology. The course examines the laws behind Intellectual Property, covering material on:
Copyrights for technology protection

Trademarks

Trade Secrets

Patent information including the patenting process

Claim drafting

Design patents

Engineering ethics
Innovate to Grow

Innovate to Grow is the final competition that encompasses:
Three of the best teams from Engineering Service Learning

F

ive of the top finishing teams from Mobile App Challenge

Twenty-three of the best teams from Innovation Design Clinic - Capstone.
They will compete in a poster and presentation competition. On May 16th, judges will decide the overall winner from all three of the programs.
Innovation and Design Clinic - Capstone
Capstone Design / Innovation Design Clinic (ME 170) is a course in which engineering students form teams and compete against each other as part of a competition.The Innovation Design Clinic, aka Capstone, is somewhat similar to the Engineering Service Learning program except that Capstone is more structured--engineering students are placed into teams that are tasked with creating specific projects. Together, they create a solution to a problem that has been designated to them by either industry or by course advisors. Teams are interdisciplinary; they include engineers, but also students from management and economics backgrounds. Twenty-three of the best teams are then chosen to compete inInnovate to Grow.
Foster Family Center for Engineering Service Learning

Under the School of Engineering, the Foster Family Center for Engineering Service Learning program allows student groups to exercise their creative problem-solving abilities and project management skills while earning units. Student teams partner with community stakeholders under faculty advisors and exercise a great level of independence. Student teams are generally self-organized. Though their respective projects are guided by faculty advisors, in general they determine their own course of action, organization, and short-term goals. This forces them to think innovatively and run their projects like entrepreneurs. Students from all majors are welcome to join the program, if they choose. At the end of the semester, the three best Engineering Service Learning teams will be participating in the Innovate to Grow competition.
Mobile App Challenge - CITRIS
The Mobile App Challenge is a competition hosted by CITRIS, the Center for Information Technology Research in the Interest of Society. CITRIS is an institution at UC campuses that helps groundbreaking research obtain funding and helps to incubate research into startups. Students form teams to develop mobile apps that can solve a variety of issues to their choosing. The Software Engineering course (CSE 120) in the School of Engineering is required to participate in the challenge. Teams compete for a cash prize in front of a panelist of judges--the top 5 teams of the Mobile App Challenge then move on to compete in Innovate to Grow.
Innovate to Grow Organization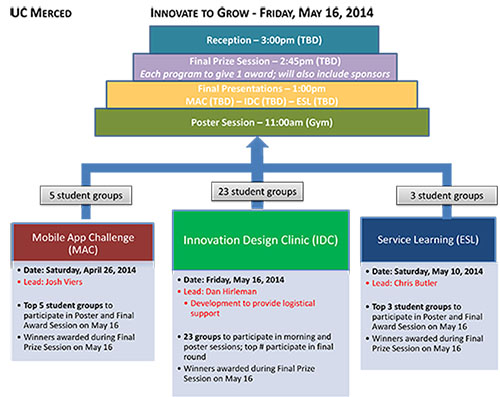 Campus Events
Flash Talks - Career Services Center
This is a pitch event where students have 20 minutes to present 20 slides based on a project that they're a part of--which is more geared towards those students already participating in Mobile App Challenge, Engineering Service Learning, and Capstone but can be more broadly applied to students with any significant project that they wish to present. Student researchers are also welcome. This event is meant to help students exercise their presentation delivery skills and to reward those who are successful in both their presentation and their respective projects. Students compete against one another for a cash prize.
Entrepreneurial Seminar and Pitchfest Competition - TESUM
TESUM stands for The Entrepreneurs Society at UC Merced, which is a student-run RCO (Registered Club Organization) hosting a pitch competition for students where entrepreneurs can pitch their ideas to a panel of judges. The judges are made up of entrepreneurs, IP lawyers and angel investors. The Entrepreneurial Seminar and Pitch fest competition also hosts workshops which are intended to support student entrepreneurs. The competition was partially funded by the student government at UC Merced, ASUCM (Associated Students of UC Merced).  
Faculty Innovation and Entrepreneurship
Center for Information Technology in the Interest of Society (CITRIS)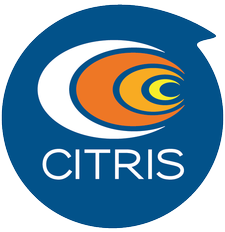 CITRIS is a program that is headquartered at Berkeley, but has centers at Davis, Merced, and Santa Cruz campuses. CITRIS is an institution at UC campuses that helps groundbreaking research obtain funding and helps to incubate research into startups. CITRIS has four primary initiatives: Energy, Democracy, Infrastructure, and Health. Its mission is to benefit each initiative with further integration with information technology by helping to fund research related to its initiatives. Through these four initiatives, CITRIS provides the support necessary to help provide solutions for California and the global community at large. CITRIS is also responsible for sponsoring the Mobile App Challenge, where the top 5 teams move on to the Innovate to Grow competition.
MESA Lab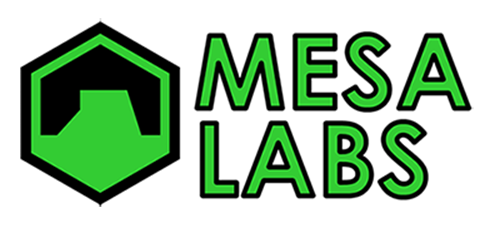 Mechatronics, Embedded Systems and Automation Laboratory (MESA Lab) main goal is "Real solutions for sustainability."
The lab's research focuses on the following.
Fractional Order Motion Control and Process Control

RIOTS- A Matlab Toolbox for Solving General Optimal Control Problems
The MESA Lab host various events throughout the year to showcase its progress in innovative breakthroughs. Headed by Professor YangQuan Chen, student Lab Technician Interns and Undergraduate researchers work collaboratively with Graduate students to produce the most efficient and reliable systems possible.  The entrepreneurial spirit which guides the lab can be summed up by the following:  "Try to be the first to test and solve new problems; if your work is not the first of its kind, make sure that your solutions/research are the best."
Business Development at UC Merced
Office of Business Development
The Office of Business Development operates programs in Innovation Management, New Ventures, Industry Alliances, and Economic Development.  Consulting services are provided to faculty, staff and alumni, as well as people and organizations that are looking for a point of engagement for exploring commercialization and R&D projects with the university.
Regional and Economic Development Efforts
Blum Center - Global California: The World at Home

The Blum Center at UC Merced is an extension of the original Blum Center from Berkeley, only recently founded from a seed grant. There are also centers at UC Davis, and UCLA. The Blum Center will have a specific focus on the Central Valley's future prosperity. By utilizing interdisciplinary expertise from students with all different backgrounds, the Blum Center will be able to exercise a wide variety of projects in both Engineering Service Learning and Capstone projects. The Blum Center provides a unique perspective because of its location and high concentration of first generation college students.
Engineers for a Sustainable World - KivaGreen
The KivaGreen project falls under the class titled 'Engineers for a Sustainable World' and is partnered with the nonprofit organization, Kiva. This project falls under Engineering Service Learning. This project has two primary goals: to function as a student trustee group for a subsidiary of Kiva, KivaZip, and to develop an environmental assessment tool for Kiva, a "Green Badge." The student trustees endorse borrowers to be profiled on Kiva's website where they can obtain crowd-sourced zero-interest microloans. The Green Badge is being adapted to include U.S. and global environmental standards, whose ultimate goal is to be used ubiquitously from all trustees to contribute to Kiva's existing badge system. The badges are awarded to deserving borrowers and are meant to highlight certain aspects of businesses that may sway otherwise reluctant lenders.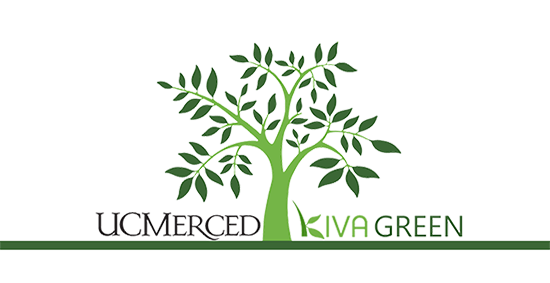 Community Development and Analytics
The Development and Analytics team falls within the Engineering Service Learning program, much like KivaGreen. According to their website, the team is working with the  Merced County Office of Planning and Community Development department to create solutions and opportunities in managing the land at the Castle Airport Aviation and Development Center--which only recently came under ownership of Merced County. The team works to bring businesses into Merced County through the Castle Development Center. They must ensure that information about land, leases, building codes, etc. is readily accessible for their clients. The team is researching this critical information through paper, phone calls, and site visits. Their ultimate mission is to provide an ArcGIS based tool to handle all of this information, and present it in an effective manner.
Landscape Canvas
Resources
http://www.ucmerced.edu/https://eng.ucmerced.edu/innovatetogrow/innovation-design-clinic-idc
https://eng.ucmerced.edu/crf/engineering/engr-192-intellectual-property-for-engineers-and-scientist
http://engineeringservicelearning.ucmerced.edu/
http://citris.ucmerced.edu/mobileappchallenge/
http://innovatetogrow.ucmerced.edu
http://www.ucmerced.edu/news/new-blum-center-uc-merced-focus-valley-prosperity
http://cda.campuscms.ucmerced.edu/
http://kivagreen.campuscms.ucmerced.edu/
http://ott.ucmerced.edu/office-technology-transfer
https://mechatronics.ucmerced.edu
Related Links
University of California, Merced Student Priorities
---
---