School:Udayana University
Jump to navigation
Jump to search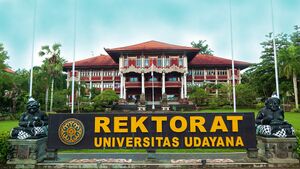 Overview
Udayana University (abbreviated as UNUD) is a public for-profit university in Denpasar, Bali, Indonesia. Udayana University was established on September 29, 1962 and they used to belong to the Airlangga University that mainly located in Surabaya. The university's name was derived from the 10th century Balinese King Udayana (Dharmodayana) of the Warmadewa Dynasty. Udayana University vision is the realization of superior, independent, and cultured universities.
Promoting Student Innovation and Entrepreneurship
Udayana University is developing the students awareness in entrepreneurship through several activities. One of them is by collaborating with Student Executive Board that providing seminar programs to encourage the student's entrepreneurial mindset. There are also entrepreneurship training and workshop from the Student Activity Unit. In addition, they provide some infographic about Business and Management on Instagram and also tips about selling in online shopping platform, in hope to help their student's business.
Encouraging faculty innovation and entrepreneurship
Udayana University is supporting their students to put the ideas into a entrepreneurship project by having several programs that provide opportunities to develop their entrepreneurial minds. The faculty is also providing some courses that could improve student's entrepreneurial skills and abilities. The students who are interest with entrepreneurship will join the community and can take part in Student Creativity Programs which, if the students pass to the national stage, they have the opportunity to get funding for the ideas. This program was supported by Indonesia Education Ministry and being one of the favorite idea funding event in Indonesia
Actively supporting the university technology transfer function
The Research and Community Service Institute (LPPM) of Udayana University provides opportunities for Student Activity Units members who deserve to be incubated to receive technical guidance and consultation, business tips, technology, marketing, networking, and business meetings with financial institutions. Udayana University is also encouraging the students by providing some tools that might help them in their business.
Facilitating University-Industry Collaboration
Udayana University is providing the internship opportunity in State-owned Enterprises through their Career Development Center to the students. Currently, they are also a campus partner with Indonesian Ministry of Education, Culture, Research and Technology that has a lot of programs such as developing the student's business under the expert, internship with big companies, study independent to improve the student's skill in the field they want to, student exchange, improving the quality of basic education school, etc.- Through this many great opportunities, they are supporting the students for administrative activities and guidance on the program in full efforts.
Engaging with Regional and Economic Development Efforts
Udayana University has several efforts to engage with regional and economic development in each of their faculty. One of them is the Research and Community Service Unit (UPPM) which is a research and community centre to develop the student researchs and community service in the field of quality basic sciences and increase the student research cooperation in the field of basic sciences at the national and international levels.
---
---