School:Nankai University
Jump to navigation
Jump to search
---
0.Overview:
Nankai University is founded by Zhang Poling and Yen Hsiu in 1919 with the purpose to cultivate well-educated talents for the modernization of China. The university is located in Tianjin, a beautiful coastal city which is closed to Beijing and Hebei.

Nankai got its name for its location in the city. In Chinese, 'Nan' means 'South' and ' Kai' means 'face '.So in fact, the meaning of Nankai University is 'the university that faces south' which just shows our original location to Tianjin.
Nankai is famous for its academic achievement and social contribution in China. It has cultivated outstanding alumnus like Zhou Enlai and Chern Shiingshen. 
Nankai's motto is 'Dedication to public interests, acquisition of all-round capability, and aspiration for progress with each day'.
Nankai Univeristy's Business School enjoys a good reputation for its leading role of entrepreneurship research in China. And Nankai has offered kinds of resources for I&E to its students and faculties. We'd like to give it a short introduction in five parts as follows.    
---
1.Promoting student innovation and entrepreneurship:
Nankai University offers various kinds of chances to intrigue students' passion for innovation, to horn their skills for Entrepreneurship and also give them opportunities to check whether their ideas work or not.
There are many ways to help students discover how important innovation is. For example, many courses which impart I&E's importance are offered every semester, such as Methodology of scientific research, Program Management and Graduation Design. There are also events like TEDx , KAB Celebrity Talks and Mr.Chuange's Entrepreneurship Course. You can also find kinds of workshops at different corners of the campus. And if students want to know more about the I&E activities, they have a lot of resources to refer to, such as newspaper, journals, websites and Wechat Subscriptions held by different organazations.
NKU also offers kinds of resources which could equip students with better skills for I&E. If you are a Business School undergraduate, you can take Innovation Management or Entrepreneurship Thinking and Action , to have an academic view of what I&E requires. If you are a graduate of Business School, the seminar which focuses on Entrepreneurship Management will be your dish. And if you are in other shools, courses like Design Thinking for Innovation and Innovative Research and Training are just great to arrange you ready for future I&E acitivities. When you are outside classroom, social clubs like KAB, Enactus , AoST(Association of Science and Technology) are awesome places to meet your I&E curiosity. If you are qualified, you can also try some short programs that help you know more about I&E, such as Yunneng Business School and I&E training Camp.  
And when you have a brilliant idea and you want to check it, NKU also has a lot of opportunities. You can take kinds of experiential course ,trying to learn by doing. Application of modern biotechnology, Application of new energy materials science and Introduction and application of 3D print are all great choices. Places like Starry Sky I&E Space also enable students to do some prototyping or engineering work. Some school also has internship job opportunity which will help students understand how business world runs by being a part of it. And if you are confident enough for your I&E skills, there are also competitions held by university or the government ,such as Dream+ , the Challenge Cup and  National University Student Innovation Program which will give you a wonderful stage to show your ideas.
---
2.Encouraging faculty innovation and entrepreneurship: 
Faculties in Nankai University are highly encouraged to innovate and pursue entrepreneurial pathways, which does encourages students to explore their potential. Likewise, faculties get fully support to test their ideas and make technology transfer.
Chinese government has launched an program, University Discipline Innovation Base Plan( also called 111 Plan), which is supported by governments no less than five years with annual fund ¥1,800,000 or more per program. Moreover, this program introduces foreigner experts to program to assist. By now there are 8 bases in Nankai University as below:
Functional Organic Molecules Construction and Construction Effect Discipline Innovation Base            Leader: Qilin Zhou
Low Light Nonlinear Photons Science and Technology Discipline Innovation Base            Leader: Jingjun Xu
Functional Protein Discipline Innovation Base            Leader: Ningning Wang
Advanced Energy Material Sciences Discipline Innovation Base          Leader: Jun Chen
Major Diseases Pathogenesis and Treatment Strategy Discipline Innovation Base          Leader: Rong Xiang
New Generation of Solar Photovoltaic Power Generation Discipline Innovation Base          Leader: Ying Zhao
New Pollutants Environment Process and Risk Assessment Discipline Innovation Base          Leader: Hongwen Sun
Inorganic Solid Materials and Energy Chemistry Discipline Innovation Base          Leader: Xianhe Bu
Meanwhile, there are multiple laboratories as innovation places for faculties in Nankai University. Below are key laboratories in Nankai Universities:
State Key Laboratory of Element-Organic Chemistry
State Key Laboratory of Medicinal Chemical Biology
National Pesticide Engineering Research Center
Key Laboratory of Optics Information & Technology Science, Ministry of Education
Key Laboratory of Functional Polymer Materials, Ministry of Education
Key Laboratory of Bioactive Materials Research, Ministry of Education
Key Laboratory of Pure Mathematics and Combinatorics, Ministry of Education
Key Laboratory of Weak Light Nonlinear Photonics, Ministry of Education
Key Laboratory of Molecular Microbiology and Technology, Ministry of Education
Key Laboratory of Pollution Processes and Environmental Criteria, Ministry of Education
Key Laboratory of Advanced Energy Materials Chemistry KLAEMC, Ministry of Education
Film Optoelectronic Technology Engineering Research Center, Ministry of Education
Microbial Functional Genomics and Testing Technology Engineering Research Center, Ministry of Education
Efficient storage Engineering Research Center, Ministry of Education
The state environmental protection key laboratory of urban particulate air pollution prevention
Tianjin Key Laboratory of Information Photonics Materials and Technology
Tianjin Key Laboratory of Optoelectronics Laboratory of Film Devices and Technology
Tianjin Key Laboratory of Metal and Molecular Materials Chemistry
Tianjin Key Laboratory of Microbial Functional Genomics
Tianjin Key Laboratory of Chemical Energy Materials
Tianjin Key Laboratory of Combinatorial Mathematics
Tianjin Key Laboratory  of Remediation and Pollution Control for Urban Ecological Environment
Tianjin Key Laboratory of Protein Science
Tianjin Key Laboratory of Bioactive Materials Research
Tianjin Key Laboratory of Molecular Medicine Research
Tianjin Key Laboratory of Model Animal of Degenerative Neurological System Diseases
Tianjin Key Laboratory of Intelligent Robotics Technology
Tianjin Key Laboratory of Biosensing and Molecular Recognition
---
3.Actively supporting the university technology transfer function:
Nankai University currently has a Technology Transfer Office (TTO) which is part of the Office for Research. The main role of TTO is managing university intellectual property (IP) through filing patents and licensing technology. The TTO also coordinates research agreements with industry and commercializing university inventions. 
With the support of Tianjin Science and Technology Commission, Nankai University formally approved the establishment of university-level achievement transformation and promotion agencies. TTO is considered as an open platform for scientific and technological achievements, human resource, and information exchange. Besides, TTO serves not only as a science and technology service platform for entrepreneurs and students in Nankai University, but also as a technology venture investment platform of local government. 
The Technology Transfer Office is divided into general office, training office, public relations department, and technical service department, with three branch offices located in Binhai New District, Nankai District, and Jinnan District. TTO encourages innovation and entrepreneurship in Nankai University and provides various lectures and technological training.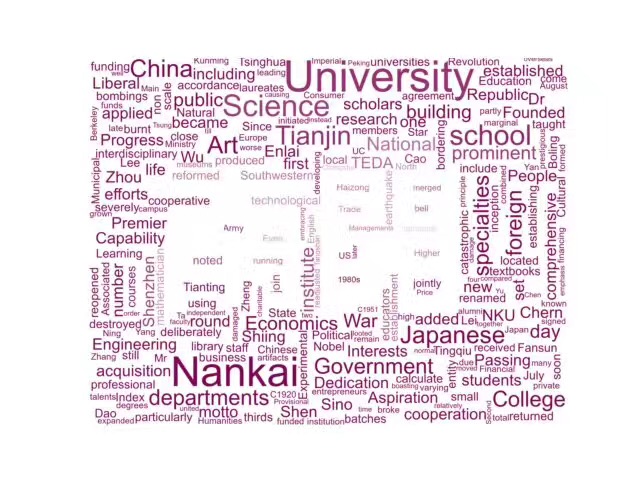 ---
4.Facilitating university-industry collaboration:
Nankai University has close Collaboration with many industrial companies, including a various kind of companies in many industries For example, Nankai has close connection with Beijing-Tianjin-Hebei Big Data Industrial Collaborative Cooperation Platform, and also chinses institute of new generation artificial intelligence development strategies is base on Tianjin Nankai university,
The Beijing-Tianjin-Hebei Big Data Industrial Collaborative Cooperation Platform is sponsored by Beijing Institute of Big Data Research. And Nankai university will play a role of promote the development of the platform with several other universities from Beijing, Tianjin and Hebei, Big Data Industry Alliance, Software and Information Service Industry Association, and delegations of economic foundations and enterprises. This activity wants to accelerate the cooperation between industries, universities, and research centers, share and supervise collaborative and innovative resources, and experiment on the big data industry of the three cities, which emphasizes the promotion of the three cities' collaborative development in the field of big data, helping Beijing-Tianjin-Hebei region to become a national big data industry innovation center and a developed area for global big data industry.
In addition to Beijing-Tianjin-Hebei Big Data Industrial Collaborative Cooperation Platform, Nankai University signs signed a Strategic Cooperation Agreement with Shenzhen HEC Industry Development Company. The HEC Research Institute of Nankai University will be established to promote the innovative cooperation of Government, industry, university and research institutes and drum up the support of Shenzhen Government at all levels. The industrial transformation will be achieved through pharmaceutical research, intelligent medical devices, health care products, cosmetics, new pesticides, seeds, and innovative materials. Combining the advantages of Nankai University's Medicine, Finance, Management and Tourism and the needs of HEC's industrial chain, a wide range of exchanges and cooperation will be explored.
Last but not the least, Nankai is helping build national high end artificial intelligence think tank .As the core driving force of the new round of industrial change, artificial intelligence will become a new engine of economic development and a new focus of international competition. The development of AI should lay stress on the direction of sustainable development, eliminate social differences, improve the quality of education through the whole, timely reform the educational mode, and train more qualified professionals that meet the requirements of the times. Nankai University will be adhering to the "For Public, For ability", firmly grasp the opportunity of construction of a new generation of artificial intelligence Chinese development strategy research institute, make full use of all the advantages of resources, to not forget the real intention, spirit of reform and innovation to realize the construction goal of the top universities in the world ahead.
---
5.Engaging with regional and local economic development efforts:
In NKU's plan for 2020 -2050, the administration of the university said that NKU will actively serve Tianjin's development as before. And we have to say these is not empty words for that Nankai University has made great contribution to Tianjin's regional and local economic development.  
NKU's professor has done a lot of researches which focused on solving problems that Tianjin faces. Let us take this for an instance, in recent years Beijing 's development is based at the cost of Tianjin and Hebei's lost. To find out solutions for this question, NKU has set up a Research Institute of coordination development of Beijing, Tianjin and Hebei which acted like a think tank both for the central and Tianjin government. Also, in the field of solving the air pollution of northern China, designing sea water desalination system of Tianjin and standing at the cut edge of A.I. research of China, you can also see the contribution that made by NKU's scholar and professor.
NKU also has the specific research result transfer office which encourages faculty and students to start their own business based on the research they have conducted. University has raised a fund ready to help the professor if they want to transfer their patent into a real business. Sometimes professors will cooperate with some big companies such as IBM, Baidu and Tencent to solve real world problem. 
---
---