School:Johnson C. Smith University
Jump to navigation
Jump to search

Johnson C. Smith University
Overview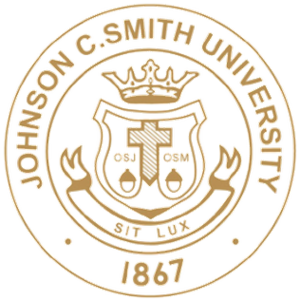 Johnson C. Smith University is a private HBCU that sits at the highest point in Charlotte, North Carolina. Established in 1867, JCSU has a rich history in advancing and expanding the potential of its students. Johnson C. Smith University (JCSU) has a rich history and is heralded as one of the best small colleges in the nation, serving more than 1,200 students and employing more than 240 full-time faculty members, administrators and staff. JCSU is making leaps and bounds in advancing Institutional Innovation and Entrepreneurship.
Promoting Student Innovation and Entrepreneurship
HBCU.vc
HBCU.vc is an experience-based learning opportunity in venture capital and tech entrepreneurship. Our student investor program works with students attending historically black colleges and universities (HBCUs) to teach investment fundamentals and entrepreneurship. To act as investors to fund local tech entrepreneurs and build startup communities in and around their campuses. During the program, students learn from investors and entrepreneurs as they work to identify investment opportunities, perform market research, and make funding decisions. It gives students the real world experience needed to jumpstart careers in their chosen paths.

FreshStart
FreshStart is a Spring Break program that allows students to learn and practice the techniques for entrepreneurs and teams who created companies like Facebook, Apple, Uber, Rent The Runway and Spotify. It's a full-week immersion where students will have close conversations with entrepreneurs in Charlotte, visit locations where they are building their companies and learn how they can build thier own startups or work with others to build something great.

Johnson C. Smith University received three awards at the 2020 HBCUgrow LEAD Conference on April 7, 2020. Dr. Laura Colson McLean, dean of the Metropolitan College of Professional Studies, and two JCSU students participated in the virtual conference and shared their involvement with Road to Hire, a partnership with Red Ventures and winner of the Platinum Choice LEAD Innovation Award. The university also came second at Black Enterprise's 2019 Smart Hackathon.
Actively Supporting the University Technology Transfer Function
Following JCSU's revamp of institutional focus to align with our Quality Enhancement Plan (QEP), students and faculty are able to utilize the resources at the James B. Duke Memorial Library to educate themselves on the patent process and apply it to entrepreneurship.
Encouraging Faculty Innovation and Entrepreneurship
An innovative living-learning prototype for students, as well as academic coursework, service-learning activities and study abroad opportunities are all part of the University's Sustainability Village. The program integrates academic coursework, research, service learning and experiential education opportunities to enhance student understanding of sustainable development, community food systems and alternative lifestyles that promote conservation. Community and aquaponic gardens also offer opportunities for students to engage in service learning and applied interdisciplinary research. The gardens aid in the University's recycling and waste reduction efforts by employing composting and loop system strategies. Both gardens are part of Sustainability Village, which is designed to produce food for thought as students learn while living in a sustainable environment. Funded by The Duke Endowment and Blue Cross Blue Shield of North Carolina as part of the College of Science, Technology, Engineering and Math, the village's centerpiece will be a model home built to accommodate four students. It will serve as an affordable prototype that could be replicated in communities impacted by natural disasters such as in the earthquake-devasted areas in Haiti.

PNC Foundation For Entrepreneurship Grant
Johnson C. Smith University received a $375,000 grant from the PNC Foundation to enhance entrepreneurship education. The university wants to stimulate innovation and entrepreneurship on campus by providing funding for students. Another campus-led initiative is the Smith Tech Innovation Institute. The institute serves to mentor student innovators and entrepreneurs by providing mentorship and support for grant writing. In addition, students connected with the institute get a chance to participate in hackathons, and TED talks, and connect to a community of individuals in Innovation and Entrepreneurship.
Facilitating University-Industry Collaboration
Google
Johnson C. Smith is a partner institute to Google's secondary education programs where students are given the ability to expand and apply their computer science skills and knowledge. Incoming freshmen are selected from a wide range for the Google Computer Science Summer Institute prior to starting their first year. This program operates on the campus of JCSU, where 20 incoming freshmen learn web development and soft skills over three weeks while learning the environment on campus. The upperclassmen are also encouraged to be involved with Applied Computer Science, where they apply their lessons from class to android app development to create intuitive apps. 
IBM
JCSU CSE Department is partnering with IBM on curriculum that explains how to work with Enterprise Cloud Computing Systems. This is offered as an elctive course under Special Topics in Computer Science. Students learn about the IBM cloud platform to create a web-based application that seek to solve an issue they see on campus. Students also will earn a digital badge for completing IBM's Master the Mainframe during the class.
Enhancement of the syllabus
Currently, the university has incorporated some subjects in the curriculum that foster Innovation and Entrepreneurship. The Entrepreneurial Studies and Esports Gaming Management minors assist students to get into the innovation and entrepreneurial ecosystem. Students enrolled in the classes learn about the foundations of being a strong innovator and entrepreneur. In addition, the curriculum demands that a student puts all their knowledge into practice. This stimulates the startup ecosystem on campus. These students also connect to grants and funds that they can use to stimulate growth in their businesses. The university also hosts a makerspace in the library. The makerspace is home to innovation in 3D technology, Virtual Reality, and Augmented Reality. The makerspace is open to students and faculty to learn. The makerspace also runs adjacent to the Animation minor. The makerspace is a space where students and faculty can innovate by leveraging 3D technologies.
Engaging with Regional and Local Economic Development Efforts
Johnson C. Smith University has strong connections with the surrounding charlotte community. Community involvement is strongly ingrained in the campus and academic culture, where all students are required to participate in 10 hours of community service and every organization on campus host events to volunteer within Mecklenburg county. The school of Social Work has a graduation requirement of 400 field hours with a local organization. The STEM Innovation Center at JCSU has involved itself with the community of startups and venture capital firms within the Charlotte ecosystem. They have hosted meeting for small businesses and local entrepreneurs, such as Start- Up Weekend and the Charlotte's meeting for small businesses. In the near future, JCSU will launch a Small Business Innovation Research Program that will service as a pathway to increase student involvement and accelerate innovation on campus.
The university facilitates industry collaborations by being one of the 5 HBCUs to secure an innovation grant from PNC. In addition, the university also has a partnership with Red Ventures which supports innovation and entreprenuership. Red Ventures offers a digital marketing course and internships for entreprenuers in this sphere to gain more experience and network. Some work needs to be done to strengthen the university engaging with regional and local economic development efforts. Johnson C Smith University works through its Center for Applied Leadership and Community Development to improve the local community. The Center is also developing the next generation of leadership in Charlotte. The university does not have enough partnerships to generate seed funding, product impovement and launch, or mentorship for some innovations.
Related Links
Canvas Link Landscape Canvas & Conclusions
University Innovation Fellows
Fall 2019 Fellows
Fall 2018 Fellows
---
---