School:Galgotias University
Jump to navigation
Jump to search
Overview
Galgotias University is devoted to excellence in teaching, research and innovation, and to develop leaders who'll make a difference to the world. The University, which is based in Greater Noida, has an enrollment of over 15,000 students across more than 100 Undergraduate and Post Graduate programs.
The 'students-first' philosophy is a big reason why Galgotias University is consistently ranked among India's top universities. The focus of Galgotias University is on the low student-to-faculty ratio that promotes plenty of personal attention and mentoring opportunities.
TO PLACE ALL STAKEHOLDERS in pursuit of perfection, discovery and innovation in one's own discipline, while being aware that all one does, emerges from and integrates into a wider common human good.
TO FOSTER a culture of openness and preparedness towards cutting-edge future roadmap and emerging knowledge blocks with a constant eye on applicability and scalability.
TO DEVELOP and instil a culture of continual multi-disciplinary and interdisciplinary enquiry and education among all stakeholders, leading to the evolution of an education model that focuses on experiential learning to prepare students to lead, through the challenges of a rapidly changing world.
TO DEVELOP a learning orientation across the entire university ecosystem that goes beyond domain knowledge so as to ensure that learning and problem-solving continue for life.
TO ENABLE the finest student and faculty bodies to learn together, through the most evolved education processes in an atmosphere of rigour and discipline, which emerges from and integrates with real-life industry, science and commerce processes; so as to develop an expert body that understands all aspects of societal challenges; and works with teams to tackle complex problems that directly benefit society.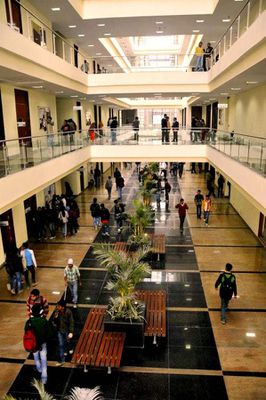 Student Innovation & Entrepreneurship
Student Organizations:
Galgotias Robotics and Innovation Club (IRIS)
IRIS, covers IOT (Internet of Things) and Robotics with in-depth experience of programming and coding. It includes Robotics, Internet of Things, Micro development (for integrating robotics and bots with wireless devices) and Open Source Softwares development. The technical club contributes in providing a platform for the GU students to mould their ideas to presentable and working models.
It engages in :-
Promoting IOT and Robotics In campus

Regularly organising Robothon, Hackathon and Workshop in Campus

Encouraging students to participate in open source software development

Enabling students to participate at international and national level events.
 It has successfully imparted workshop on :-
Bit Coin and Block Chain
Intro to Artificial Intelligence
Intro to Server Side Development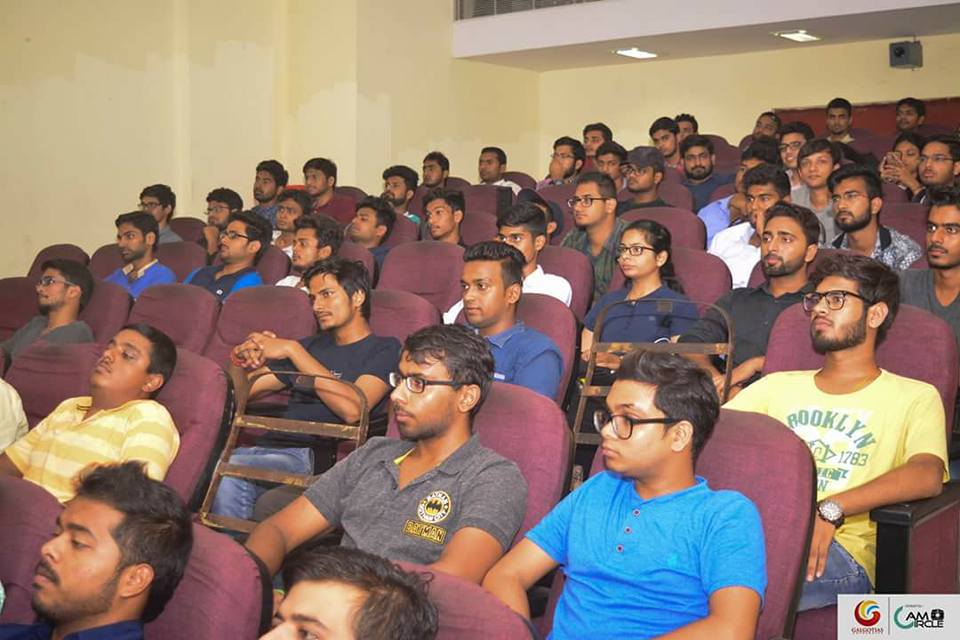 MCH Hack 1.0 - Campus Hackathon
MCH Hack is a student community based in Galgotias University, Greater Noida who are inspired by the Honorable Prime Minister Narendra Modi's vision of new India and aims to be an equal stakeholder in this vision by encouraging youths residing in various educational institutions to bring out innovative solutions to the existing problems of India. An entrepreneurial environment where our talented, innovative and ambitious youths become job generators and not job seekers can be the game changer in the next decade for India.
This hackathon aims to be an agent of change in promoting coding culture in the campuses of various educational institutions and promote a healthy competition and a think tank for the problems that are directly affecting the people of this country.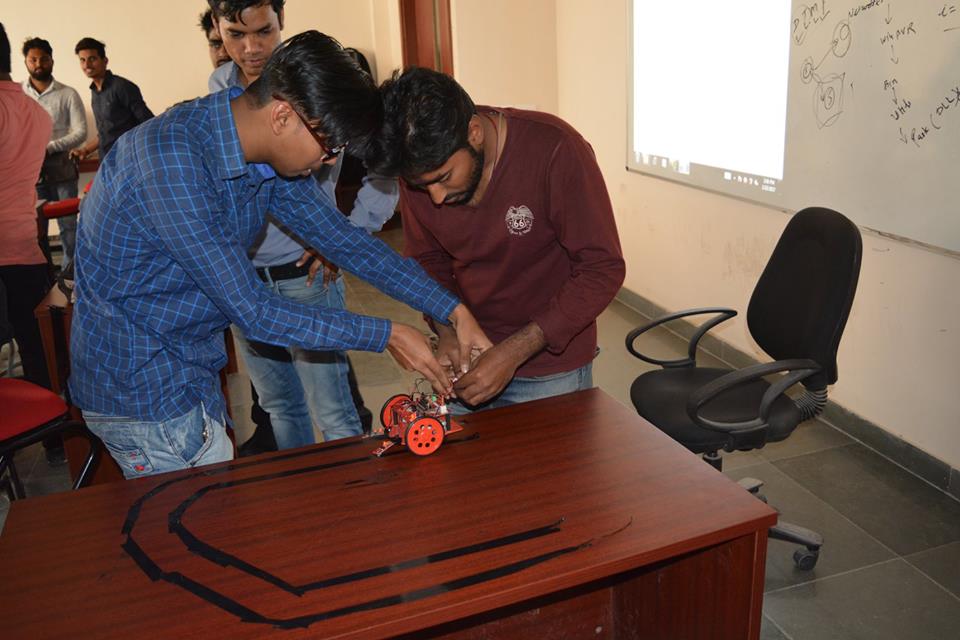 Hog Pick (Formerly Humans Of Galgotias)
Hog Pick is a student community that was envisioned with an intention that every story matters. Under this initiative, different people are approached and randomly interviewed and a series of stories have been extracted and published. This inspires people to speak up, share their ideas and create a vast network within the institution.

E-Cell GU
The Entrepreneurship Cell is a student body run by some enthusiastic students of Galgotias University that will aims to promote and develop entrepreneurship culture among students to create real entrepreneurs, converting ideas into reality by providing proper platform to upcoming youth & to associate with sponsors, investors & young entrepreneurs.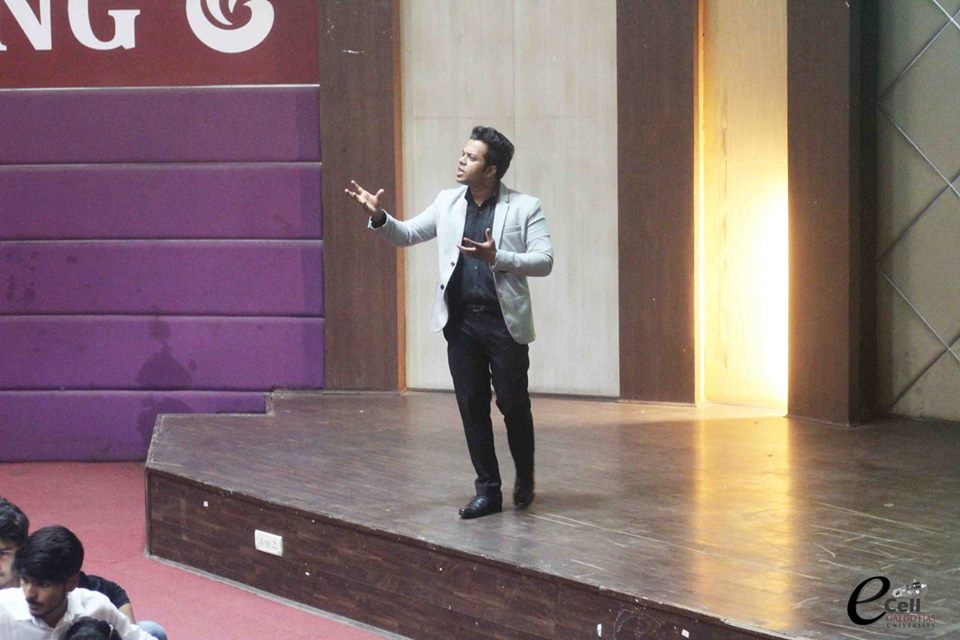 Faculty Innovation and Entrepreneurship
Sowing Seeds of Entrepreneurship



Research
The main focus of R & D cell is to promote and provide support to the students and faculties for the following:
GCTII - Incubator 
GCTII - 'Galgotias Centre for Technical Innovation & Incubation' is a technology-driven business incubator & Entrepreneurship (e) - Cell within the premises of GCET. GCTII has been envisioned to become a world-class technology driven incubator and provide a universal platform for research and development for the benefits of budding entrepreneurs, corporate houses & the society at large.
Objectives
To nurture and produce a pool of proficient entrepreneurs in the society.

To foster an environment where a sense of creativity, originality and capacity to transform innovative skills & business ideas could be inculcated.

To establish a laboratory for budding techno-management students to learn, experiment and test their innovative business ideas which could be commercialized.

To participate and contribute to Government's initiative for self-employment.

To contribute towards the success of 'Make in India' campaign to produce 50 million young entrepreneurs by 2022.
University-Industry Collaboration
MoU with Wipro Technologies Ltd.
Wipro, an industry leader, took this challenge as part of its Quantum Innovation project to create significant change in the employability landscape. Its vision is "In Pursuit of Excellence in Engineering Education through Innovation". Mission10X was formally launched by Wipro Chairman Azim H Premji amidst Academicians on 5 September 2007 – Teachers day.
The Mission10X Learning Approach (MxLA) was created, keeping in mind, the current teaching methodology used in engineering institutions and the capabilities of the faculty in these institutes. The implementation of this approach involves a layered set of faculty enablement programs which empower engineering faculty with innovative teaching techniques using which they can help learners:
Imbibe higher levels of understanding of subjects
Effectively apply the concepts learnt
Develop key behavioural skills required for employability
MoU with Infosys (Campus Connect Program)
Faculty / Students Development Program
Accreditation with Tata Consultancy Services Ltd. for-
Faculty Development
Students Training
Association with Accenture for-
Students training under HSFP program
Campus Placements
Accreditation with L&T Ltd. for-
Students training
Industrial visits
Campus Placements
ERICSSON EMPOWER- University Program for-
This is a "round the year' Involvement Program in 3 Major Phases-
CONNECT – Internship opportunities to students
EXCEL – Telecom training opportunity to students
CAREER – Placement opportunities with Ericsson
Accreditation with Capgemini for-
Students Placements
Industrial visits
Accreditation with Tech Mahindra for
Students Placements
Industrial visits
Faculty Development
Association with Minda Silca for
Students Placements
Industrial visits
Current Fellows (Link to Bios)
Related Links
Robotics Club:-[1]
Humans of Galgotias:-https://www.facebook.com/hogPick/
Link to University Landscape  Canvas response Page [1]
---
---