School:Audisankara College of Engineering and Technology
Jump to navigation
Jump to search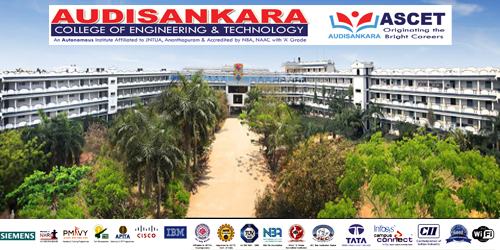 Audisankara College of Engineering & Technology, a premier technical institution was founded by a towering personality of impeccable credentials, a notable academician, with a grand mission and a noble vision, Dr. Penchalaiah Vanki in the year 2001. The college is approved by All India Council for Technical Education (AICTE), affiliated to JNTUA, Anantapur and functions as a private self-financing institution under the auspices of Aishwarya Vignan Educational Society. The institute has a unique distinction of being accredited by NBA and NAAC with 'A' Grade to its credit. ASCET has been growing incredibly fast for an educational institution of its caliber for the last one decade. ASCET is in the news every year, following the very best and outstanding results in terms of academics both at the University and State levels.
It is a well known fact that hundreds of ASCET students made their presence felt in B.Tech results by routinely bagging the ranks by their outstanding academic performance at both University and State levels. It is true that the students of ASCET are regularly absorbed by globally reputed Multinational Corporations. They bring laurels to the institution by their professional expertise and skills, which help them, climb the ladder of professional success in the present competitive corporate world.
INFRASTRUCTURE:-
ASCET is well-known for its sprawling area of 45 acres, a well planned and comprehensive infrastructure provided for both students and faculty .The well-equipped state-of-the-art labs in all of its disciplines are a testimony to this fact. Every year, the institution invests lakhs of rupees on acquiring modern and highly sophisticated equipment for its labs to be on par with its increasing student uptake and to keep abreast of emerging trends and applications of engineering concepts.

SALIENT FEATURES:-
Accredited by NAAC with 'A' Grade

Permanent JNTUA Affiliation

NBA Accredited Institution.

TCS Accredited Institution.

CII Membership Institution

DSIR, Govt. of India sponsored "Technology Delivery Center Project".

Jawahar Knowledge Center (JKC) Star Institution status. JKC was established in ASCET for the first time in Nellore District to provide Training & Placement to the students.

Experienced and highly qualified faculty with rich industrial exposure and experience.

Sophisticated Engineering and Science labs with state-of-the-art-equipment, instruments etc.

Library with updated collection of 43,000 volumes, 85 National Journals, 65 International Journals.

IEEE / IEE ELECTRONIC LIBRARY Online e-journal package provided by AICTE - INDEST Consortium.

SIR C.V.Raman Air-conditioned Seminar Hall with 500 seating capacity.

Effective Placement Cell to provide campus placements in globally reputed MNCs.

National Level Workshops, Symposia and Seminars organised by all the departments for all round development of students.

Guest Lectures by eminent industrialists, scientists and researchers to upgrade the skills set of the students.

Industrial Visits and Educational Tours.

Merit based allotment of Management seats.





STUDENT PRIORITIES WIKI: http://universityinnovation.org/wiki/Audisankara_College_of_Engineering_and_Technology_Student_Priorities




STUDENT WIKI PROFILES:

1. BHAVESH PUDI : http://universityinnovation.org/wiki/BhaveshPudi

2. ROJA MUDAMALA : http://universityinnovation.org/wiki/Roja

3. HIMA VARSHA SEGU : http://universityinnovation.org/wiki/Hima_Varsha_Segu

4. JITHENDRA REDDY DODLA : http://universityinnovation.org/wiki/Jithendra_reddy_dodla
---
---