Fellow:Shriya Hukkeri
Jump to navigation
Jump to search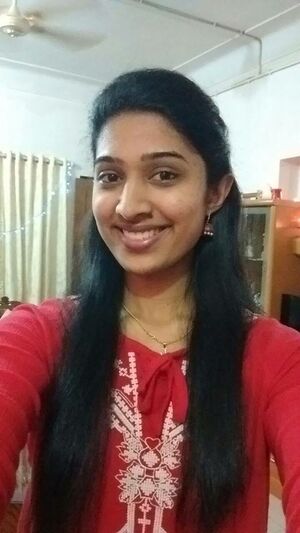 Shriya Hukkeri was born on 2nd December, 1994 in Belagavi, Karnataka, India. She lives in a family of 5(including herself). Right from her childhood, she has had an inclination towards learning and discovering something new. She has done her schooling in Divine Providence Convent High School, Belagavi and has secured 1st place to her school! She finished her 12th standard in GSS  College, Belagavi.She has participated in many curricular and extracurricular activities right from her schooling. Debate, elocution, dance, singing, social activities like campus cleanliness, blind school visit etc to name a few! She was very much interested in Computer Science as a subject right from her 11th standard and hence chose Computer Science and Engineering as her major in KLS, Gogte Institute of Technology, Belagavi!
 She has had a very good Academic record right from her 1st semester! She stood first to her department twice in a row, in 5th and 6th semester! Apart from her academics, she is involved in various extracurricular activities!
She is the Google Student Facilitator of her college and has represented her college in the Facilitator Boot camp at Bangalore, India! She has coordinated various technical and non-technical events at her college! She is a part of the Programmers Club at her college, which aims at adding value to the students academic interests and achievement. It gives them a platform to excel beyond the curriculum. Helps them to be creative, express passion for Application Development and share, collaborate and benefit from working together.
She has unanimously been elected as the General Secretary of her college! She is responsible for all the various cultural and club(technical and non-technical) activities being conducted at her college! These activities include technical competitions, fests to social activities and activities concerned with the betterment of college campus and college culture!
She is grateful to her college and the UIF team for giving her this wonderful opportunity of being the UNIVERSITY INNOVATION FELLOW at her college! She is extremely excited to take on the work and give it her best to make this India cohort a grand success!
Related LinksVisvesvaraya_Technological_University_(VTU)
Visvesvaraya_Technological_University_(VTU)_Student_Priorities
Visvesvaraya_Technological_University_-_Landscape_Canvas
---
---